Nick Zautra on Designing 7-Week Workout Plan for WSOP Players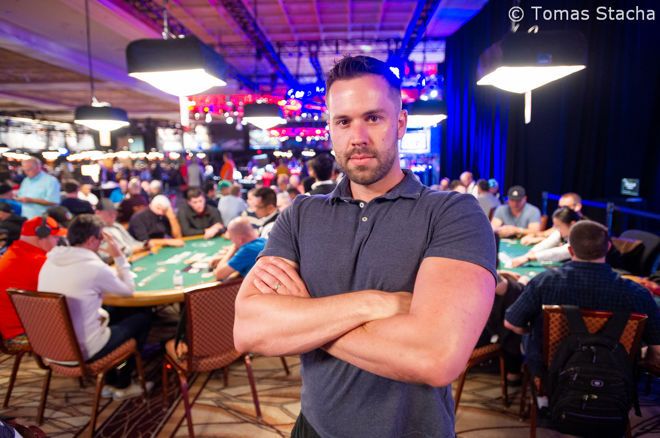 Table Of Contents
When the World Series of Poker began nearly five decades ago, the average poker player was different than today's grinder. In general, they were older and much unhealthier. Over the past decade, a health movement seems to have swept the WSOP – look no further than All-American Dave's being delivered tableside all day every day – and one player is more than fine with that as it combines two of his passions.
Not only is 33-year-old Nick Zautra a poker player, but he's also a doctoral candidate in cognitive science and history & philosophy of science at Indiana University in Bloomington. A former physical trainer certified by the American College of Sports Medicine, Zautra has found a unique way to combine his love for the game with his life's work.
One Foot in the Poker World
Originally from Tempe, Arizona, Zautra started playing poker on mom's kitchen table during the poker boom. That would lead to him discovering online poker, which he'd play at night while teaching by day.
"Since moving on to a dissertation, I have not been able to play online poker, but I've shifted to live tournaments when I can," he explained.
"I did it as a way to get to know people in my field as well as to learn myself."
That's just fine by him as being a professional poker player isn't in the cards. Instead, he envisions a life of teaching and research; in fact, he's accepted a teaching position in Guam this fall. Before going into the academic job market, he decided a visit to Vegas was in order.
"I'm coming out for the first two weeks and I may be returning in early July for the remainder of the series to play the Main Event and some preliminary events," said Zautra, who has played the WSOP Main Event twice prior with no luck.
In addition to poker and his studies, Zautra also hosts the SCI PHI Podcast, which features philosophers of science who engage with scientists in interesting ways.
"Basically, what I do is I talk with folks who ask questions about how science works, what can science tell us, what should science tell us, and any other conceptual or methodological questions about science," said Zautra. "I did it as a way to get to know people in my field as well as to learn myself."
Healthy Living for Healthy Winning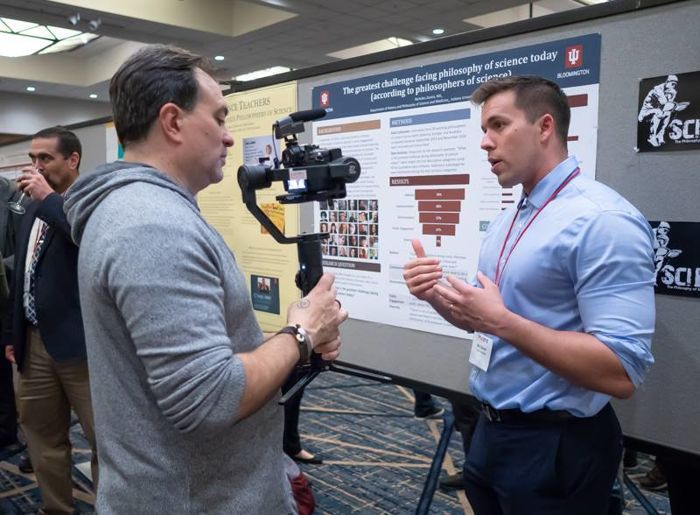 Prior to the start of the 2019 WSOP, Zautra released a free 7-week poker-specific workout program – both basic and advanced versions – complete with step-by-step daily recommendations for poker players to enhance their physical and mental performance during the summer grind.
Not only did Zautra share his knowledge in the program, but he also consulted with experts to develop the program. Among those he conferred with were Dr. Matt Rhea, Athletic Performance Coach Indiana Football; Greg Simmons, USA Powerlifting National Team Coach; and Amy Siebenmorgen, who has a MS in nutrition science.
"Last year I came out for the Main Event and found myself exercising at one of the local gyms. I thought it'd be fun to have other folks to exercise and workout with," he explained. "Also, for a long time I've been interested in how physical fitness contributes to mental game performance. When I'm really stressed I don't do very well at the poker table, but when I exercise and take care of myself I seem to have more endurance and confidence, which leads to a better ability to make decisions."
"When I exercise and take care of myself I seem to have more endurance and confidence, which leads to a better ability to make decisions."
Zautra toyed with the idea of offering personal training services to poker players, but with his time constraints, he wasn't able to commit.
"I still wanted to give back to the poker community, so I thought why not make a course that contributes and allows poker players to be healthy and to play their best during the WSOP."
Zautra set about constructing the course with an emphasis on the mental benefits of physical training. He likens it to the game of golf, which decades ago saw older, more out-of-shape players and now has leaner, more physically fit hackers.
"I wanted to create some sort of physical training that not only makes poker players feel better but also improves their performance at the table," he said, while also adding he's available to offer free workout advice or answer any questions poker players may have.
Click here for the free PDF of Zautra's seven-week workout plan.
Big Muscles in the Big 50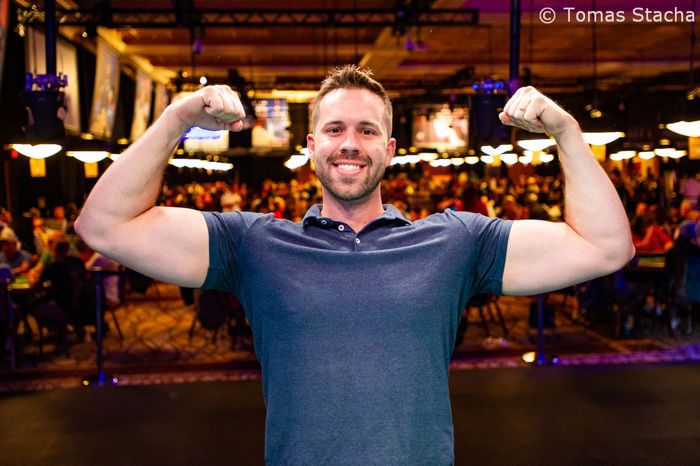 While Zautra has spent most of his time at the virtual felt, he's currently in Vegas and will be adding to his $15,583 in live tournament earnings in Event #3: $500 NLH Big 50. Zautra made it through Day 1d with a respectable stack of 780,000 and returns for Day 3 Wednesday as one of 1,597 players still left from a massive field of 28,371, already guaranteed at least a minimum payout of $1,600 with $1,147,449 reserved for the eventual winner of the event.
We asked Zautra his overall thoughts in what turned out to be the largest live poker tournament in history.
"People are having fun again, poker players are having fun."
"The registration line was a little daunting at first. I've actually never played the Colossus before, so this was my first massive live tournament. However, it's been a lot of fun," said Zautra, who fired three bullets.
"People are having fun again, poker players are having fun. Not only is it the start of the WSOP, but people are having a good time, playing with their friends and meeting folks. I think this tournament is a very positive thing. I love it and think it's a really good thing. I hope they do something like this again in the future."
For more on Zautra, follow him on Twitter @NickZautraPoker.