Christopher Wynkoop Spins a $150 Satellite Win into At Least Six-Figures in WSOP Main Event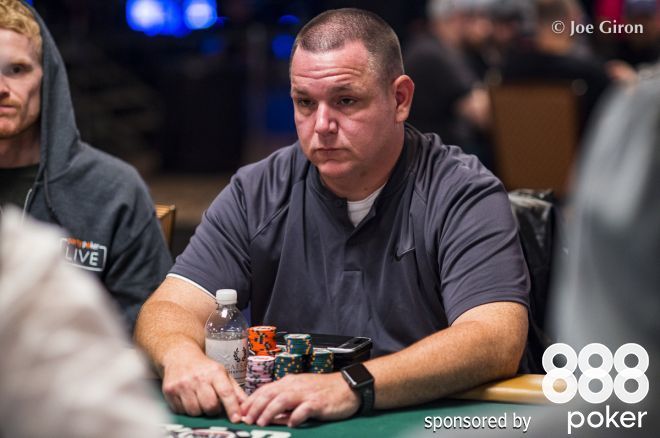 Most of us know the story of Chris Moneymaker, the likeable everyman who turned an $86 online satellite win into a $2.5 million dollar payday at the 2003 WSOP Main Event. This year another Chris — Christopher Wynkoop of Indianapolis, Indiana — is also making the most of a tiny investment.
Wynkoop entered a $150 single-table satellite at the Speedway American Legion, a charity poker club where he's been a regular for years. He won that satellite, earned entry to a second satty, and won again. Just like that, he'd earned a seat in the WSOP Main Event, along with $2,000 for traveling money. Now, as Day 6 winds down, he's guaranteed to earn a six-figure score — and possibly much more.
"This is the first time I've played the Main," he told PokerNews. "It's been surreal. I've played Circuit events, and even a couple tournaments out here, but never the Main. I never expected to run this deep."
From Small Stakes to Six Figures
A real-estate broker who's been playing recreationally for most of his life, Wynkoop's usual game is $1/$3 no-limit hold 'em. "Sometimes I might go crazy and play $2/$5," he said, smiling. His Hendon Mob shows a lone cash for $12,042 at a Circuit Event in Hammond, Indiana. Nevertheless, Wynkoop came to Las Vegas with his sights set on a deep run, and he certainly hasn't disappointed.
After bagging a healthy 181,900 chips on Day 1C, Wynkoop coasted through the next few days until a pivotal hand on Day 4 rocketed him to the top of the chip counts. On a
flop, he won a massive pot holding a pair of eights against Thomas Drinkwater's
. Suddenly he had over four million chips and the attention of his tablemate Jean-Robert Bellande.
"New chip leader," the ever-chatty Bellande called out. "Chip leader alert!"
"This is the first time I've played the Main...I never expected to run this deep."
Wynkoop would finish Day 4 ninth in chips. Entering Day 5, he showed no signs of slowing down. On the very first hand of the day, in a three-bet pot with around 300,000 in the middle, Wynkoop found himself in a pot with Alexander Greenblatt, a talented player with over $1.4 million in tournament cashes. The flop came
, Greenblatt bet 150,000 from the small blind, and Wynkoop called from the button.
The
landed on the turn. Greenblatt bet again, this time for 250,000, and Wynkoop called. Greenblatt checked on the
river, and Wynkoop moved all in for Greenblatt's remaining 900,000. Eventually Greenblatt folded and Wynkoop showed
for a busted flush draw.
Later in the day, in a pot against Kevin Rand, Wynkoop aggressively jammed all in on the turn for over three million chips. After a long tank, Rand folded and Wynkoop flashed six-high for a fast-played semi-bluff.
Representing the Speedway American Legion
Every step of the way, Wynkoop has been supported by dozens of members from his poker family, the Speedway American Legion — and especially by organizer Bob Monday. "He's the one who arranges the satellites," Wynkoop explained. "Great guy. Great tournaments. He's been sending eight or ten guys out here every year, probably for the last twenty years."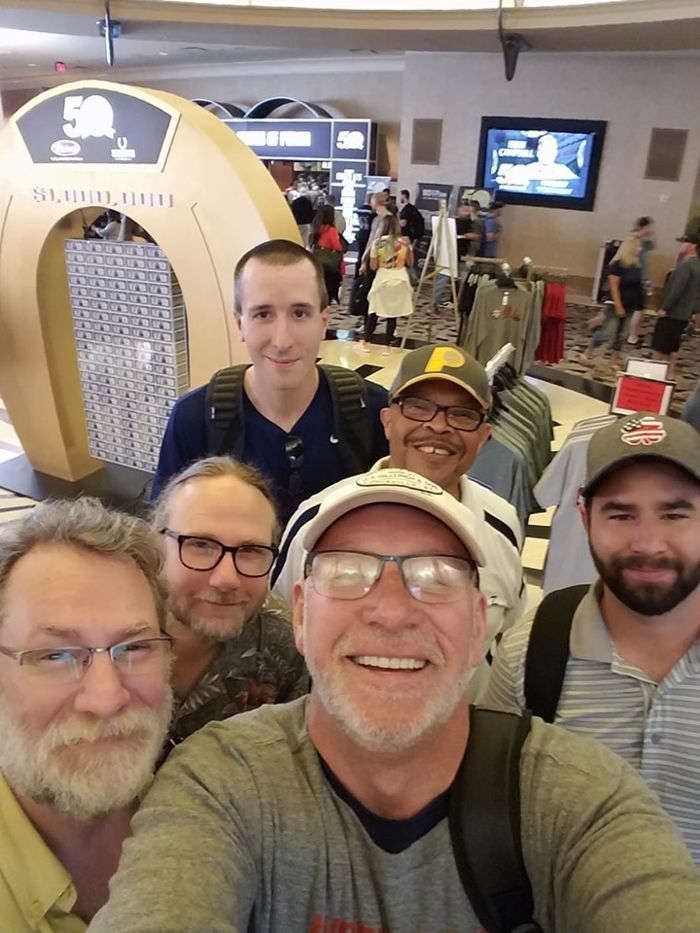 As he prepared for another long grind, Wynkoop sent out well wishes on Facebook at the beginning of Day 6.
Day 6 of the WSOP Main Event. 10 million dollars up top. Roughly 100 players between here and there. Time to run amazing! A special thanks to all of my friends and family for the support. Let's go! 5.1 million to start the day!
With approximately 50 players left and a few hours left in the day, Wyncoop has about seven million chips. "We're still truckin' along," Wynkoop said. "I'm feeling good."
Be sure to track Christopher Wynkoop right here at PokerNews as he tries to repeat Moneymaker history in the 2019 World Series of Poker Main Event.