Laura Moore Wins Massive $65K Prize in Potomac Poker Open's $370 Event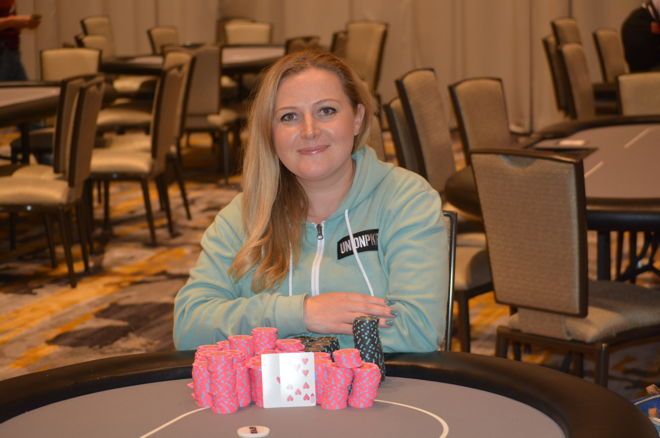 Day 2 of the $370 Opening Flight at the 2019 Potomac Poker Open began with 154 players remaining from a field of 1,952. It culminated after nearly sixteen hours of play with Laura Moore emerging as the winner after the final three players decided to chop.
Moore, James Canoles, and Lalith Mannur were the three players left standing at the end of play after several hours of three-handed play without many significant chip changes and little indication that big action was coming soon. Moore and Canoles were the larger stacks and agreed to chop for $65,000 each, while Mannur received close to $57,929 as he was the short stack for all of the three-handed play.
For Moore, it's the biggest score of her live poker career by quite a bit. The Virginia native had a supportive rail cheering her on throughout the entire final table as several local area players came out to support their fellow local.
Potomac Poker Open $370 Opening Event Final Table Results
| Position | Player | Country | Prize |
| --- | --- | --- | --- |
| 1 | Laura Moore | United States | $65,000* |
| 2 | James Canoles | United States | $65,000* |
| 3 | Lalith Mannur | United States | $57,929* |
| 4 | Justin Stonehill | United States | $32,482 |
| 5 | Steven Cho | United States | $25,349 |
| 6 | Charles Gang | United States | $19,712 |
| 7 | Richie Smith | United States | $15,455 |
| 8 | Kenneth Schafer | United States | $12,022 |
| 9 | Christopher Pham Le | United States | $9,606 |
*Denotes three-handed deal.
Action of the Day
The start of day chip leaders were all dispatched earlier than expected as many players went up and down in the chip counts. Eliminations were rapid on a wild day of action, as nearly half of the field of 154 was trimmed in just two hours.
As play got down to the final table, a chop was discussed with seven players left, but it was not unanimous and play continued.
Moore was involved in multiple huge hands that propelled her ascension. The first of which included turning jacks full to crack the pocket aces and eliminate Paul Min after he called it off on the river to finish in tenth place. She then won a big hand against Richie Smith to effectively end his run as he was left with crumbs following her big call after a long tank. Shortly after that, Moore got pocket aces at the right time against the pocket kings of Charles Gang to bust him in sixth place.
Canoles surged to a massive chip lead early in the day as he took multiple large pots away from the start of the day top five stack Columbus Randolph Jr. Canoles didn't look back from there as he held one-third of all the chips in play at the final table at one point. He got to that point in large part by the elimination of Nicholas Pham winning with two pair against Pham's top pair.
Play slowed to a crawl when the final table became four-handed as it took over hours for Justin Stonehill to be eliminated in 4th place. The three-handed play would also take a while as it took an hour and a half before a chop was decided.
Mannur flew more under the radar as he hung on all day to a medium stack and was never truly at risk but also was never one of the big stacks. His most substantial hand was when he eliminated decent-sized stack Christopher Pham Le in ninth place with pocket aces versus nines in a preflop all-in.
The Potomac Poker Open $3300 Main Event will begin on Friday. There is good value to be had in the three-seat guaranteed Super Satellites that run nightly at 7 p.m. through Thursday. The number of players that have already earned their entry into the Main Event is over 100, and with megas starting this week that number will be increasing daily.
Pokernews will resume coverage of the Potomac Poker Open on Wednesday, July 31 at 11 a.m. local time with the $370 Large Stack Big Bling Ante Event and then the $3300 Main Event on Friday.