Small-Stakes Reno Reg Lula Taylor Binks $388K Score in Mini-Main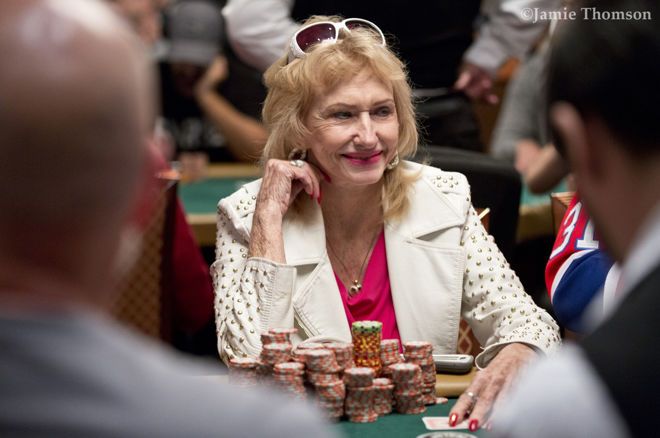 Table Of Contents
They say tournament poker ends with only one happy person, but Lula Taylor lives and breathes, so there's at least one piece of evidence to the contrary.
Taylor may not have won Event #69: $1,000 Mini Main Event, falling just short in second place for $388,284 after a heads-up match with Jeremy Saderne, but she certainly left her mark throughout the tournament.
The Abilene, Texas native came into the tournament short on World Series of Poker experience but long on charisma, and she soon found herself long on chips as well after bagging the Day 1 lead. Such was Taylor's popularity with her opponents that the PokerNews live reporting team noted they gave her a round of applause after she dropped her piles into the plastic.
Her camaraderie with tablemates didn't change an ounce when the pressure of six-figure money jumps loomed at the final table. If anything, long hours of play bred even more familiarity, and Taylor was passing out enough hugs to warm even the frozen air of the Amazon Room.
"I just love everybody," she says to PokerNews as she walks to collect her payout. "I'm one of those...I never meet a stranger. I'm a happy, go-lucky girl."
Grinding Small Stakes...
Taylor has relocated to Reno, Nevada, and now calls "the biggest little city in the world" home.
There, she can be found playing daily and weekly tournaments at Peppermill and Grand Sierra Resort, as well as bigger events like Run It Up Reno when they roll through town. She estimates she plays about three times per week.
In those events, she put together about $26,000 in recorded cashes over the course of 2007 through 2019, with the average buy-in being roughly $225.
"I just love everybody. I never meet a stranger."
She would make the occasional trip to Las Vegas but always stuck to smaller tournaments outside of the WSOP.
Then, a bankroll coup. Taylor, who only listed "gambling" as her hobby on her official WSOP final table bio, was rolling a machine at Eldorado when she hit a $10,000 jackpot. She made up her mind to take the WSOP plunge.
"That's been one of my bucket list things," she says. "I said, 'you know what?' I'm gonna go play the $1,000 poker tournament.' So, that's what I did!"
...Then Playing for Big Bucks
Some newcomers to the WSOP feel the pressure of playing in poker's biggest tournament for the first time. They've anticipated this moment for months, sometimes years, and nerves can be a natural development when it's time to sit at the felt for the biggest tournament of their lives.
Not so for Taylor, who tackled the Mini Main with her trademark fearlessness and carefree approach. That resulted in navigating through a massive field of 5,521 entries in the inaugural event to final table it, guaranteeing herself over $50,000.
Pay jumps fazed her not at all, though, as she kept having a blast, entertaining her opponents and winning over even the railbirds who were urging on the other players.
Five-handed, she hit a two-outer to bust Koji Takagi. Four-handed, she lost a flip to eventual champ Saderne that would have given her a hammerlock on the tournament with 70 percent of the chips in play. But, no matter if Taylor hit the ups or the downs in variance, her reaction and her attitude remained the same. She'd embrace her opponents and grin, enjoying every minute of the experience.
Taylor's fearlessness finally got the better of her when she four-bet shoved queen-ten heads up and ran headlong into the aces held by Saderne. The French pro and the energetic Texas lady held hands as the board ran out in Saderne's favor to secure him the bracelet, and the French crowd chanted her name when it was over.
Saderne had nothing but warm words about Taylor afterward.
"She is so fun at the poker table," he said. "She was so nice with me, she told me she'd like if I were her son. We began to speak not just about poker cards. It is very rare to have a person like Lula at the table."
Taylor poses for pictures afterward with her friends, a handful of ladies who came down from Reno with her. She calls the experience at the final table "wonderful" and says her plan is now to retire, travel with her friends and play more poker "all over."
Only thing is, she's got to get a couple more of them on board as only one plays any poker at all.
"They don't know what they're missin'," Taylor says.
"We could never learn what she does," one of her friends says. "She's very good at it."
Another corrects her.
"We could never get away with what she gets away with."
They all laugh, but $388K is no joke, and that isn't lost on Taylor.
"This is the first biggie, I have to tell ya," she says. "It's a life-changer, really."