Ryan Eriquezzo Captures His Second WSOP Global Casino Championship for $279,431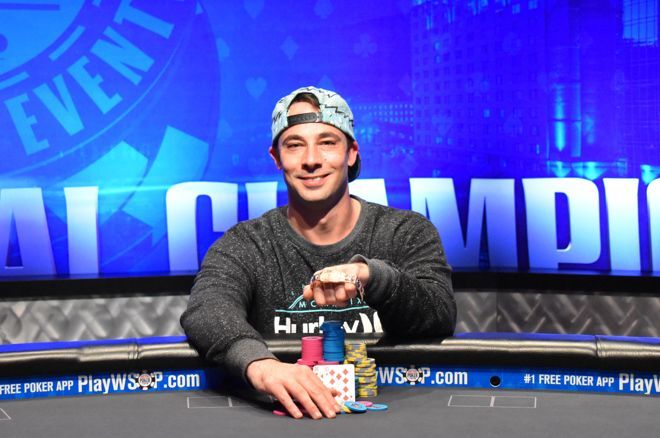 Table Of Contents
In one of the toughest fields on the World Series of Poker Circuit, Ryan Eriquezzo has reigned victorious once again. Eriquezzo captured the 2019 WSOP Global Casino Championship for the second time in his career. Along with a new gold bracelet, Eriquezzo will also take home $279,431 after defeating a field of 129 entrants.
"This was a bit different; it felt like I was coming into hostile territory."
In the end, it came down to a back and forth heads-up match with Eric Salazar, the hometown favorite. Eriquezzo said that was the main difference between this victory and the one back in 2012. "It's very similar, but at the same it's different. My rail in Vegas was huge; everyone was rooting for me. This was a bit different; it felt like I was coming into hostile territory."
Eriquezzo had to deal with those elements early on at the final table when he got into a classic flip with Salazar. Eriquezzo flopped a pair of aces, but Salazar spiked a set of queens on the turn to double up, and his rail exploded. Eriquezzo managed to keep his head in the game and admitted that things started to go his way afterward. "This was a much easier path to victory. I ran really good with a table draw. I ran good with chip stacks at the final table - aside from that one flip where they tested me."
"It would be nice to take a little break and do some traveling, but I've said that before."
Despite giving up a five-to-one chip lead at one point, Eriquezzo said he was just focused on making the best play on each street against each opponent, and that was what propelled him to the victory. In the last hand of the night, Eriquezzo flopped a king-high flush and Salazar picked the wrong time to make a move on the turn. With Salazar drawing dead, Eriquezzo raised his arms in victory, knowing the river could not change the outcome anymore.
Looking forward to what's next for the Connecticut native, he said maybe some poker but maybe not. "It would be nice to take a little break and do some traveling, but I've said that before. I'll take a look at the schedule and go from there." Eriquezzo will have another shot to pad his bankroll before he gets away from the felt as he will be jumping into the Main Event that takes place over the next four days.
2018/2019 WSOP Global Casino Championship Final Table Results
| Place | Player | Country | Prize |
| --- | --- | --- | --- |
| 1 | Ryan Eriquezzo | United States | $279,431 |
| 2 | Eric Salazar | United States | $172,431 |
| 3 | Maurice Hawkins | United States | $119,555 |
| 4 | Joshua Turner | United States | $84,961 |
| 5 | Paulius Vaitiekunas | Lithuania | $62,023 |
| 6 | Adam Cedric | France | $46,546 |
| 7 | Jordan Piva | United States | $35,939 |
| 8 | Jarod Minghini | United States | $28,572 |
A Unique Event
This was one of those unique events that only come around once a year and is said to be the toughest tournament on the circuit with the best of the best duking it out over three long days. The invitation-only event allows only those who have won a Main Event on the circuit this season along with the Casino Champions a free entry. Also, the top 50 on the points leaderboard were given a seat. For those that are in the top 100 of the WSOP player-of-the-year standings, they were given the option to buy in for $10,000, and only four players took that option.
It was a stacked field that saw many of the top players from all around the world filter into the Harrah's Cherokee Casino Resort for their chance at the $1,000,000 guaranteed prize pool. Players like Martin Kabrhel, Alex Lynskey, Ari Engel, Joe Cada, Ryan Leng, and Valentin Vornicu all fell short of the money. A few other big names on the circuit including Jake Bazeley, Vincent Moscati, Stephen Song, and Josh Reichard were able to pick up some cash but bowed out before the TV table was reached.
Final Day Action
The final day of the WSOP Global Casino Championship began with six players eyeing up the title and a gold bracelet. After an excruciating long fourteen-hour Day 2, the players returned with little sleep under their belt. As to be expected, it took a little while for the action to heat up with a slow start to the final table.
Adam Cedric began as the short stack but slowly started to work his way up the leaderboard. However, Cedric doubled up Maurice Hawkins and quickly became the short stack once again. In the very next hand, Cedric moved all-in with ace-eight but was called promptly by Salazar's ace-jack. Cedric was unable to come back from a dominated position and became the first player eliminated at the feature table.
Coming into the day, Paulius Vaitiekunas was the clear chipleader, but things took a turn for the worse with five players remaining. A failed bluff attempt versus Salazar and a double-up of Eriquezzo left the Lithuanian with around fifteen big blinds. He moved all of his chips in the middle with ace-eight but ran into the pocket kings of Hawkins. Despite hitting an ace on the river, Hawkins had the upper-hand with a turned set of kings, and Vaitiekunas became the fifth-place finisher.
Joshua Turner used his unorthodox style to sit among the chip leaders for the majority of the tournament. However, his grind came to an end when it was his turn to send a double up to Eriquezzo. Turner was left with just one big blind and was forced to play against all three opponents in the next hand. Hawkins ran out trip deuces which proved to be enough to eliminate Turner in fourth place.
Three-handed play lasted for about an hour with Eriquezzo and Salazar exchanging the chip lead while Hawkins watched most of the action unfold. Hawkins eventually bluffed off a good portion of his stack to Salazar which put him under 20 big blinds. Soon after, both Hawkins and Eriquezzo flopped top pair and Hawkins was unable to get away from an all-in shove on the river from Eriquezzo. Hawkins called it off with a worse kicker and was ousted in third place.
That left Eriquezzo and Salazar to battle it out for the title with over $100,000 difference between the two payouts. A slight chip lead exchanged hands multiple times before Eriquezzo finally opened up a large gap. However, Salazar battled up back with a huge double up to take a commanding lead. His lead didn't last long as Eriquezzo won the next four hands including the last one of the night to bring an end to the tournament.
That wraps up the coverage for the 2019 WSOP Global Casino Championship but the PokerNews live reporting team will remain on the tournament floor for the 2019 World Series of Poker Circuit Harrah's Cherokee $1,700 Main Event that begins tomorrow.