Sergi Reixach Outlasts Sam Grafton to Win EPT Barcelona €100K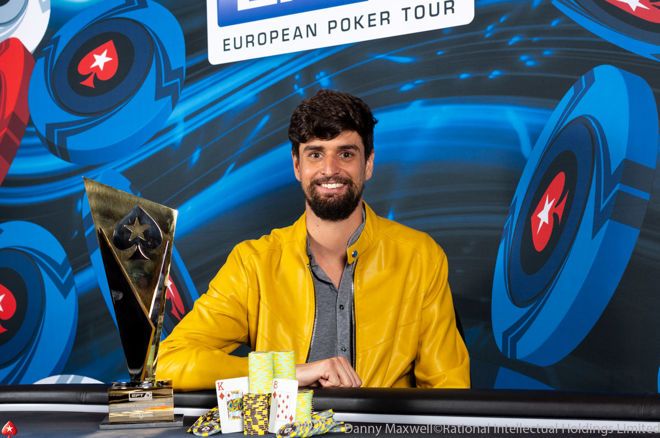 Table Of Contents
It was another triumphant day for the Spanish poker community and this time it came on the home turf in Barcelona. Sergi Reixach has topped the field in the €100,000 EPT Super High Roller to claim his largest career score of €1,816,210.
Coming into today, Reixach's largest career score was just over $350,000 but he piled up quite the resume with over $2.6 million in career earnings. He is also known for being an online crusher here in Spain.
Reixach's plan going forward is to continue jumping in these high-roller tournaments and a big seven-figure score will allow him to do so. In his post-tournament interview with PokerNews, Reixach mentioned he was going through a bit of a rough patch but has turned things around as of late.
Reixach defeated Sam Grafton in heads-up play, but Grafton also pocketed a seven-figure payday. The two battled it out for around three hours with each player holding significant chip leads. In the last hand of the night, Grafton started the hand with about 18 big blinds but was trying to push the action. A preflop raise followed by a continuation bet on the flop left Grafton with a pot-sized bet remaining. He chose to move it all in on the river and Reixach made the call. Grafton showed a queen-high bluff while Reixach turned over top pair to seal the deal.
Final Table Results
| Place | Player | Country | Prize (EUR) | Prize (USD) |
| --- | --- | --- | --- | --- |
| 1st | Sergi Reixach | Spain | €1,816,210 | $2,017,137 |
| 2nd | Sam Grafton | United Kingdom | €1,303,950 | $1,448,206 |
| 3rd | Danny Tang | Malaysia | €847,570 | $941,337 |
| 4th | Kahle Burns | Australia | €639,560 | $710,315 |
| 5th | Tsugunari Toma | Japan | €496,740 | $551,694 |
| 6th | Luc Greenwood | Canada | €384,980 | $427,570 |
| 7th | Steve O'Dwyer | Ireland | €304,250 | $337,909 |
| 8th | Rui Ferreira | Portugal | €235,950 | $262,053 |
| 9th | Mikalai Vaskaboinikau | Belarus | €180,070 | $199,991 |
The largest buy-in tournament of the 2019 EPT Barcelona festival attracted a total of 64 entries. An unlimited amount of reentries were permitted with late registration open until the start of Day 2. Only 32 players bagged chips after eight levels on Day 1 and eight more entries joined to start Day 2. It took nearly another eight levels to reach the money and the unofficial final table.
Early Action at Final Table
An unofficial final table of nine players returned for the final day of competition and each of them were guaranteed at least €180,070 after the money bubble burst to end Day 2. It was a slow start to the day with the majority of the players waiting on the two short stacks to make their move.
It was Mikalai Vaskaboinikau who stuck in his last 18 big blinds in the middle with pocket nines but ran into the pocket tens of Reixach. A ten on the turn ended Vaskaboinikau's hopes and he took home a min-cash.
Despite quadrupling up his small stack, Rui Ferreira was unable to pick up any hands at the final table. Ferreira eventually shoved all in with ace-eight in his big blind but Reixach again woke up with a premium hand, making the call with ace-king. Ferreira was unable to come from behind and hit the payout desk in eighth place.
With just three players remaining, 90% of the chips were split between Grafton and Reixach with Danny Tang needing a miracle to become a factor
Steve O'Dwyer came into the day second in chips but was on the wrong end of a couple of big pots. His stack dwindled down to around 10 big blinds and was unlucky once again when his pocket fives couldn't hold up against the ace-four of Tsugunari Toma.
Only six players remained when the first break approached and it was Luc Greenwood on the shortest stack. While Greenwood got a couple of shoves through, he eventually met his match when Reixach finally called one off. Greenwood was flipping with pocket sixes against the ace-queen of Reixach but a queen on the flop and the river ended Greenwood's run in sixth place.
Day 2 proved to be an exceptional day for Toma who celebrated his birthday and accumulated the chip lead to cap things off. However, one day later and the tides turned for the Japanese player. Toma lost the majority of his chips in a huge flip against Grafton and bowed out moments later after losing another one.
Kahle Burns admitted at one point that he was having a rough day and just sort of card dead, waiting for other to bust first and his stack slowly dwindled away. Burns was left with around 15 big blinds and got his chips in the middle in a dominating position against Grafton. However, the Brit spiked a three-outer on the flop and Burns exited in fourth place.
With just three players remaining, 90% of the chips were split between Grafton and Reixach with Danny Tang needing a miracle to become a factor. It looked as though that miracle may become reality when Tang's ace-eight took the lead against Reixach's ace-queen on the turn. However, the river counterfeit Tang's two pair and he exited in third place just prior to the next break.
Long Heads-Up Match
There were 160 big blinds split between Reixach and Grafton when heads-up play began and it was bound to be a lengthy heads-up match.
The first half of the tilt was all Grafton as he amassed a massive chip lead with some aggressive moves picking up pot after pot. At one point, Reixach was down to just 12 big blinds but found a miracle double up. Reixach got his chips in with two live cards against Grafton's ace-king and managed to make a pair on the turn to keep his hopes alive.
That hands seemed to turn the tide as Reixach went on to win a few more key pots consecutively. One more double up after both players flopped top pair and Reixach found himself in the chip lead. Grafton fell all the way down to just eight big blinds and just when he was attempting a comeback of his own, Reixach was able to finish things off.
That wraps up the coverage for this event but the PokerNews live reporting team will continue to be busy throughout the next week bringing you all of the updates from Casino Barcelona.
The Stars Group owns a majority shareholding in iBus Media.