Simon Webster Wins 15th Annual Oklahoma State Poker Championship Main Event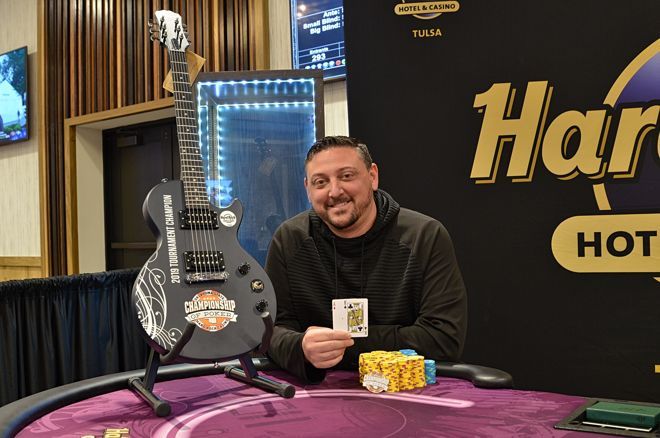 Simon Webster earned the victory in the 15th Annual Oklahoma State Poker Championship $465 Main Event at Hard Rock Tulsa. He won $42,155 after topping a field of 293 runners.
Webster entered the final table with over a million chips but it took some time for him to gather steam.
"I took a few losses early, so I had to calm down and be patient," Webster said after the win.
Final Table Results
| Place | Player | Prize |
| --- | --- | --- |
| 1 | Simon Webster | $42,155 |
| 2 | James Traber | $26,071 |
| 3 | Kenny Baggett | $18,916 |
| 4 | Rodney Spriggs | $13,959 |
| 5 | Mike Marn | $10,478 |
| 6 | Mashir Khan | $7,971 |
| 7 | Pam Belote | $6,171 |
| 8 | Steve Seffense | $4,852 |
| 9 | Brant Jolly | $3,868 |
| 10 | Daniel Aldridge | $3,129 |
Webster started to gain some traction when he busted Pam Belote in seventh place. Leading up to the confrontation that eventually sent Mashir Khan to the rail, Webster said he'd folded to Khan a few times, including with ace-nine suited. However, when Khan elected to shove all-in on an all-diamond flop, Simon snap-called with ace-ten, the latter being a diamond. Khan tabled jack-nine for a better flush draw, but Webster's hand held up to knock out Khan in sixth. Webster's stack continued to trend upward from that point.
He eventually would run his stack up to more than three million, leading the final table. He surrendered the chip lead only twice. Once to third-place finisher Kenny Baggett and once when James Traber rivered a full house to double through Webster, who had turned a heart flush. By far the most aggressive player at the table, Webster regained those chips through persistent raises and timely folds, picking uncontested pots frequently and avoiding questionable situations.
After knocking out Baggett, Webster took a 4.5-to-1 chip advantage into heads-up play; a lead he never relinquished. In the final hand, Traber shoved with king-queen and found himself up against Webster's Big Slick. Traber failed to improve and Webster's superior ace won him the title.
After the tournament, Webster reflected on how good his year been so far, including getting married in April to his wife, Brianna, after a seven-week engagement.
"I coach the kids back home in McKinney and she took the kids so I could come here," Webster said.
"I'm sure she'll want a piece of this," he added with a smile.