The Wynn Fall Classic Guarantees $2.5M on Sept. 23 to Oct. 13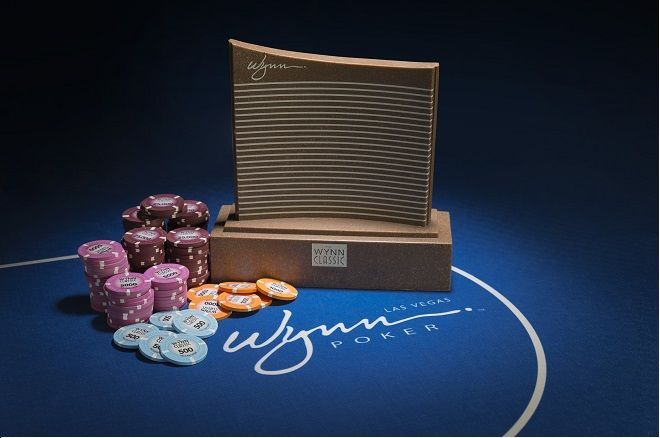 Table Of Contents
The Wynn Fall Classic is heading back to the Encore poker room at the Wynn on Sept. 23 to Oct. 13 with sixteen action-packed tournaments guaranteeing a combined $2.5 million.
This is a huge increase from the $1.8 million guaranteed last year over sixteen events during last year's festival.
Championship Event
The highlight of the series will be the three-day Championship Event with a $1,600 buy-in with a big $1,000,000 guaranteed prize pool. This represents double the $500,000 guarantee of last year's Championship Event won by Steve Sung for $170,550.
The event features three starting days with players starting with 25,000 in chips and competing in 45-minute blind levels on Oct. 3-5. As is the case with all events on the schedule, players will have a chance to build a big stack with unlimited reentries permitted throughout the (late-)registration period.
Surviving players will compete for two more days on Oct. 6-7 with longer 60-minute blind levels until a winner is crowned.
Other Event Highlights
The schedule is full of big events suitable to players with bankrolls big and small with buy-ins ranging $300 to $3,200. In addition to the Championship Event, there are two other events with three No Limit Hold'em Events on the schedule on Sept. 26-29 with a $600 buy-in and a $250,000 guarantee and on Oct. 10-13 with a $1,100 buy-in and a $400,000 guarantee.
Another big event that will likely draw some of the biggest names in poker is the $3,200 buy-in No Limit Hold'em event with a $200,000 guarantee running Oct. 2-3.
The schedule also features two Senior (50+) events and plenty of other tournaments with guarantees as high as $150,000.
In addition, players can get into some of the bigger events for a fraction of the cost via Super Satellites with buy-ins ranging from $200 to $400.
Check out the full 2019 schedule below.
Wynn Classic Schedule
| Date | Time (PDT) | Event | Buy-in | Guarantee | Chips | Levels |
| --- | --- | --- | --- | --- | --- | --- |
| Sept. 23 | 12 p.m. | No Limit Hold'em Day 1A | $400 | $100,000 | 20,000 | 40 min. |
| Sept. 24 | 12 p.m. | No Limit Hold'em Day 1B | $400 | $100,000 | 20,000 | 40 min. |
| Sept. 25 | 11 a.m. | No Limit Hold'em Seniors (50+) | $550 | $50,000 | 20,000 | 30 min. |
| Sept. 26 | 11 a.m. | Limit Omaha 8/B | $300 | $10,000 | 15,000 | 30 min. |
| | 12 p.m. | No Limit Hold'em Day 1A | $600 | $250,000 | 20,000 | 40 min. |
| Sept 27 | 12 p.m. | No Limit Hold'em Day 1B | $600 | $250,000 | 20,000 | 40 min. |
| Sept 28 | 12 p.m. | No Limit Hold'em Day 1C | $600 | $250,000 | 20,000 | 40 min. |
| Sept 29 | 1 p.m. | NLH $3K Survivor Bounty | $400 | $40,000 | 15,000 | 30 min. |
| Sept 30 | 12 p.m. | No Limit Hold'em | $400 | $40,000 | 15,000 | 30 min. |
| Oct. 1 | 12 p.m. | No Limit Hold'em | $400 | $40,000 | 15,000 | 30 min. |
| Oct. 2 | 11 a.m. | No Limit Hold'em Seniors (50+) | $400 | $25,000 | 15,000 | 30 min. |
| | 2 p.m. | No Limit Hold'em (2 Day Event) | $3,200 | $200,000 | 50,000 | 40 min. |
| Oct. 3 | 12 p.m. | NLH Championship Day 1A | $1,600 | $1,000,000 | 25,000 | 45 min. |
| Oct. 4 | 12 p.m. | NLH Championship Day 1B | $1,600 | $1,000,000 | 25,000 | 45 min. |
| Oct. 5 | 12 p.m. | NLH Championship Day 1C | $1,600 | $1,000,000 | 25,000 | 45 min. |
| Oct. 6 | 1 p.m. | No Limit Hold'em | $1,100 | $100,000 | 20,000 | 30 min. |
| Oct. 7 | 12 p.m. | No Limit Hold'em Day 1A | $600 | $150,000 | 20,000 | 40 min. |
| Oct. 8 | 12 p.m. | No Limit Hold'em Day 1B | $600 | $150,000 | 20,000 | 40 min. |
| | 2 p.m. | Pot Limit Omaha | $400 | $20,000 | 20,000 | 30 min. |
| Oct. 9 | 1 p.m. | No Limit Hold'em | $400 | $40,000 | 15,000 | 30 min. |
| Oct. 10 | 11 a.m. | No Limit Hold'em Ladies | $300 | $10,000 | 15,000 | 30 min. |
| | 12 p.m. | No Limit Hold'em Day 1A | $1,100 | $400,000 | 20,000 | 40 min. |
| Oct. 11 | 12 p.m. | No Limit Hold'em Day 1B | $1,100 | $400,000 | 20,000 | 40 min. |
| Oct. 12 | 12 p.m. | No Limit Hold'em Day 1C | $1,100 | $400,000 | 20,000 | 40 min. |
| Oct. 13 | 1 p.m. | No Limit Hold'em | $400 | $40,000 | 15,000 | 30 min. |