Battle of Malta Returns to Casino Malta on Oct. 15-22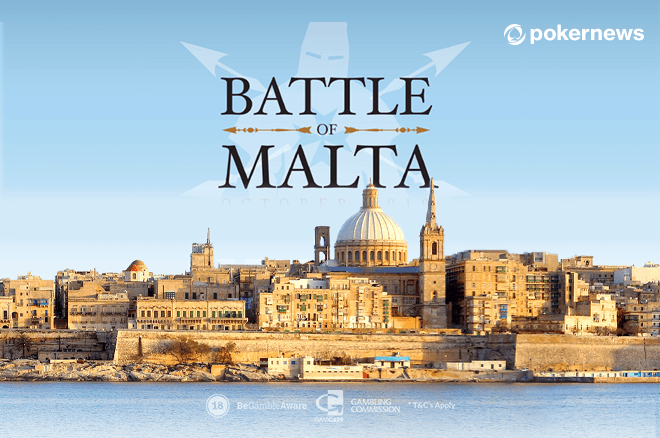 Table Of Contents
The Battle of Malta, hosted by the Casino Malta by Olympic Casino, returns to the InterContinental Arena Conference Centre for a week of exciting poker action on Oct. 15-22.
The festival is one of the most popular in Europe for both recreational and professional poker players alike thanks to the weather on the island of Malta being perfect in October, and plenty of tournaments and nonstop cash games to choose from.
€1 Million Guaranteed Main Event
The highlight of the festival is the Battle of Malta €555 Main Event featuring a huge €1 million guarantee. The guarantee was smashed last year when 3,816 entrants generated a massive €1,850,760 prize pool. France's Julian Stropoli etched his name into the Battle of Malta record books after winning the event for €168,500 as part of a five-way deal at the final table.
The attendance in the Main Event has grown every year since the event's inception in 2012 when Nicodemo Piccolo bested a field of 369 players to win the €35,000 top prize. The Battle of Malta was also awarded the 2014 European Poker Awards Event of the Year for buy-ins up to €2,000.
This year's Main Event features five opening flights on Oct. 16-19 with players starting off with 25,000 in chips. Blinds increase every 40 minutes on each of the first four opening flights, while the final opening flight is a turbo affair with 20-minute blind levels. A total of 15 percent of each flight will advance to Day 2 on Oct. 20 where blind levels increase to 60 minutes until a winner is crowned on the final day on Oct. 22.
Players can win packages to the Battle of Malta Main Event through the festival's online partners MPN and 888poker and can also win seats at a discount through plenty of live satellites and other promotions running live at Casino Malta.
Other Event Highlights
The schedule features something for everyone with event buy-ins starting at €88 and satellites buy-ins starting at €60. There are also plenty of bigger events on the schedule including the €5,300 Mega High Stack on Oct. 16-17.
Finnish poker sensation Patrik Antonius will also be on hand to host his very own Patrik Antonius Poker Challenge Pop-up Cup, featuring a €300 buy-in on Oct. 18-19. The event is sponsored by the social poker app First Land of Poker (FLOP), which is free to download on both iOS and Android mobile devices.
Near the end of the schedule is the €1,320 High Roller on Oct. 20-22. Of course, there is plenty else to choose from with 35 numbered events on the schedule and cash games running 24 hours a day throughout the week.
The Battle of Malta has partnered with Main Event Travel to help with your travel needs. Head to the Battle of Malta website for more information.
2019 Battle of Malta Schedule
| Date | Time (CET) | Event # | Buy-in | Event |
| --- | --- | --- | --- | --- |
| Oct. 15 | 6 p.m. | 1 | € 60 | NLH Super Satellite for BOM Day 1A |
| Oct. 16 | 11 a.m. | 2 | € 60 | Turbo Super Sat for BOM Day 1A |
| | 1 p.m. | 3 | € 555 | NLH BOM Day 1a 'Let the Battle Begin' |
| | 3 p.m. | 4 | € 600 | Satellite for Mega High Stack |
| | 6 p.m. | 5 | € 200 | Road to Kings of Tallinn |
| | 9 p.m. | 6 | € 5,300 | NLH BOM Mega High Stack Day 1 |
| | 11 p.m. | 7 | € 120 | Survive Your Day and Battle' |
| Oct. 17 | 11 a.m. | 8 | € 60 | Turbo Super Sat for BOM Day 1B-C-D |
| | 1 p.m. | 3 | € 555 | NLH BOM Day 1b 'Let the Battle Begin' |
| | 2 p.m. | 6 | € 5,300 | NLH BOM Mega High Stack Final Day |
| | 3 p.m. | 9 | € 96 | Crazy 888's Battle |
| | 6 p.m. | 10 | € 220 | Bounty for the Knight |
| | 9 p.m. | 11 | € 225 | PLO 4 Card |
| | 11 p.m. | 12 | € 120 | Survive Your Day and Battle |
| Oct. 18 | 11 a.m. | 13 | € 60 | Super Sat for BOM Day 1C-D |
| | 1 p.m. | 3 | € 555 | NLH BOM Day 1c 'Let the Battle Begin' |
| | 3 p.m. | 14 | € 245 | NLH Siege of Malta Day 1 |
| | 5 p.m. | 15 | € 300 | PAPC Sponsored by FLOP |
| | 6 p.m. | 16 | € 220 | Bounty for the Knight |
| | 9 p.m. | 17 | € 170 | 3 Card Battle Super NLH |
| | 11 p.m. | 18 | € 120 | Survive Your Day and Battle |
| Oct. 19 | 11 a.m. | 19 | € 60 | Super Sat for BOM Day 1D |
| | 1 p.m. | 3 | € 555 | NLH BOM Day 1d 'Let the Battle Begin' |
| | 3 p.m. | 14 | € 245 | NLH Siege of Malta Day 2/Final Day |
| | 5 p.m. | 20 | € 220 | Bounty for the Knight |
| | 6 p.m. | 21 | € 245 | Short Deck |
| | 7 p.m. | 22 | € 60 | Super Sat for BOM Day 1E |
| | 9 p.m. | 3 | € 555 | NLH BOM Day 1e 'Let the Battle Begin' |
| | 11 p.m. | 23 | € 120 | Survive Your Day and Battle |
| Oct. 20 | 11 a.m. | 24 | € 170 | Satellite for High Roller |
| | 12 p.m. | 25 | Closed Event | ERPT @ Battle of Malta |
| | 2 p.m. | 3 | € 555 | BOM Main Event Day 2 |
| | 3 p.m. | 26 | € 1,320 | NLH BOM High Roller Day 1 |
| | 4 p.m. | 27 | € 400 | POKER MAPS |
| | 6 p.m. | 29 | € 300 | IPC Battle Turbo Deepstack |
| | 7 p.m. | | | Players PARTY at Paranga Beach |
| | 9 p.m. | 28 | € 110 | BOM Ladies Night |
| | 11 p.m. | 30 | € 120 | Survive Your Day and Battle |
| Oct. 21 | 1 p.m. | 31 | € 170 | Satellite for High Roller |
| | 1 p.m. | 3 | € 555 | BOM Main Event Day 3 |
| | 2 p.m. | 32 | € 300 | THE REVENGE |
| | 3 p.m. | 26 | € 1,320 | NLH BOM High Roller Day 2 |
| | 4 p.m. | 33 | € 245 | Short Deck |
| | 5 p.m. | 34 | € 150 | NLH MPNPT Battle |
| | 9 p.m. | 35 | € 170 | SEE YOU BOM 2020 added ticket (Winner gets 2020 BUY IN) |
| Oct. 22 | 2 p.m. | 26 | | High Roller Final Table |
| | 2 p.m. | 3 | | BOM Main Event Final Table |