2019 Borgata Fall Poker Open Runs Nov. 5-22; PokerNews to Live Report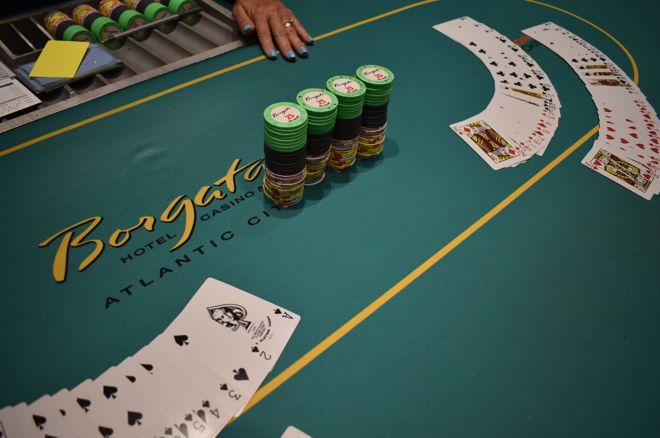 Table Of Contents
From November 5-22, Borgata will host its annual Fall Poker Open in Atlantic City. PokerNews will be on hand to live report the action from 23 events including the $540+$60 Borgata Deepstack Kick-Off $500K GTD (Nov. 6-9), $350+$50 Borgata Almighty Stack $300K GTD (Nov. 12-16), and the live-streamed $2,500+$200 Borgata Fall Poker Open Championship $1 Million GTD (Nov. 16-21).
One of the East Coast's premier festivals, the Borgata Fall Poker Open tends to draw massive fields for most events. That was evidenced in last year's Fall Poker Open when Frank Lagodich, a former guest on the LFG Podcast, topped a 1,474-entry field to win the Kickoff tournament for $128,359.
Other big winners from last year's Fall Poker Open include Katie Stone, who won the Deepest Stack for $19,337; Stephen Gerber winning the $1,090 NLH 6-Max for $28,000; Anna Antimony topping a 1,073-entry field to win the Almighty Stack for $91,586; and Wenhao Ying, who outlasted 437 entrants to win the Championship Event for $200,000.
Play Online in New Jersey
For those attending the 2019 Borgata Fall Poker Open, remember you have the opportunity to play online. Not only can you compete at BorgataPoker.com and earn a free $20 from PokerNews, you can also legally bet sports in New Jersey.
BorgataSports.com launched back in May and new players can nab a welcome bonus. Find out more about that, as well as a review of the site, right here on oddschecker.com/us.
2019 Borgata Fall Poker Open Schedule
| Event | Tournament | Day | Time | Buy-In |
| --- | --- | --- | --- | --- |
| 1 | SUPER SURVIVOR NO LIMIT HOLD'EM (RE-ENTRY) (~1 IN 10 WINS $5,000) | TUE, 11/5 | 11AM | $500 + $60 |
| 2 | POT-LIMIT OMAHA HIGH (RE-ENTRY) | TUE, 11/5 | 3PM | $300 + $40 |
| 3 | BORGATA DEEPSTACK KICK-OFF (RE-ENTRY) $500K GTD Day 1a | WED, 11/6 | 11AM | $540 + $60 |
| | DAY 1B | WED, 11/6 | 5PM | $540 + $60 |
| | DAY 1C | THU, 11/7 | 10AM | $540 + $60 |
| | DAY 1D | THU, 11/7 | 6PM | $540 + $60 |
| | DAY 2 | FRI, 11/8 | 12PM | $540 + $60 |
| | DAY 3 | SAT, 11/9 | 12PM | $540 + $60 |
| 4 | DEEPSTACK BLACK CHIP BOUNTY NO LIMIT HOLD'EM (RE-ENTRY) $100K GTD Day 1 | FRI, 11/8 | 1PM | $350 + $50 + $100 |
| | DAY 2 | SAT, 11/9 | 12PM | |
| 5 | SUPER SURVIVOR NO LIMIT HOLD'EM (RE-ENTRY) (~1 IN 10 WINS $5,000) | FRI, 11/8 | 5PM | $500 + $60 |
| 6 | SATURDAY SERIES DEEPSTACK NO LIMIT HOLD'EM (RE-ENTRY) $100K GTD | SAT, 11/9 | 11AM | $350 + $50 |
| 7 | OE H/L 8B | SAT, 11/9 | 3PM | $300 + $40 |
| 8 | SENIORS NO LIMIT HOLD'EM (RE-ENTRY) | SUN, 11/10 | 10AM | $300 + $40 |
| 9 | DEEPER STACK NO LIMIT HOLD'EM (RE-ENTRY) $20K GTD | SUN, 11/10 | 12PM | $200 + $30 |
| 10 | DEEPEST STACK NO LIMIT HOLD'EM (RE-ENTRY) | $100K GTD Day 1A | MON, 11/11 | 11AM |
| | DAY 1A | MON, 11/11 | 11AM | $260 + $40 |
| | DAY 1B | MON, 11/11 | 5PM | $260 + $40 |
| | DAY 2 | TUE, 11/12 | 12PM | $260 + $40 |
| 11 | ALMIGHTY STACK NO LIMIT HOLD'EM (RE-ENTRY) $300K GTD | DAY 1A | TUE, 11/12 | 1PM |
| | DAY 1B | WED, 11/13 | 11AM | $350 + $50 |
| | DAY 1C | THU, 11/14 | 10AM | $350 + $50 |
| | DAY 1D | THU, 11/14 | 5PM | $350 + $50 |
| | DAY 2 | FRI, 11/15 | 12PM | |
| | DAY 3 | SAT, 11/16 | 12PM | |
| 12 | POT LIMIT OMAHA H/L 8B (RE-ENTRY) | TUE, 11/12 | 4PM | $200 + $30 |
| 13 | H.O.S.E. (RE-ENTRY) | WED, 11/13 | 3PM | $300 + $40 |
| 14 | SIX MAX NO LIMIT HOLD'EM (RE-ENTRY) $100K GTD Day 1 | FRI, 11/15 | 1PM | $1,000 + $90 |
| | Day 2 | SAT, 11/16 | 12PM | |
| 15 | SUPER SURVIVOR NO LIMIT HOLD'EM (RE-ENTRY) (~1 IN 10 WINS $5,000) | FRI, 11/15 | 5PM | $500 + $60 |
| 16 | SATURDAY SERIES DEEPSTACK NO LIMIT HOLD'EM (RE-ENTRY) $100K GTD | SAT, 11/16 | 11AM | $350 + $50 |
| 17 | BORGATA FALL POKER OPEN CHAMPIONSHIP (RE-ENTRY) $1 MILLION GTD Day 1A | SAT, 11/16 | 12PM | $2,500 + $200 |
| | DAY 1B | SUN, 11/17 | 11AM | $2,500 + $200 |
| | DAY 1C | MON, 11/18 | 11AM | $2,500 + $200 |
| | DAY 2 | TUE, 11/19 | 12PM | |
| | DAY 3 | WED, 11/20 | 12PM | |
| | LIVE STREAM FINALE | THU, 11/21 | 2PM | |
| 18 | DOUBLE GREEN CHIP BOUNTY NO LIMIT HOLD'EM (RE-ENTRY) | SUN, 11/17 | 12PM | $200 + $30 + $50 |
| 19 | DEEPER STACK NO LIMIT HOLD'EM (RE-ENTRY) $20,000 GTD | TUE, 11/19 | 11AM | $200 + $30 |
| 20 | PURPLE CHIP BOUNTY EIGHT MAX SEMI TURBO NLH (RE-ENTRY) | TUE, 11/19 | 3PM | $1,000 + $60 + $500 |
| 21 | BIG WEDNESDAY NO LIMIT HOLD'EM (RE-ENTRY) $75K GTD | WED, 11/20 | 11AM | $260 + $40 |
| 22 | BLACK CHIP BOUNTY NO LIMIT HOLD'EM (RE-ENTRY) | THU, 11/21 | 11AM | $300 + $40 + $100 |
| 23 | DEEPEST STACK NO LIMIT HOLD'EM (RE-ENTRY) $30K GTD | FRI, 11/22 | 11AM | $200 + $30 |