Malta Poker Festival Schedule Focuses on Quality Over Quantity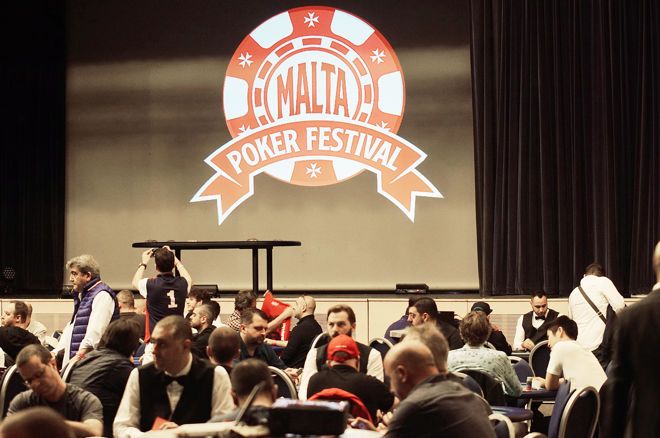 Table Of Contents
In an era that has seen an increased focus on amassing huge prize pools with the help of unlimited reentry and faster structures, the organizers of the Malta Poker Festival are taking a bit of a different approach in their upcoming series at Portomaso Casino.
Balanced Offering
"We don't want to punish the other events in order to have a massive pool of players in the Grand Event," MPF organizer Ivonne Montealegre explained to PokerNews. "We want a holistic event."
The €500K guaranteed €550 Grand Event has four starting flights running Wednesday, Thursday and Friday Oct. 30-Nov. 1 with two starting flights on Friday including an evening turbo flight at 8 p.m. Each flight offers an option of single reentry. Qualifiers for Day 2 will resume play on Saturday, Nov. 2 and registration will be closed. Day 3 will take place Sunday, Nov. 3 with the final table scheduled to play out on Day 4 Monday, Nov. 4 beginning at 3 p.m.
"We don't want to punish the other events in order to have a massive pool of players in the Grand Event."
As the Grand Event continues with qualifiers on Day 2, plenty of other events will be on tap for those no longer participating in the event. Among them are the €250 Hendon Mob Championship, the €100 Ladies First event and the €1,100 High Roller. There's also a Player's Party at Club Level 22 at 11 p.m. for players to relax, unwind and socialize. Sunday kicks off the APAT Maltese Championship with a buy-in of €120 along with other exciting events like the €340 IPC Deepstack Turbo and the €220 PLO Knight Crusaders tournament.
While at first glance, some may question the decision to not offer Saturday flights in the Grand Event, the tournament organizers shared with PokerNews exactly what went into the calculated decision.
Deeper Structure, Increased Comfort
MPF tournament director Danilo DeBerardinis explained that in order to be able to offer such a deep structure and professional feel for the Grand Final, some adjustments had to be made.
"As the premise is to have a balanced calendar and schedule, we have tailored the tournaments accordingly and carefully studied them," said DeBerardinis. "We want the whole event to be exciting. Every tournament has its own elements. With one-hour levels and a starting stack of 30,000 the Grand Event is a highly technical event. This is an innovative concept, but that means that a lot of logistic changes needed to be in place as well."
For the price point, the Grand Final has an exceptionally deep structure with 30,000 starting chips and blinds that go from 40 minutes to 50 minutes to hour-long at the final table. In addition, the final table will be held at Club Level 22, a night club at the top of the tallest building in Malta that offers a view of the Mediterranean.
Danilo DeBerardinis: "We want the whole event to be exciting. Every tournament has its own elements."
Adding to the experience, live updates will be brought from the event by PokerNews and the final table will also be livestreamed. For those present at Portomaso, there will be a live viewing gallery with snacks and drinks sponsored by PPPoker that will allow spectators to watch the final table action from above. Keeping the event smaller and the schedule more compact, Montealegre explains, allows for such luxuries.
"We're capping it out ourselves in a way because we prefer to have a smaller field to be able to provide a super service all around with all the tournaments," said Montealegre.
The result, she hopes, is the highest level of comfort for players attending the festival, with added benefits of avoiding long registration lines and disorganization that can come with trying to maximize entries in the main event of poker festivals. For Montealegre, these elements can take away more than what is added by the extra entries and prize money, and a lot of experience and feedback from the Malta poker community has gone into the scheduling decisions for the event.
"I sit down as a player in Portomaso all year long enjoying our community and observing ways to improve," said Montealegre. "We never stop learning and listening to our esteemed clientele."
The following is a look at the complete schedule for the upcoming Malta Poker Festival.
2019 Malta Poker Festival Schedule
| Date | Time (CET) | Buy-in | Event | Guarantee | Reentry |
| --- | --- | --- | --- | --- | --- |
| Oct. 29 | 7 p.m. | €60 | Opening Satellite for MPF Grand Event | 5 Tickets | Single |
| Oct. 30 | 12 p.m. | | Cash Games Open | | |
| | 2 p.m. | €550 | MPF GRAND Event Day 1A | €500,000 | Single |
| | 3 p.m. and Onwards | €6 | Gozo Flash Satellite | | Unlimited |
| | 7 p.m. | €60 | Satellite to MPF Grand Event | 10 Tickets | Single |
| Oct. 31 | 12 p.m. | | Cash Games Open | | |
| | 2 p.m. | €550 | MPF GRAND Event Day 1B | €500,000 | Single |
| | 3 p.m. | €6 | Gozo Flash Satellite | | Unlimited |
| | 7 p.m. | €60 | Satellite to MPF Grand Event | 15 Tickets | Single |
| | 8 p.m. | | Opening MPF Drinks at Portomaso Sports Lounge | | |
| | 9 p.m. | €100 | Halloween Special MPF NL Holdem | Special Prizes for 3 Best Costumes | Single |
| Nov. 1 | 12 p.m. | | Cash Games Open | | |
| | 2 p.m. | €550 | MPF GRAND Event Day 1C | €500,000 | Single |
| | 3:30 p.m. and Onwards | €6 | Gozo Flash Satellite | | Unlimited |
| | 8 p.m. | €550 | MPF GRAND Event Day 1D TURBO | €500,000 | Single |
| | 10 p.m. | €150 | Irish Super Holdem | | Once |
| | 11 p.m. | | Opening Players Party at Tiffany's Champagne Bar | | |
| Nov. 2 | 12 p.m. | | Cash Games Open | | |
| | 1 p.m. | | MPF GRAND Event Day 2 (REGISTRATION CLOSED) | | |
| | 2 p.m. | €150 | MPF High Roller Satellite | | Single |
| | 3 p.m. | €250 | Hendon Mob Championship Day 1 | | Single |
| | 4 p.m. | €100 | Ladies First! | | Single |
| | 8 p.m. | €1,100 | MPF High Roller Day 1 | | Single |
| | 9 p.m. | €170 | MPF Bounty Knockout | | Single |
| | 11 p.m. | | MPF Player's Party at Club Level 22 | | |
| Nov. 3 | 1 p.m. | €340 | IPC Deepstack Turbo | | Single |
| | 2 p.m. | | MPF GRAND Event DAY 3 | | |
| | 2:30 p.m. | €120 | APAT Maltese Championship Day 1 | | |
| | 3 p.m. | | Hendon Mob Championship Day 2 | | |
| | 3 p.m. | €220 | PLO Knight Crusaders | | Single |
| | 3:30 p.m. | | MPF High Roller Day 2 | | |
| | 8 p.m. | €150 | MPF Survive and Win €1,000 | | |
| Nov. 4 | 12:30 p.m. | | APAT Maltese Championship Day 2 and Final Table | | |
| | 2 p.m. | €200 | MPF Win The Cross | | Unlimited |
| | 3 p.m. | | MPF GRAND Event Day 4 - Final Table | | |
| | 7 p.m. | €70 | MPF Last Chance | | Unlimited |