The WSOP Circuit Travels to Holland Casino Rotterdam Nov. 14–22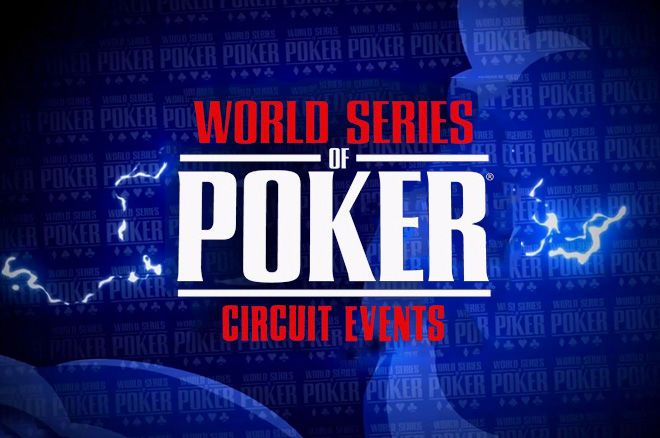 The Holland Casino Rotterdam is gearing up to host the latest installment of the ever-popular World Series of Poker Circuit festival that runs between November 14th-22nd. A total of 14 WSOP Circuit rings are up for grabs and some of the Netherlands and surrounding countries' best players are set to descend on Rotterdam to compete for some poker jewellery.
An array of side events and satellites complement the 14 ring-awarding events, while cash games run daily between 4:00 p.m. and 3:00 a.m. Every one of the events is prestigious in its own right, but two tournaments, in particular, look set to capture the imagination of the poker community, which is why the PokerNews Live Reporting team will be on the ground reporting on them.
First up on our agenda is the €1,100 buy-in WSOP Circuit Main Event with its €250,000 guaranteed prize pool. The Main Event features three starting flights, with Day 1C running sporting a turbo blind structure. Whoever wins this Main Event also secures a $10,000 seat to the WSOP Global Casino Championship in addition to their gold ring and their prize money.
Tobias Peters is the reigning WSOP Circuit Rotterdam Main Event champion having triumphed in the tournament in September 2018. Peters topped a field of 181 entrants to lock down the €67,776 first-place prize.
The second tournament you can follow here on PokerNews is the €2,750 High Roller 8-Max that kicks off on November 18th. The only tournament to compare it to from last year was the slightly more expensive €3,500 High Roller that saw Luuk Gieles outlast 37 opponents on his way to a €53,078 score.
Full WSOP Circuit Rotterdam Schedule
| Date | Time | Event |
| --- | --- | --- |
| Thu 14 Nov | 3:00 p.m. | €275 No-Limit Hold'em Starter Event Day 1A |
| | 4:00 p.m. | €880 No-Limit Hold'em PKSO 8-Max Day 1 |
| | 8:00 p.m. | €110 WSOP Main Event Satellites |
| Fri 15 Nov | 3:00 p.m. | PKSO 8-Max Final Day |
| | 3:00 p.m. | €275 No-Limit Hold'em Starter Event Day 1B |
| | 8:00 p.m. | €440 No-Limit Hold'em The Weekender Turbo Day 1A |
| | 11:00 p.m. | €110 WSOP Satellite to Main Event Hyper Turbo |
| Sat 16 Nov | 1:00 p.m. | Starter Event Final Day |
| | 2:00 p.m. | €440 No-Limit Hold'em The Weekender Day 1B |
| | 4:00 p.m. | €1,090 No-Limit Hold'em 6-Max Day 1 |
| | 6:00 p.m. | €60 WSOP Super Satellite to Main Event |
| | 8:00 p.m. | €275 No-Limit Hold'em Bounty Turbo |
| Sun 17 Nov | 1:00 p.m. | 6-Max Final Day |
| | 1:00 p.m. | The Weekender Final Day |
| | 2:00 p.m. | €1,100 No-Limit Hold'em Main Event Day 1 |
| | 9:00 p.m. | €220 No-Limit Hold'em Circuit Cup Day 1 |
| Mon 18 Nov | 1:00 p.m. | No Limit Hold'em Circuit Cup Final Day |
| | 3:00 p.m. | €350 No-Limit Hold'em PKO Day 1 |
| | 5:00 p.m. | €2750 No-Limit Hold'em High Roller 8-Max Day 1 |
| | 7:00 p.m. | €440 Pot-Limit Omaha |
| Tue 19 Nov | 1:00 p.m. | High Roller 8-Max Final Day |
| | 1:00 p.m. | €350 PKO Day 2 |
| | 1:00 p.m. | Circuit Cup Final Day |
| | 2:00 p.m. | €1,100 No-Limit Hold'em Main Event Day 1B |
| | 9:00 p.m. | €1,100 No-Limit Hold'em Main Event Day 1C Turbo |
| Wed 20 Nov | 1:00 p.m. | Main Event Day 2 |
| | 2:00 p.m. | €550 No-Limit Hold'em Monster Stack Day 1A |
| | 9:00 p.m. | €550 No-Limit Hold'em Monster Stack Day 1B Turbo |
| Thu 21 Nov | 1:00 p.m. | Monster Stack Final Day |
| | 1:00 p.m. | Main Event Day 3 |
| | 3:00 p.m. | €550 No-Limit Hold'em MCOP Meets WSOP Day 1A |
| | 7:00 p.m. | €2,200 No-Limit Hold'em PSKO 8-Max High Roller Day 1 |
| | 8:00 p.m. | €440 No-Limit Hold'em The Closer Day 1 |
| Fri 22 Nov | 1:00 p.m. | PSKO 8-Max High Roller Final Day |
| | 1:00 p.m. | The Closer Final Day |
| | 3:00 p.m. | €330 No-Limit Hold'em Last Chance |
| | 9:00 p.m. | €165 No-Limit Hold'em Wrap-Up Hyper Turbo |
Extend your Stay, Add the Master Classics of Poker
If you're heading to the Netherlands for the WSOP Circuit festival and fancy extending your stay, Holland Casino is also running the Master Classics of Poker (MCOP) in Amsterdam directly after the WSOP Circuit festival. The 2019 MCOP runs from November 22nd through December 1st. An action-packed schedule is sure to attract Europe's best poker tournament players, especially in the €4,300 buy-in MCOP Main Event. A dedicated article on the Master Classics of Poker will appear later on PokerNews