The 2019 PokerNews Holiday Gift Guide: Best Gifts for Poker Players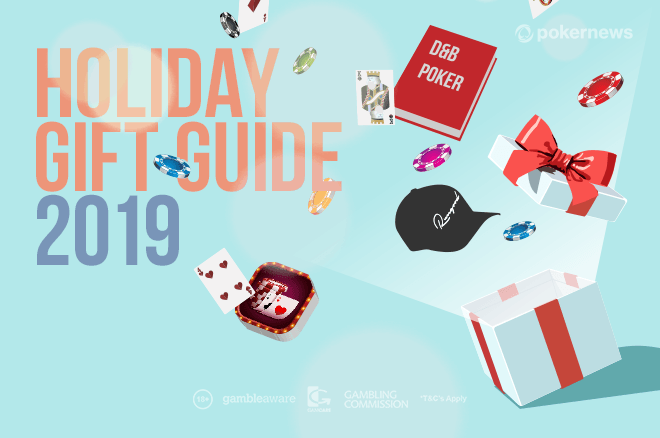 The holiday shopping season is here again, which means it's time to start thinking of gift ideas for the poker player on your shopping list.
This year, the PokerNews' 2019 Holiday Gift Guide has you covered for whatever holiday you celebrate at the end of December, or better yet, for any holiday or special occasion you celebrate year-round.
Here's our list of the top 10 holiday gifts that will have poker players and aficionados thanking you for the next year.
---
Poker Books from D&B Poker
Love everything about poker and want all five?
Buy the lot (either book or ebook), make all your poker friends happy at Christmas, and get a 25% discount. This offer is valid right now. Find more info on the D&B Poker website.
---
Custom Playing Cards (25% OFF!) at ThePokerDepot.com
Let's face it… custom playing cards are the perfect gift.
Whether it's for the next poker tournament, a wedding gift, your business or family and friends– personalized playing cards are an exciting custom gift idea!
ThePokerDepot.com allows you to browse hundreds of pre-designed templates, design your own from scratch, or request a professional design.
Their free online customization tool allows you to personalize playing card templates in less than a minute with your personalized text and images.
You can also save 25% on your oder via this link.
The offer applies to custom playing cards and custom poker chips — meaning you can (finally!) build your dream poker set and get it delivered to your own home in no time.
Want to build or gift a customised poker set head to ThePokerDepot.com and use the promo code POKERNEWS2019 on check out.
For more information or to redeem this offer, go to ThePokerDepot.com.
* Must meet minimum order size requirements for promotion. Cannot be combined with any other offer. While supplies last.
---
Custom Poker Chips 25% OFF at PokerChips.com
Looking for the perfect customized gift? Custom poker chips are a sure-fire bet to impress everyone.
Whether it's for that "Professional" tournament in your living room, a special event, the company you work for, or your favorite poker player – a set of personalized poker chips is a fun way to show you care!
Visit PokerChips.com to browse pre-designed poker chip templates, design your own from scratch, or request a professional design.
Use the free online customization tool to personalize poker chip templates in under 60 seconds. Add your own images, custom text…and get them done for you!
When you order Custom Clay Poker Chips on PokerChips.com, or Custom Playing Cards you will save 25% when you checkout with promo Code: POKERNEWS19.
For more information or to redeem this offer, go to PokerChips.com.
* Must meet minimum order size requirements for promotion. Cannot be combined with any other offer. While supplies last.
---
Gripsed All-In Poker Program 3-in-1 Bundle $780 value--JUST $499!
No messing around, this is the perfect poker gift idea for anyone looking to go all-in with their poker training.
In this gem-packed bundle, you'll get everything you need to take your game to the next level and nothing you don't.
Time is money, after all, and you can only make one of those things--and this program helps you make more of it.
Created by Evan Jarvis, a poker pro with over a decade of experience and millions in wins under his belt, the Gripsed All-In Poker Program teaches students the THREE core competencies of poker.
Tournaments: Training for every kind of player! Beginner, MTT, online, live and WSOP strategy.
Cash Games: Bankroll building, cash game strategy and 9-hand & 6 hand cheat sheets.
Mental Game: The missing link! Bring it all together and keep your head in the game.
Get the All-In Poker Program here today!
---
Master Tournament Poker in One Class: Special Edition
Master Tournament Poker In One Class: Special Edition! is the newest version of Alexander Fitzgerald's premiere product.
Based on real analytics that reveal what your opponents are actually doing, MTPIOC: SE! will prepare you for any tournament you will play.
Alexander Fitzgerald's product differs from others in a major way.
He works exclusively with exploitative strategies that are easy to memorize and apply.
There is no discussion in his work about what GTO poker strategies will work best in nose-bleed games in Macau.
He knows your tournament opponents are not Rhodes Scholars, so he doesn't pretend like you need to balance against them.
He tells you statistically what your opponents are doing, and then he gives you the plays to actually exploit them.
Due to its practical application in real games, it's not shocking to see that real poker players love Alex's product.
Check out the first episode for free here!
---
Preflop+ App
Preflop+ is the ultimate poker training app to up your game in 2020.
Elevate your game to the next level with 10M+ Nash EV calculations for shoving, calling, and rejams.
Preflop+ mobile app comes pre-bundled with hundreds of thousands of targeted training spots to focus on one area at a time, on the go!
Use Preflop+ to gain an unfair edge over your opponents by mastering your preflop ranges, train poker math, and even work on your combinatorics skills post-flop. Don't miss out!
Send your favorite player this link http://onelink.to/e7t4dm to download it with the code 'FB40' to get 40% off on all upgrades!
---
Solve for Why TV
Solve for Why TV is a poker training experience unlike any other.
They are dedicated to providing top-level content tailored specifically for live poker.
The elite team of instructors is led by high-stakes pros Christian Soto and Matt Berkey.
The site currently contains over 25 high-level courses, with new ones added each month, creating a library of hundreds of hours of unique poker training material.
From conventional training videos, podcasts, and webinars to entertaining documentaries and their flagship series: "Poker Out Loud", the production value at Solve For Why TV is truly unmatched.
Start taking your poker game seriously today at tv.solveforwhyacademy.com. Get one month of Solve for Why TV for FREE using the sign up code: S4YGIFT.
---
RunGoodGear
Gear up! The RunGood brand is poker's leading clothing company providing players comfort and style for the daily grind since 2012.
An industry staple, you can find affordable hats, hoodies, and shirts for your poker player this holiday season.
In addition, the company holds claim to the 2018 GPI Award-Winning Mid-Major Tour, the RunGood Poker Series.
Be sure to visit www.RunGoodGear.com and see what's happening next while picking up your next hoodie.
---
BBO Poker Tables
For over a decade, BBO Poker Tables has been recognized as the premier supplier to poker's biggest names and events.
From the World Poker Tour and celebrity events like the "Big Game Big Give", to blockbuster movies like Will Smith's "Focus," BBO Poker Tables continues to set the standard.
Affordable pricing, personalizations, and free shipping make these elite tables perfect for home players.
Thousands of enthusiastic reviews praise not just the quality of the tables but the impact on the quality of life—creating more opportunities to gather with friends and family.
Whether your favorite player needs a beautiful poker dining table, a mini for his man cave, or an 8-footer for the family room, BBO Poker Tables has the right table.
---
Human Tool - The Winners Are Sitting Like Winners!
The Human Tool saddle chair has helped many top poker players with their well-being at the poker table and sessions online.
It brings the player a little higher than the others, which may also have a subconscious effect on the decisions made at the table.
This saddle with the underside a hard-surfaced bowl balances on a hard base. This activates your core and strengthens your pelvis.
The posture is excellent. It works on top of every chair and it is easy to carry anywhere.
Order online, free delivery around the world. www.humantool.com.
---