PN Blog: Poker Reporter Reflects Back on His Roots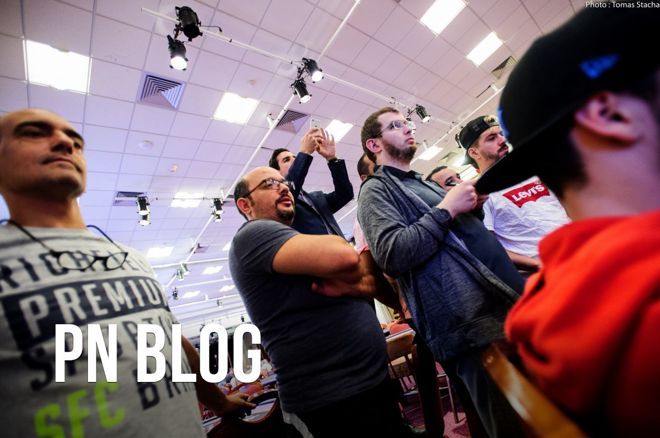 Table Of Contents
A quick glance at the calendar confirms that it has been almost exactly nine years since I started doing live reporting at poker events after what can only be described as serendipity. A lucky and random coincidence. Back in 2010, a friend of mine that I knew from an online poker forum signed a sponsorship contract and the poker site – back then called Poker770, a skin of the iPoker Network – was looking for someone to provide updates of their new pro team on European live events.
I bought an average Canon camera body and set with lenses, which obviously resulted in rather mediocre pictures. It was a start of things to come and sparked my interest in photography as well as writing but was always supposed to be an additional source of income only. At the same time I was working for a Canadian online poker forum and knew the affiliate side of things for a few years already.
"While not obvious back then, it was very easy to be taken advantage of as a new guy on the circuit."
There was even an attempt to build a German online poker community on behalf of a Munich-based marketing agency that was working for 888poker back then, and through those contacts, I helped out on some events at the Munich fair. It was a strange time because I had no idea at all where all this would lead to and whether or not a stable income would be remotely possible.
A nine-to-five office job was the last thing I was looking for and instead, I tried to get my foot into the world of poker from all those different angles. While not obvious back then, it was very easy to be taken advantage of as a new guy on the circuit and very few of the plans worked out as intended with improvisation as the best friend and helper.
Things started getting more serious when Poker770 came up with the idea of a live poker circuit and partnered up with a consultant from Austria. I also met several people that were passionate about poker in the German-speaking market and was given the opportunity to do more live reporting in German. Soon after the Mega Poker Series came to life and who was the first person that asked to take care of the website content and live updates for each stop?
The Mega Poker Series Opportunity
It was difficult to say no because it gave less reason to worry about being able to pay the bills. Four times a year I was in charge of the live stops and a lot of duties that came along with it such as weekly satellite results of the online qualifiers, leaderboards and constantly updating the website. A lot of convincing was required to have developers work on improvements to enhance the experience.
Plenty of people were involved in making all this happen and yet it was difficult not to feel like a one-man army. Being the guy that always gets the job done is mentally tiring and every little mistake has a different magnitude of annoyance.
"Looking back at all this it was very foolish and required a certain insanity."
Fast forward to 2014, the interest for the affiliate platform was already waning and the owners were barely active or interested anymore. One person was running the show in the background while attempting to establish the live poker circuit and combining all more frequent trips to tournaments. Looking back at all this it was very foolish and required a certain insanity.
That's when PokerNews entered the fray and one of their reporters, Chad Holloway to be exact, noticed me during EPT Vienna at the stunning Hofburg and suggested to apply with them for the upcoming 2014 World Series of Poker in Las Vegas. I was given the opportunity to work EPT San Remo a few weeks later and suddenly had someone on my side for the live reporting duties.
Not being the sole responsible person to run all the updates and on top of that having a dedicated photographer for the event was a massive step forward to focus even more on the action at the tables. San Remo came, went and ended with the first-ever two-time EPT Main Event champion in Victoria Coren-Mitchell, which still applies to date.
Off to Las Vegas
Apparently I must have done something right as the invite for Las Vegas came. It was not the first trip to Sin City as I had been there as an incredibly naive 21-year-old qualifier before and on behalf of Poker770 a few times after that. However, it was a different kind of bubble and as "new guy" on the PokerNews team you get to cover all the massive field size tournaments.
The buy-in amount was nearly identical to the events I had covered for a few years in Europe and I was not as lost in the sea of riffled chips in the entire room as plenty of the lower-stakes players from Europe took a shot here, too. It didn't quite make the entire madness a lot easier but we all gotta start somewhere, being tossed into the ice-cold water and see who makes it out alive is the most reliable way.
What followed in the years after that was steady progress, at least from my point of view. The times where I had to cover each event offered to pay my bills is gone and now a thirst to do the exact same no matter where all over the world has taken over. It has become a case of curiosity to explore countries I have never been to alongside work and the urge to come up with and work on a travel bucket list is slowly taking over.
Wandering the World
In many ways, 2019 has been following that route with first-time trips to South Korea, Cambodia, and Sydney. Unfortunately, there's not always the time to see more than just the airport, hotel and casino venue but a first impression can already come quite handy to decide whether or not a return trip outside of work would be an option.
Besides all the big festivals with multiple live event reporters as part of the team, I have also returned to covering quite a few other stops solo and they are definitely a different kind of beast. Knowing well that all updates entirely depend on my own efforts, I tend to maintain the same standard of coverage and that can be very daunting and depletes the body energy. At least that's what my Garmin fitness watch keeps telling me.
"There's not really any particular sign yet with regards to where this road will lead to, and sticking to the roots is the one thing I know very well by now."
All different kind of aspects have an effect on how stressful this can be such as the field size, being able to track the players, the availability of registration lists and local staff that know their regulars, where the media desks are set up and perhaps even a live stream table with hole cards on a delay. It can get quite messy and often it helps to just make the best out of it and try to come up with creative solutions.
That kind of thinking was part of my work routine since the start and it has resulted in a lot of responsibility, demand, and recognition. There's not really any particular sign yet with regards to where this road will lead to, and sticking to the roots is the one thing I know very well by now.
If I dare request one thing from players, however, it is not to underestimate how much it takes to deliver the updates. We live reporters are not prone from making mistakes, they happen frequently and especially late in the day. Instead of offering drinks or some money, why not show your appreciation and pay for a short massage?
It has become somewhat of a second family in the poker community, be it the players, staff, dealers, or media, and little messages and signs of appreciation already help a lot to make a very stressful event behind the scenes more bearable.
Check Out Oddschecker US today!