Vince Van Patten To Attend €2.5 Million WPT Germany Festival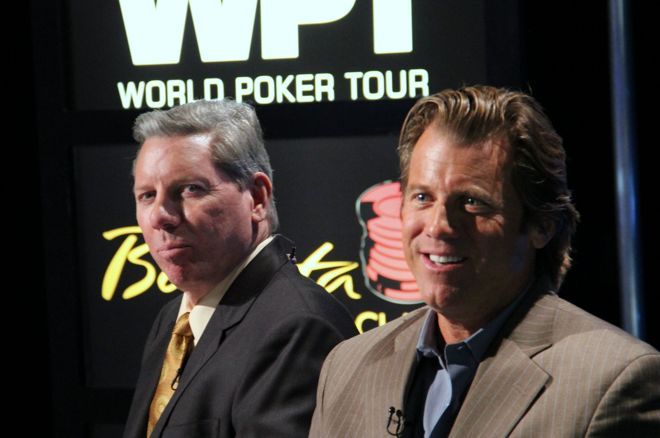 King's Resort, Rozvadov is gearing up to host yet another massive poker festival, this time the 2020 partypoker LIVE World Poker Tour (WPT) Germany stop.
WPT Germany runs from February 9-23rd and sees 19 separate events take place at Europe's largest card room. A little bit of math reveals those 19 events have combined guarantees weighing in at a cool €2.5 million.
The bulk of that impressive sum, €1.5 million to be exact, is reserved for the €3,300 buy-in WPT Germany Main Event.
How Far Will Van Patten Walk?
World Poker Tour commentator Vince Van Patten is among those heading to Rozvadoz for the WPT Germany festival, although it's not known what day or time he will actually arrive.
This is because Van Patten is ready to participate in a special prop bet to help promote his new film, 7 Days to Vegas.
The film is loosely based on Van Patten's story and follows Duke Madson, a washed-up actor who becomes a profitable poker player. Part of the movie tells of a prop bet o walking from Los Angeles to Vegas. Van Patten is now hoping to make a similar prop bet involving his trip to WPT Germany.
"Last year I was involved as a writer, producer and lead actor in the movie 7 Days to Vegas, which tells the story of the bettors prop bet of walking from LA to Vegas. With the location of King's Casino being accessible from so many places in Central Europe I want to be dropped off and make my way there, and I am willing to bet on whether I make it carrying no money. Bring it on!"
King's owner Leon Tsoukernik says he's looking forward to welcoming Van Patten and is considering taking him up on his prop bet. He also had some word's of advice for the former tennis pro, "remember to pack your coat!"
Where do you think Van Patten should start his cashless journey to Rozvadov from and how much would you bet on him not achieving his goal? Let us know in the comments box!
How to Play the WPT Germany Main Event
Players can play both Day 1 and Day 2 of the WPT Main Event online at partypoker. Progressing from this tournament on February 9th guarantees they'll be in the money when they head to King's Resort in Rozvadoz to complete the tournament.
Other highlights of the WPT Germany festival include the €500,000 guaranteed Opener, which has 20x €3,300 WPT Germany Main Event seats added to the prize pool.
There's also a €5,300 High Roller that has €250,000 guaranteed, and a €1,100 buy-in Closer that boasts a €250,000 guaranteed prize pool.
Full partypoker LIVE WPT Germany Schedule
| Date | Time | Tournament | Buy-in |
| --- | --- | --- | --- |
| Thu 6 Feb | 9:00 p.m. | Online WPT Main Event Satellite: 3x €3,300 to Online Day 1&2 GTD | €320 |
| Sat 8 Feb | 9:00 p.m. | Online WPT Main Event Satellite: 3x €3,300 to Online Day 1&2 GTD | €320 |
| Sun 9 Feb | 6:00 p.m. | Online WPT Main Event Satellite: 3x €3,300 to Online Day 1&2 GTD | €320 |
| | 9:00 p.m. | Online WPT Main Event Online Day 1&2 [ITM Day 3] | €3,200 |
| | 9:00 p.m. | Online WPT Opener Day 1b: €500K Gtd + 20x Main Event seats | €550 |
| Thu 13 Feb | | 9:00 p.m. | Online WPT Opener Day 1b: €500K Gtd + 20x Main Event seats |
| Fri 14 Feb | 10:00 a.m. | WPT Opener Satellite: 10x Day 1A Seats GTD | €80 |
| | 12:00 p.m. | WPT Opener Day 1A: €500K Gtd + 20x Main Event Seats | €550 |
| | 2:00 p.m. | WPT Opener Satellite: 10x Day 1B Seats GTD | €80 |
| | 3:00 p.m. | Freezeout | €330 |
| | 5:00 p.m. | WPT Opener Day 1B: €500K Gtd + 20x Main Event Seats | €550 |
| | 8:00 p.m. | King's Friday Night Tournament | €115 |
| Sat 15 Feb | 10:00 a.m. | WPT Opener Satellite: 10x Day 1C Seats GTD | €80 |
| | 12:00 p.m. | WPT Opener Day 1C: €500K Gtd + 20x Main Event Seats | €550 |
| | 2:00 p.m. | WPT Opener Satellite: 10x Day 1D Seats GTD | €80 |
| | 3:00 p.m. | WPT Ladies Event | €220 |
| | 5:00 p.m. | WPT Opener Day 1D: €500K Gtd + 20x Main Event Seats | €550 |
| | 8:00 p.m. | King's Saturday Night Bounty | €115 (€25 bounties) |
| | 10:00 p.m. | WPT Opener Day 1E: €500K Gtd + 20x Main Event Seats | €550 |
| Sun 16 Feb | 10:00 a.m. | WPT Opener Satellite: 10x Day 1F Seats GTD | €80 |
| | 12:00 p.m. | WPT Opener Day 1F: €500K Gtd + 20x Main Event Seats | €550 |
| | 2:00 p.m. | WPT Opener Satellite: 10x Day 1G Seats GTD | €80 |
| | 3:00 p.m. | Pot Limit Omaha Bounty | €220 (€100 bounties) |
| | 5:00 p.m. | WPT Opener Day 1G: €500K Gtd + 20x Main Event Seats | €550 |
| | 8:00 p.m. | King's Sunday Night Tournament | €115 |
| | 10:00 p.m. | WPT Opener Day 1H: €500K Gtd + 20x Main Event Seats | €550 |
| Mon 17 Feb | 1:00 p.m. | WPT Opener Day 2 | |
| | 3:00 p.m. | Main Event Satellite: 10x Day 1A Seats Gtd | €330 |
| | 4:00 p.m. | WPT High Roller Day1: €250K Gtd | €5,300 |
| | 7:00 p.m. | Main Event Satellite: 10x Day 1A Seats Gtd | €330 |
| | 9:00 p.m. | King's Monday Night Tournament | €115 |
| Tue 18 Feb | 12:00 p.m. | WPT Opener Final Day | |
| | 1:00 p.m. | Main Event Satellite: 10x Day 1A/1B Seats Gtd | €330 |
| | 2:00 p.m. | WPT High Roller Day 2: €250K Gtd | |
| | 4:00 p.m. | WPT Main Event Day 1A: €1.5M Gtd | €3,300 |
| | 6:00 p.m. | Main Event Satellite: 10x Day 1B Seats Gtd | €330 |
| | 8:00 p.m. | King's Tuesday Night Tournament | €115 |
| Wed 19 Feb | 12:00 p.m. | WPT Main Event Day 1B: €1.5M Gtd | €3,300 |
| | 12:00 p.m. | WPT High Roller Final Day | |
| | 1:00 p.m. | Main Event Satellite: 10x Day 1C Seats Gtd | €330 |
| | 6:00 p.m. | Main Event Satellite: 10x Day 1C Seats Gtd | €330 |
| | 8:00 p.m. | King's Wednesday Night Tournament | €115 |
| Thu 20 Feb | 12:00 p.m. | WPT Main Event Day 1C: €1.5M Gtd | €3,300 |
| | 1:00 p.m. | Main Event Satellite: 10x Day 2 Seats Gtd | €330 |
| | 6:00 p.m. | Main Event Satellite: 10x Day 2 Seats Gtd | €330 |
| | 8:00 p.m. | King's Thursday Night Tournament | €115 |
| Fri 21 Feb | 12:00 p.m. | WPT Main Event Day 2: €1.5M Gtd | €3,300 |
| | 2:00 p.m. | WPT Closer Satellite: 10x Day 1 Seats Gtd | €150 |
| | 3:00 p.m. | BIG10 Pot Limit Omaha: €10K gtd | €220 |
| | 5:00 p.m. | WPT Closer Day 1A: €250K gtd | €1,100 |
| | 6:00 p.m. | King's PLO High Roller Day 1 | €2,200 |
| | 8:00 p.m. | King's BIG20 | €115 |
| Sat 22 Feb | 10:00 a.m. | WPT Closer Satellite: 10x Day 1B Seats Gtd | €150 |
| | 12:00 p.m. | WPT Main Event Day 3 | |
| | 12:00 p.m. | WPT Closer Day 1B: €250K Gtd | €1,100 |
| | 1:00 p.m. | King's PLO High Roller Final Day | |
| | 2:00 p.m. | WPT Closer Satellite: 10x Day 1C Seats Gtd | €150 |
| | 3:00 p.m. | BIG20 Pot Limit Omaha | €330 |
| | 5:00 p.m. | WPT Closer Day 1C: €250K Gtd | €1,100 |
| | 8:00 p.m. | King's BIG30 | €115 |
| Sun 23 Feb | 12:00 p.m. | WPT Main Event Final Day | |
| | 1:00 p.m. | WPT Closer Final Day | |
| | 3:00 p.m. | Bounty Hunter | €550 |
| | 8:00 p.m. | King's BIG10 | €115 |
---