WSOP's Ty Stewart on Moving Global Casino Championship Online: "Better Option Than Another Indefinite Postponement"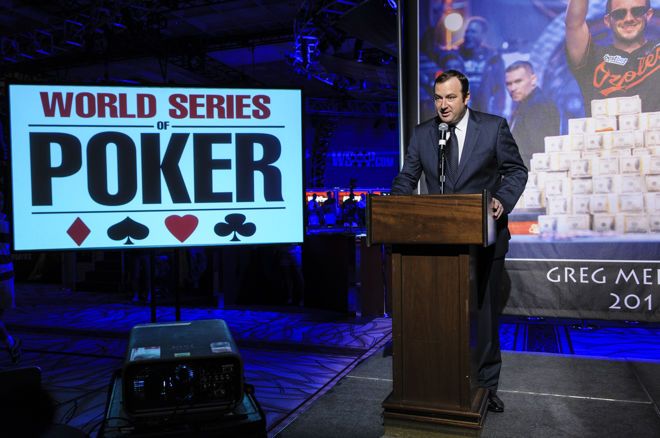 Table Of Contents
Last week, the World Series of Poker (WSOP) announced that its season-ended Global Casino Championship, originally scheduled to take place at North Carolina's Harrah's Cherokee in August, would move online to WSOP.com on September 13 as a result of the COVID-19 pandemic.
The move was met with mixed reactions, with many qualifiers unhappy the traditional live event was going virtual.
WSOP Executive Director Ty Stewart explained the decision to PokerNews: "It is very important to us to follow through on the spirit of the model. We asked players to participate at venues all year with the idea they could play in the GCC and compete for the promised prize money. We did not want to see that money locked up in purgatory for an extended period of time, and we also did not want to bait and switch to exclude the players who won rings and the right to buy in - or the POY players who were eligible."
"The World Series of Poker is a tournament brand focused on history and competition."
He continued: "The World Series of Poker is a tournament brand focused on history and competition. This model was conceived by me almost a decade ago as a way to connect the disparate venues and have a championship. So, we wanted a mechanism to play out that championship. We now have multiple online circuit events. It is the post-Covid-19 world. We felt it was certainly the better option than another indefinite postponement."
Aside from the date, details on the actual tournament are scarce but should be revealed shortly.
"We will share the structure in the coming days once it has been approved by regulators," Stewart said. "It will be considered a slow structure versus normal online tournaments given it is a small field/invitational."
In addition, Stewart confirmed that qualifiers would still receive $500 cash and free hotel rooms as they normally would have at Harrah's Cherokee.
"Yes, it is likely the easiest way to execute for us will be to add monies into the WSOP.com account but if cage operations are more agile in September we may allow a pick up from cage option as well," he explained.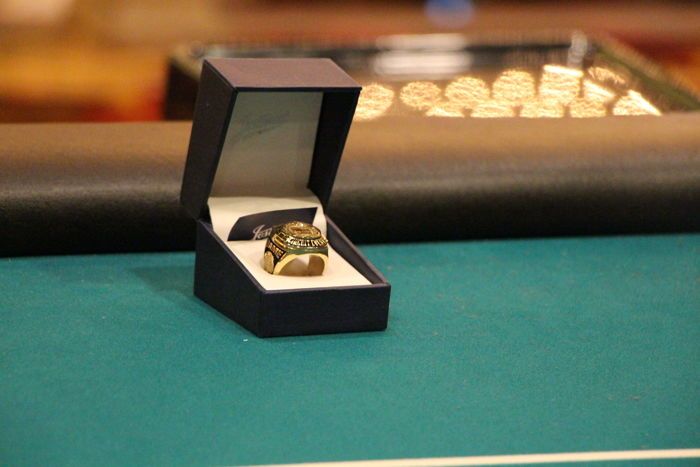 "Season Finale" Online Circuit Event
To close out the WSOP Circuit season, which saw 14 stops either impacted or canceled due to the pandemic, the WSOP will host the "Season Finale" Online Circuit Event from June 3-14, which will award a guaranteed 13 spots into the GCC.
A dozen of those spots will be awarded to the winners of each event, while the final spot will go to the "Casino Champ" of the WSOP.com series.
While some players are excited for a last-chance opportunity to qualify for the GCC, there are those that are unhappy a surplus of seats will be awarded.
"Given that the online events did not create more seats than were expected should the schedule have proceeded normally, it seemed reasonable path."
"We had canceled 12 tournaments, all which produce revenues which are factored into the Circuit model. We did not want to reduce the prize pool," Stewart explained. "We considered this a positive commercial opportunity and also one that allowed players who may have intended to play later events on our schedule notice of a pathway in."
He continued: "Given that the online events did not create more seats than were expected should the schedule have proceeded normally, it seemed reasonable path. And many players were disappointed to see all the buzz around GG Poker's recent online circuit [not open to US players], so [we] wanted to offer the opportunity with full transparency about the schedule of the championship."
Thus far, 130 players have qualified for the GCC, and in the instance one of them was to win a tournament in the "Season Finale" Online Circuit Event, the seat would be added to the player next-highest in points on the overall leaderboard.
Right now, the top 50 players on that leaderboard have been awarded seats, so if a qualifier were to win, the player in 51st position would get in. The current leaderboard bubble boy is Carlos Guerrero with Bryant Miller, Darren Rabinowitz, and Ryan Jones behind him.
Also, anyone that won a WSOP Circuit ring this season and has not otherwise qualified can buy into the GCC for $10,000. Those players who finished in the top 100 of the WSOP Player of the Year rankings are also eligible to buy in at the same price point. Those options have been in existence since 2017.
Qualifying players will be required to verify their WSOP.com account or create one in advance of the invitational tournament. Players are encouraged to contact WSOP operations manager Johnny Hernandez at [email protected] for more details on registration logistics.
Doors Shut on Delaware
While players from Delaware can participate in the circuit finale, they are not eligible for points or entry to the GCC. If a player from Delaware wins the auto-bid, then the seat will go to the highest non-Delaware player.
"Due to terms and conditions of the lottery-controlled platform," Stewart explained when asked about Delaware players not being able to win GCC seats. "This is consistent with every online circuit event to date."
It's also worth noting that September's Global Casino Championship is set up only for the WSOP.com New Jersey and Nevada client only, meaning Delaware is not an option of locales from which to play the tournament.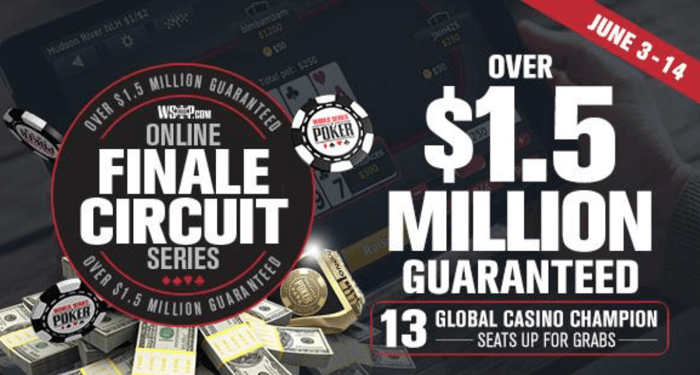 Here's a look at the schedule of upcoming online event schedule:
| Date | Tournament | Buy-In | GTD | Re-Entry | Time |
| --- | --- | --- | --- | --- | --- |
| Wednesday, June 3 | Online Finale Circuit Kick-Off | $215 | $100,000 | 2x | 4 p.m. |
| Thursday, June 4 | Online Finale No-Limit Hold'em | $320 | $100,000 | 2x | 4 p.m. |
| Friday, June 5 | Online Finale NLH Turbo Deepstack | $250 | $100,000 | 2x | 4 p.m. |
| Saturday, June 6 | Online Finale Circuit Big 500 | $500 | $150,000 | 3x | 2 p.m. |
| Sunday, June 7 | Online Finale Circuit Monster Stack | $525 | $200,000 | 3x | 2 p.m. |
| Monday, June 8 | Online Circuit Freezeout | $320 | $100,000 | N/A | 4 p.m. |
| Tuesday, June 9 | Online Finale Circuit High Roller 6-Max | $1,000 | $150,000 | 2x | 4 p.m. |
| Wednesday, June 10 | Online Circuit No-Limit Hold'em | $215 | $100,000 | 2x | 4 p.m. |
| Thursday, June 11 | Online Circuit No-Limit Hold'em | $320 | $100,000 | 2x | 4 p.m. |
| Friday, June 12 | Online Circuit NLH Monster Stack | $320 | $100,000 | 3x | 4 p.m. |
| Saturday, June 13 | Online Finale Circuit Double Stack | $320 | $150,000 | 2x | 2 p.m. |
| Sunday, June 14 | Online Finale Circuit Main Event | $525 | $300,000 | 3x | 2 p.m. |