PokerNews Book Review: The Biggest Bluff by Maria Konnikova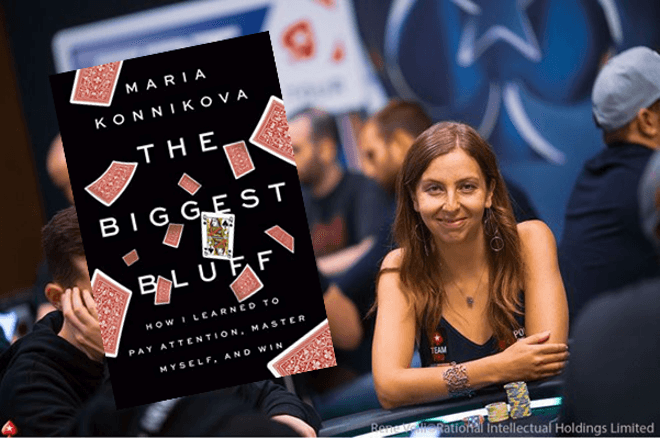 Table Of Contents
Earlier this year, I got the opportunity to read an early release of The Biggest Bluff: How I Learned to Pay Attention, Master Myself, and Win by Maria Konnikova, published by Penguin Press. Konnikova's work includes Mastermind and The Confidence Game. She is also a contributing writer for The New Yorker and many other publications with plentiful awards having been given to her including the 2019 Excellence in Science Journalism Award from the Society of Personality and Social Psychology.
This book was long anticipated by myself and probably quite a few more people in the poker world who were there to witness Konnikova's journey in real life. Having met her several times while live reporting, she has always come over as a smart, calm, and friendly person. The fact that she was writing a book about her trials and tribulations while learning how to play poker and studying the science of decision making was well-known amongst most of the poker media. But I'm not sure anyone could really imagine how the actual results would look like. And in my opinion, it ended up being something special.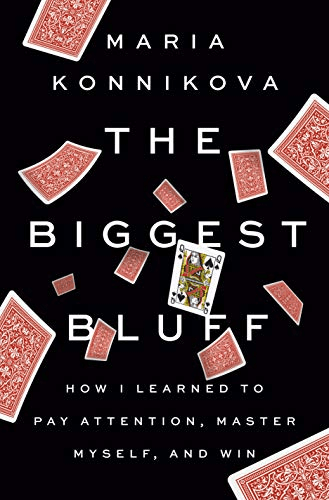 It's even been featured as a top book to read by the Washington Post!
How Many Cards Are in a Deck?
Konnikova admits in the book that she didn't even know how many cards were in a deck but she did know that poker was the environment where players make crucial decisions all the time without having all the information to hand which can bring devastating results or life-changing winnings into their lives.
She somehow manages to convince Erik Seidel to mentor her and he's there all along the way. At moments he keeps her motivated, pulls her back, pushes her forward, keeps her up, rails her in real life, and by following along online. It's nice to get to know a different side of Seidel, a more behind-the-scenes view of the tall gentleman we see at the tables. The multiple WSOP bracelet winner, WPT Champion, and millions of poker earnings according to The Hendon Mob has been around for over 30 years and can still compete with the best.
According to the book, Seidel's single piece of advice to aspiring poker platers would be: pay attention. And this is something that is definitely a must for this read. This is not a typical poker book, it's a combination of poker, psychology, science, economics, and even a bit of a memoir in my opinion. It wasn't the easiest as a non-native English speaker and reader, I had to look up some of the words, but I feel a bit smarter after finishing the book.
"I have a rare opportunity here: hardly ever do we have a chance to learn an entirely new skill, to immerse ourselves in novicedom, not only with the guidance of the best experts in the world but in an area, where the skill-chance continuum is so balanced, so redolent of life, as poker."
A Year of Poker Becomes More
What was initially a plan to learn all about poker, decision making, with the goal to get to the Main Event of the World Series of Poker and play it (all within a year) became something different. She had her usual up and downs, she was winning and losing, switching between being elated and frustrated, while learning the difference between what she could or couldn't control. She got a new life, she went pro, and she got sponsored by PokerStars for almost two years. She won events, she won money, she travelled around the world and this book is the result of her exploration of this male dominated poker world.
She meets all kinds of people along the way, from the charlatan in the Golden Nugget in downtown Las Vegas to the more familiar names like Phil Galfond, Isaac Haxton, Cary Katz, Andrew Lichtenberger,Fedor Holz, Jason Koon, Stephen Hendry, and Patrik Antonius. Blake Eastman, Frank Lantz, and Jared Tendler are just some of the others who she met and worked with.
She makes her way from poker books to traveling over the bridge to New Jersey to play online to traveling to places like Las Vegas, Monte Carlo, Prague, Macau, and the Bahamas to play live events. She sees people playing "Lodden Thinks", closing prop bets, experiences tilt, sexism, tries to balance her personal life and poker, learns to take breaks between trips, and becomes a familiar face at the poker tables. She becomes more comfortable in this sometimes crazy world and getting to read about it all is a true pleasure.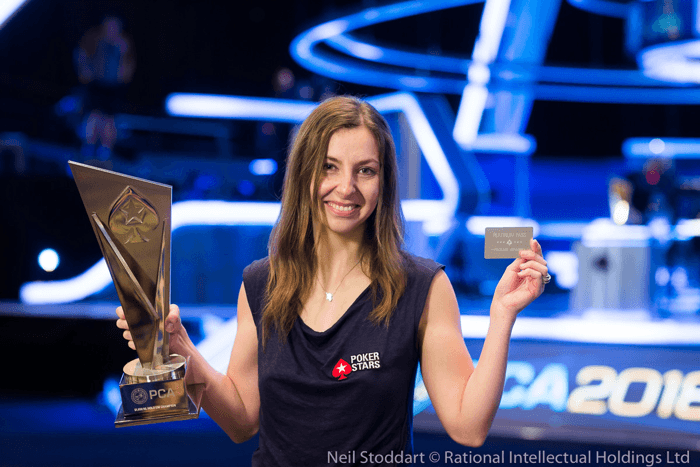 The 2018 PCA National champion title came a year after she started playing but this wasn't the end of her road. In her first venture in the WSOP Main Event in 2017, she ran into a nut-flush with her top pair on Day 2. In 2018, she makes the money and busts in 910th place while 2019 just gave her a seat for Day 2. While we all would have been in the Rio All-Suite Hotel and Casino right now which has been postponed, who knows what other cashes would have been added to her resumé this summer.
Most people think of poker of a way to get wealthy. And it is. Only not the way you think. I didn't make millions. But the wealth of skill I acquired, the depth of decision-making ability, the emotional strength and self-knowledge – these will serve me long after my winnings have run dry.
Whether you are just interested in poker, in science, in psychology, or get a better insight of it all, The Biggest Bluff revealed a lot, and this review is nowhere close to being close enough to describe it entirely. The only thing you can do is to read the book for yourself, as it is out today. Only then you might better understand the correlation between skill, luck, risk, focus, studying, and decision making.
Listen to Maria Konnikova talk about her book on the PokerNews Podcast here!