10 Reasons You Should Play the WPT World Online Championships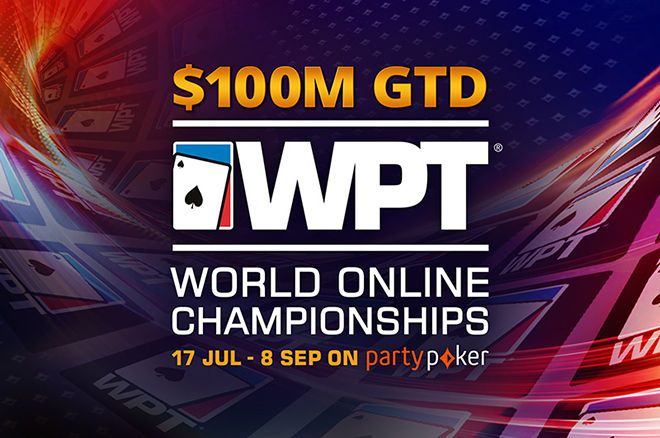 The first of 12 championship events in the $100 million guaranteed WPT World Online Championships shuffles up and deals on July 18; the wait is almost over.
WPT and partypoker join forces again after a hugely successful WPT Online Series that awarded almost $53 million and saw guarantees blown out of the water. The WPT World Online Championships is going to be nothing short of huge with $100 million guaranteed to be won. That alone should be enough to have you clambering for your mouse and logging into your partypoker account. If not, what about these 10 reasons you simply have to play in this festival.
You Can Become a Member of the Exclusive Champions Club
Five partypoker players will win packages for the WPT season-ending WPT Tournament of Champions presented by Baccarat Crystal during this festival. WPT and partypoker are providing the $15,000 buy-in plus travel and accommodation for this amazing tournament.
Win the $10,300 Main Event, with its $10 million guarantee, or the $3,200 buy-in 6-Max, 8-Max, Mix-Max, or Knockout to also secure this fantastic prize.
$100M GTD WPT Online World Championships Schedule
There's $100 Million Guaranteed
A cool $16 million is guaranteed in the WPT World Online Championships Main Events and $100 million will be won during the festival. That's a ridiculous sum of money to be up for grabs in a single festival. Just look at it: $100,000,000! I'ts not often you get to play for a share of the nine-figures worth of prize money.
Limited Re-Entry and Late Registration
If you follow Rob Yong on Twitter, you'll know the Dusk Till Dawn owner and partner of partypoker is keen to see all online poker sites come together and reduce late registration and the number of permitted re-entries in their tournaments.
Yong and partypoker have taken the first steps and put in place a single re-entry policy for the WPT Championship events. This means the richest players won't be able to buy their way to a title and makes it a more level playing field for everyone involved.
Late registration has been drastically cut too so there's no more grinding for four or five hours only to see the entrant count increase again. Late reg is available until the end of the ninth level in the Championship Events. This equates to 180-minutes in the championship events and less in the side events. Buying in during the ninth level sees you still sit down with 50 big blinds.
$100,000 Worth of Leaderboards To Climb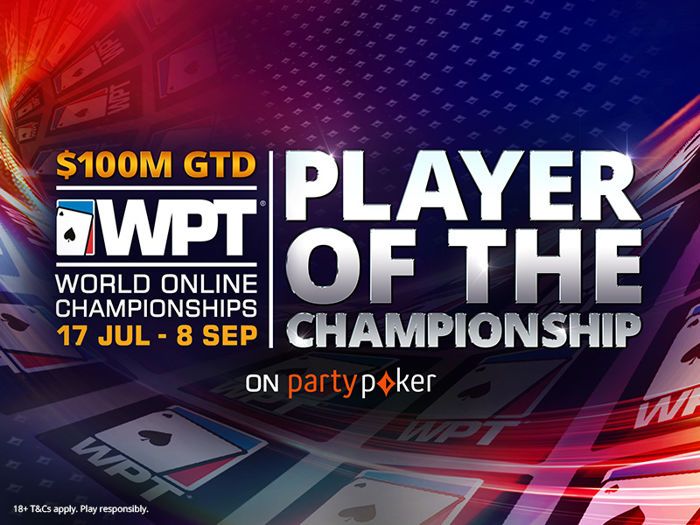 partypoker has created two leaderboards that are paying out a combined $100,000.
The WPT Player of the Championship Leaderboard pays the top 10 points earners a share of $75,000. A cool $50,000 of that goes to the eventual winner. You earn points for this leaderboard by playing in WPT Championship Events with buy-ins of $300 or greater.
The WPT Rising Star leaderboard has a $25,000 prize pool with $10,000 going to the champion. Points are earned for this leaderboard by playing in events where buy-ins are less than $300.
Real Names Throughout For an Authentic Poker Experience
Live poker events are still on hold but you'll be treated to an authentic poker experience during the WPT World Online Championships because real names are being displayed throughout, from start to finish.
partypoker already displays players' real names in their biggest tournaments and it's a practice that's gone down extremely well. It's so much better being able to see who the big-name players are instead of hoping to figure them out from their alias.
It also means you know 100% who you are locking horns with and that can never be abad thing in the online poker world.
Only 12 Prestigious Championship Events
While every scheduled tournament is going to be amazing to win, the fact there are only 12 Championship Events adds some prestige to the festival. Becoming a WPT World Online Championships champion will be a massive achievement because you only get a dozen opportunities to make that happen.
Becoming a champion in this series is definitely something to proudly display on your list of poker achievements.
Improve your chances of winning with this satellite strategy
Championship Events Have Low Rake, Can Be Rake-Free
More rake isn't better, well for players at least, so partypoker and WPT have made the rake for its Championship events sit in the 3-7% level. It's even possible to play in the tournaments rake free by winning a $10,000 PP LIVE Passport.
Use the $10,000 passport to buy into the $10 million guaranteed Main Event and partypoker will waive the $300 tournament fee. Win an additional passport and you can use it to enter other championship events, up to the value of $10,000, with all tournament fees returned to you.
Huge Events To Suit All Bankrolls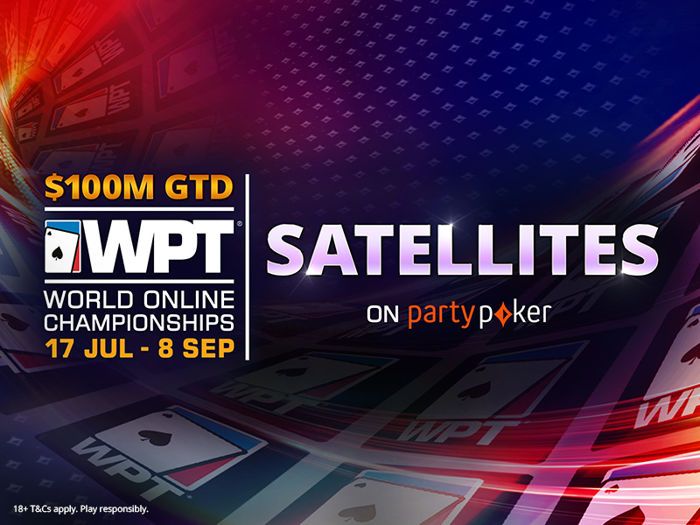 This isn't only a festival with $3,200 or higher buy-in Championship Events because there are Mini and Micro editions of all the Championship events.
The Minis cost $320 and the Micros $33 to enter. This gives everyone the chance to compete in a tournament with a juicy prize pool and a ridiculously good blind structure regardless of the size of their bankroll.
For example, Event #3 is the 8-Max Championship Event. The $33 buy-in edition has $300,000 guaranteed and sees everyone start with 100,000 chips and play to a 20-minute clock starting at 350/500/65a, which is the exact same structure as the $3,200 version.
Value-Packed Satellites Galore
Nobody likes paying full price for anything especially poker tournaments, which is why you'll find a massive schedule of WPT satellites running now and throughout the WPT World Online Championships.
There are satellites to individual events, plus the aforementioned PP LIVE Passports. You'll also find Tournament Dollars satellites. The latter give you more flexibility because you're awarded T$ which can be saved or used to buy into any tournament partypoker hosts, including more satellites.
40% Cashback On Your Tournament Fees
The goodness keeps on coming with the fact you can receive up to 40% cashback on all your WPT World Online Championship buy-ins. Partypoker's loyalty programme is simple: it gives you cash back on your net rake every Monday.
You receive at least 20% of all your rake and tournament fees once you've generated 25 points in a calendar week. One point is awarded for $1 in rake or tournament fees. The rake on these tournaments is already low, but even lower if you factor in the weekly cashback.
---
Stay tuned to PokerNews through the $100 million guaranteed WPT World Online Championships, running July 18-September 8, and we'll bring you the latest news and results from this epic online poker festival.
---