Michael Addamo Wins WPT WOC $100,000 Super High Roller After Heads-Up Deal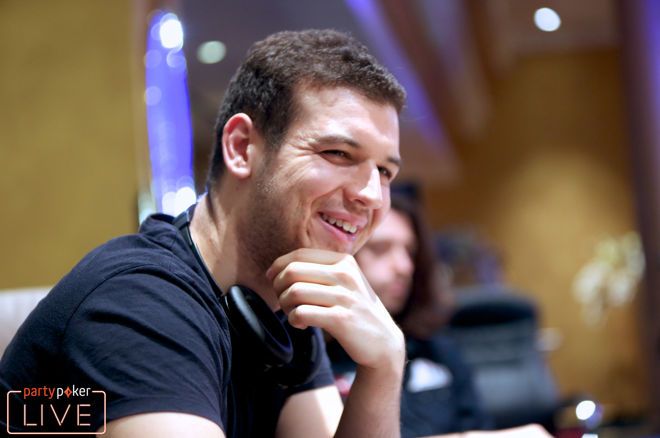 Michael Addamo defeated partypoker Ambassador Isaac Haxton heads-up to win the World Poker Tour World Online Championships $100,000 Super High Roller.
After the pair agreed to a heads-up deal that left $30,000 aside to the winner, both players were set to take home more than $1.2m in prize money each. The ensuing heads-up contest was attritional and captivating, with both players enjoying large leads. Curiously, there were no double-ups, with the vast majority of the chips changing hands in post-flop play.
There had to be a winner though, and eventually, it was Addamo who overcame the battling Haxton to secure victory.
Third place went to satellite-winner Charlie Godwin, who despite coming into the final table as the short stack and faced with a table of some of the best poker players in the world, showed immense patience and turned a $109 WPT satellite into a $620,000 payday.
WPT World Online Championships Live Reporting Hub
Check out the latest news, interviews and more at the PokerNews WPT WOC Live Reporting Hub!
WPT World Online Championships $100,000 Super High Roller Final Table Results
| Place | Player | Country | Payout |
| --- | --- | --- | --- |
| 1 | Michael Addamo | United Kingdom | $1,284,114* |
| 2 | Isaac Haxton | Canada | $1,216,286* |
| 3 | Charlie Godwin | United Kingdom | $620,000 |
| 4 | Sergi Reixach | Mexico | $374,000 |
| 5 | Linus Loeliger | Austria | $276,000 |
| 6 | Christoph Vogelsang | United Kingdom | $229,600 |
| 7 | Daniel Dvoress | Canada | - |
Read Full Live Updates on the WPT WOC $100k SHR
Final Table Recap
With a six-figure bubble looming, the pace was understandably slow. It took an hour before Daniel Dvoress was eliminated. After a failed hero-call early at the final table, he failed to recover and eventually lost out to Sergi Reixach to bust in sixth.
Addamo had lost his chip lead first to Christoph Vogelsang and then to Reixach during the opening exchanges, but regained in indomitable fashion, and at one point held a 3:1 chip lead over second-place and threatened to run away with it.
So far, the short stacks had done an inspired job of staying alive, with Godwin and Haxton with two doubles apiece. That saw Linus Loeliger fall to the bottom of the leaderboard only to double himself through Vogelsang. That left Vogelsang short, and despite doubling himself, Haxton soon sent him to the rail in sixth place.
And with that, the floodgates opened. With Loeliger having failed to kick on, he was soon eliminated, before the key hand at the final table saw Reixach self-immolate whilst sitting with a stack of more than 50 big blinds.
---
---
Key Hand
Reixach had looked dangerous during the early stages, and despite a resurgent Addamo, he was in a good position. That was before tangling with Haxton who had chipped up to over 50 big blinds as well and had him out chipped by just 42,000.
Reixach
raised to 32,000. It folded to Haxton
in the big blind who three-bet to 131,000. Reixach shoved for 828,000 and Haxton snap-called.
The board bricked, with ace-king holding to send Reixach to the rail.
This hand netted Reixach $374,000, but it netted satellite-winner Godwin almost $250,000 in a single hand as she laddered yet another spot. She got her 15 big blinds in quickly and was finished off by Addamo, happy to have turned $109 into a payday of over $600,000.
WPT World Online Championships a "Touch of Class" Says partypoker's Roberto Romanello
Heads-Up Play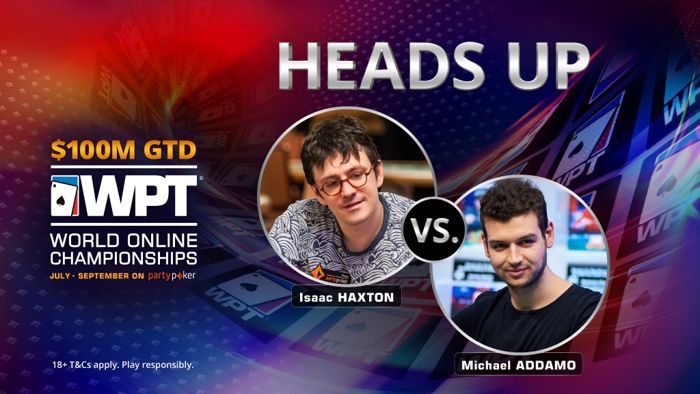 With 250 big blinds in play, and Addamo holding a slender lead, the two quickly agreed to a deal which saw them split the prize pool and play on for an additional $30,000 and the title.
Heads-Up Deal
| Player | Chips | ICM Deal |
| --- | --- | --- |
| Michael Addamo | 2,148,304 | $1,254,114 |
| Isaac Haxton | 1,851,696 | $1,216,286 |
Addamo's lead looked solid during the early exchanges, extending it to almost a 2:1 advantage. That was until a four-bet pot saw Addamo check-folding to a river shove, and Haxton subsequently moving into the lead.
Haxton then extended that lead to more than a 4:1 advantage, but Addamo still sat with 40 big blinds and began to battle back. He eventually regained the chip lead, flopping the nut straight in a limped pot and getting Haxton to call an overbet.
For not the first time at this final table, Addamo began extending his lead once more. This time, he didn't look back. And he eventually secured victory, hitting an ace on the river on the very first heads-up all in between the pair.
---
WPT World Online Championships Winners
| Date | Event | Field | Prize pool | Winner | Payout |
| --- | --- | --- | --- | --- | --- |
| 7/21/20 | Event #1: $3,200 Pot Limit Omaha Hi-Lo Championship | 145 | $500,000 | Paul Tedeschi | $92,105 |
| 7/28/20 | Event #2: $3,200 Pot Limit Omaha Championship | 342 | $1,026,000 | Alex Manzano | $176,132 |
| 8/4/20 | Event #3: $3,200 8-Max Championship | 1,062 | $3,186,000 | Gavin Cochrane | $540,664 |
| 8/11/20 | Event #4: $3,200 6-Max Championship | 999 | $3,000,000 | Nick Petrangelo | $494,550 |
| 8/18/20 | Event #5: $3,200 Knockout Championship | 1,035 | $3,105,000 | Daniel Smyth | $413,391 |
| 8/25/20 | Event #6: $3,200 Mix-Max Championship | 989 | $3,000,000 | Andrey Kotelnikov | $488,508 |
| 9/1/20 | Event #7: Micro Main Event Championship | 8,465 | $1,000,000 | Luiz Antonio Silva | $488,508 |
| 9/9/20 | Event #7: Mini Main Event Championship | 4,600 | $5,000,000 | Renan Carlos Bruschi | $504,582 |
| 9/16/20 | Event #8: $10,300 Main Event | 1,011 | $10,110,000 | Phil Mighall | $1,550,298 |
| 9/17/20 | Event #9: $3,200 Heads-Up Championship | 166 | $500,000 | Steve O'Dwyer | $135,000 |
| 9/22/20 | Event #10: $25,500 High Roller Championship | 199 | $5,000,000 | Mikita Badziakouski | $1,062,730 |
| 9/20/20 | Event #11: $3,200 Turbo Championship | 433 | $1,299,000 | Dimitar Danchev | $188,316 |
| 9/25/20 | Eveant #12: $102,000 Super HIgh Roller Championship | 40 | $1,284,114 | Michael Addamo | $4,000,000 |