Seven of the Biggest Hands from Hellmuth vs. Esfandiari High-Stakes Duel Round 2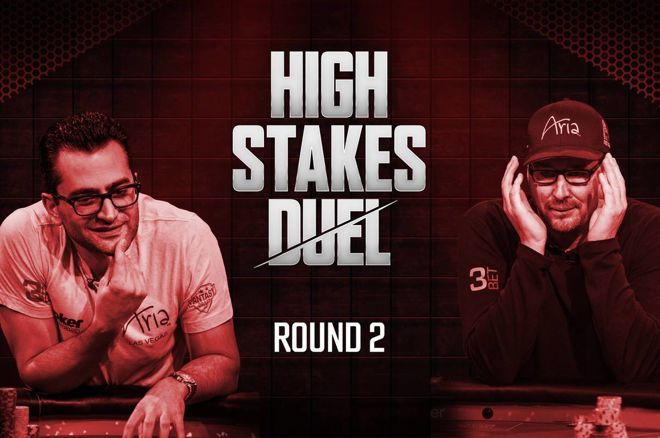 At the end of September, Phil Hellmuth and Antonio Esfandiari returned to the PokerGO Studio at ARIA for their Round 2 match in High Stakes Duel. In July, Hellmuth defeated Esfandiari in Round 1 to win $100,000, but a rematch was issued, albeit for the increased stakes of $100,000 apiece.
For those who don't know what the show is all about, here's the description from PokerGO:
High Stakes Duel is PokerGO's newest original series that begins with each player posting the $50,000 buy-in. The winner progresses through to Round 2 where the loser has the first option to challenge. If the loser declines, the challenger seat is open for 30 days. The stakes will double each round where a potential $12.8 million prize pool would be reached by Round 8.
In the latest match, which is available to watch for free on PokerGO's YouTube channel, the two poker icons battled for three and a half hours in a back-and-forth affair. Ultimately, Hellmuth prevailed once again to claim the $200,000 prize. Esfandiari has the option to issue one more challenge if he's willing to put up $200,000 for Round 3, and if he does Hellmuth is obligated to accept.
Esfandiari has already said he will try again, but when exactly that match will take place remains is to be determined.
While the poker world waits for that match, which will feature a $400,000 prize, PokerNews has put together some of the biggest and more interesting hands from Round 2 of the High-Stakes Duel between Hellmuth and Esfandiari.
Watch Round 2 of High-Stakes Duel Here
Esfandiari Bets After Hellmuth's Dark River Check
In an early hand, Esfandiari raised to 500 holding the
and Hellmuth called with the
before checking in the dark. Hellmuth then called a bet of 600 on the
flop before checking in the dark again.
The
turn paired Esfandiari and he bet 1,400. Again, Hellmuth called and checked in the dark for the third time. The
river improved the "Poker Brat" to the nuts – the Broadway straight – but he gave up his option by checking in the dark. Fortunately for him, Esfandiari went for value with a bet of 3,200.
As expected, Hellmuth came back with a check-raise, making it 9,600 to go, and Esfandiari released. Hellmuth pulled out to an early 111,000-to-88,000 lead.
Action Flop Leads to Big Pot
Not long after, Hellmuth limped with the
and then called when Esfandiari exercised his option with a raise to 1,000 holding the
. The
flop had action written all over it as Esfandiari flopped top two pair but Hellmuth the nut straight. The former led out for 1,200 and Hellmuth raised to 3,800.
Esfandiari just called and he checked when the
paired the board. Hellmuth bet 5,000, Esfandiari called, and the pot grew to 19,600, the largest up to that point. Esfandiari proceeded to check the
river, which put four cards to a straight on the board. Hellmuth thought long and hard before betting 11,000 and Esfandiari burned a time extension before making the call.
With that, Hellmuth pulled in the 41,600 pot and pulled put to a 129K-to-69K lead.
"I wanted to turn my hand into a bluff so bad," Esfandiari said.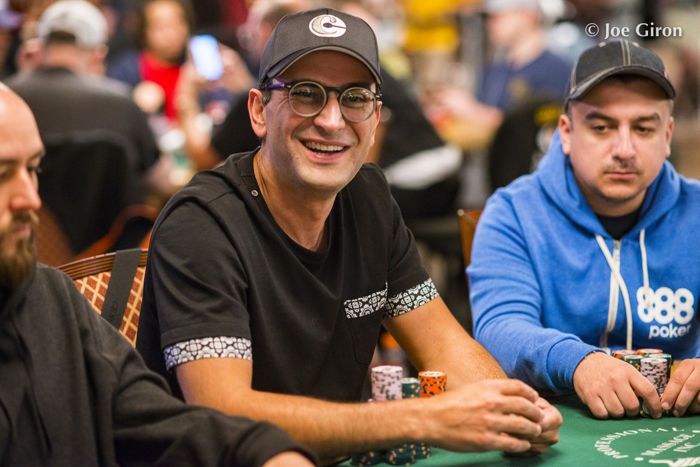 Esfandiari Claims the Lead
With the blinds at 200/400, Hellmuth just called with the
and Esfandiari checked his option with the
. On the
flop, Esfandiari checked, Hellmuth bet 1,000, and Esfandiari check-raised to 3,100. Not to be outdone, Hellmuth three-bet it to 12,200 and Esfandiari called with middle pair, which improved to two pair when the
hit the turn.
Esfandiari checked, Hellmuth bet 15,700, and Esfandiari called to see the
river. Esfandiari checked for the third time and Hellmuth gave up by checking behind. Esfandiari laid claim to the 56,600 pot and took the chip lead with 114K to Hellmuth's 85K.
Hellmuth the Problem Solver
With the blinds at 250/500, Esfandiari raised to 1,100 holding the
and Hellmuth called with his
, which brought about a
flop. Hellmuth checked and then immediately made it 1,800 to go after Esfandiari bet 800. Esfandiari called and picked up a gutshot with the
on the turn.
"I've been a problem solver my whole life, Antonio. It's what I do."
Hellmuth bet 3,200, Esfandiari raised to 11,300, and Hellmuth refused to back down by three-betting to 29,000 after spending some time in the tank. Esfandiari decided to call and then Hellmuth checked in the dark before the dealer put out the
on the river.
Esfandiari wasted little time in moving all in and Hellmuth, who had 32,425 behind, broke down his chips and took his time making a big decision, which would cost him the match if he lost. He eventually made the call and Esfandiari simply said, "You win."
"We're dancing Antonio," Hellmuth chirped. "I told you this could end in 20 minutes."
Hellmuth reclaimed the lead holding 133K to Esfandiari's 66K.
"You really are so lucky, man, it's unbelievable," Esfandiari added. "In these big spots you just always solve the problem."
Hellmuth replied: "I've been a problem solver my whole life, Antonio. It's what I do."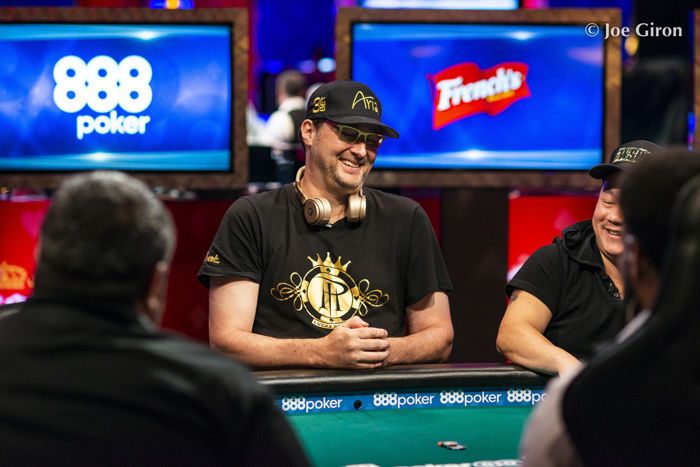 Hellmuth Hooks a Double
The pair continued to trade small pots back and forth with Esfandiari reclaiming a three-to-one lead. He chipped away at Hellmuth until a big hand went down with the blinds at 800/1,600. Hellmuth limped with the
and then called when Esfandiari raised to 6,700 holding the
.
On the
flop, Esfandiari continued for 8,300, and Hellmuth, who had flopped top pair, moved all in for 48,200.
"I knew you hit a jack. You're so lucky, you really are exceptionally lucky, Phil," an exasperated Esfandiari exclaimed. Esfandiari talked aloud as he burned through several time banks. Eventually, he called the 39,900 and discovered the bad news.
Neither the
turn nor
river changed a thing and Hellmuth doubled to 109,800 while Esfandiari dropped to 90,200.
A Two Pair Cooler
At 1,000/2,000, Hellmuth limped with the
and Esfandiari checked his option holding the
, which brought about a
flop. Esfandiari check-called a bet of 2,500 and unbeknownst to him, things got ugly when the
turn gave him an inferior two pair.
Esfandiari checked, Hellmuth bet 6,500, and Esfandiari check-raised to 18,500. Hellmuth, who was a 95 percent favorite with eights and sevens, responded by making it 57,000 and called off his remaining 24,000 when Esfandiari moved all in. but not before agonizing and adding, "I guess I'm just not good enough to get away from it."
"How lucky can you be? It's just unreal," Esfandiari lamented. "Gosh, you really are not a human being."
The
river was no help to Esfandiari, who was left with just 29,000 while Hellmuth was pushed the 171,000 pot.
Final Hand of the Duel
In what would be the final hand of the match, the blinds were 1,000/2,000 when Esfandiari jammed his last 21,000 holding the
and Hellmuth called with the dominating
. The Magician wasn't able to pull a rabbit out of his hat as the board ran out
to give Hellmuth his second straight victory.
Prior to Round 2 of the match, both Hellmuth and Esfandiari sat down with Nick Schulman for the official "Weigh-in," which you can watch below in this PokerGO video:
Executive Editor US, PokerNews Podcast co-host & 2013 WSOP Bracelet Winner.