Value Town: Small Buy-ins, Big Prizes in the PokerStars Bounty Builder Series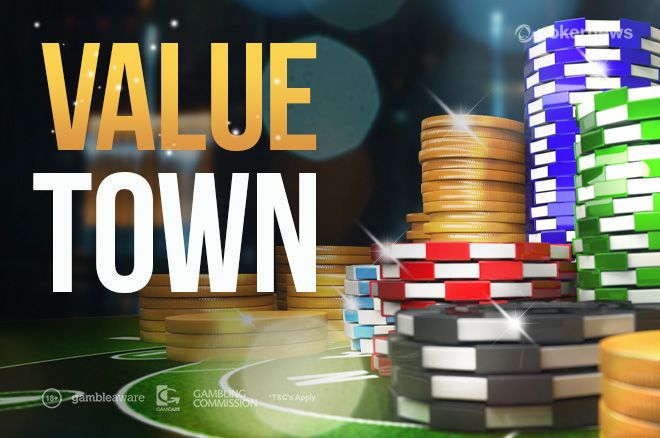 High stakes poker tournaments are usually the ones that grab the headlines. They pay out massive prizes that are potentially life-changing for the majority of poker players, but they're also out of reach of those same players.
There are four Bounty Builder Series tournaments taking place at PokerStars over the next fee days that have chunky guaranteed prize pools for extremely affordable buy-ins. Let's take a look at what these are events are as we take a trip to Value Town.

Bounty Builder Series 157: $1.10 NLHE [8-Max], $7.5K Gtd
$1.10 is all it costs to enter the 157th event of the $30 million guaranteed Bounty Builder Series. This 8-max event features a $7,500 guarantee for its $1.10 buy-in. Don't go thinking that such a small buy-in tournament is going to be a crap-shoot because everyone starts with 25,000-chips and plays to blinds that start at 200/400/50a.
Blinds increase every 12-minutes for the first 10-levels before switching to eight-minutes thereafter.
Players receive a minimum of $0.25 for each opponent they bust, meaning you only need to eliminate four foes to be essentially freerolling in the tournament.
Get involved from 4:00 p.m. CET on October 22.
How Push-Fold Strategy Changes in Bounty Tournaments
Bounty Builder Series 169: $5.50 NLHE, $30K Gtd
The 169th Bounty Builder Series event is a no-limit hold'em tournament that only costs $5.50 to buy into yet has a quite ridiculous $30,000 guarantee on its prize pool! The structure is similar to the tournament above, with a 25,000 starting stack and blinds starting at 200/400/50.
Cards are in the air from 10:30 p.m. CET on October 22. Late registration is open for 125 minutes and you're permitted to make up to three re-entries while late registration is open. This tournament needs 6,000 entries to hit the guarantee, will it manage that late on a Thursday evening?
Bounty Builder Series 171: $2.20 NLHE, $12K Gtd
At least $12,000 is guaranteed to be won in the Bounty Builder Series 171, a $2.20 no-limit hold'em tournament commencing at 4:00 p.m. CET on October 23.
Get ready to go into battle and bust as many opponents as you can because scalp rewards you with at least $0.50. Those bounties will, however, be far more substantial when you navigate your way into the latter stages of this event.
This is another PKO tournament that needs 6,000 players to hit the guarantee, which seems ambitious. Should it hit exactly, it should see a first-place prize in excess of $1,400 plus around the same in bounty payments, all for a $2.20 investment.
Check out the full Bounty Builder Series schedule
Bounty Builder Series 183: $1.10 NLHE [6-Max], $5K Gtd
The fourth Bounty Builder Series event in our Value Town article starts at 10:30 p.m. CET on October 23. It's the 183rd tournament of the series, a tournament with $5,000 guaranteed, a six-max format and a mere $1.10 buy-in.
First-place should be in the region of $600 before your bounties are included, possibly more if PokerStars micro-stakes players turn out in force and blow the guarantee out of the water.
The Stars Group owns a majority shareholding in iBus Media, PokerNews' parent company.