Max-Late Reg in Parking Lot Leads to $113K Circuit Win for Ryan Leng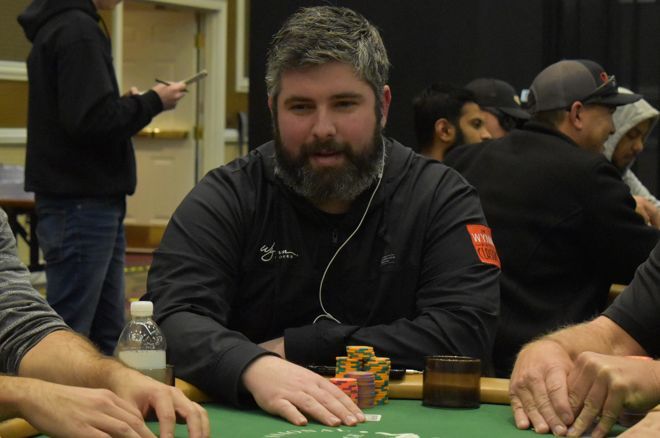 Opportunities to win six figures playing poker in the U.S. these days are few and very far between, so as a professional player, Ryan Leng figured it was his duty to register the $525 World Series of Poker Circuit Main Event on WSOP.com.
Circumstances weren't ideal, since he had just wrapped up a third-place finish in a pickleball tournament and hadn't even gotten home to clean up. Plus, he hadn't played but one tournament in the past two months, and spent exactly zero time studying.
"After the online WSOP I decided to take a break from poker," Leng said. "I do this fairly often, once or twice a year. I use that time to focus on non poker things in my life, like health/fitness, or to experiment with other options for potential career paths."
But, when he saw the size of the prize pool and that registration was ending shortly, he pulled into a parking lot to hop in via mobile, exactly in the final minute before WSOP.com closed up shop on the prize pool, which ended at an impressive $471,000.
It would wind up being a rather profitable decision for Leng, who went on to win his fifth piece of WSOP hardware — a fourth ring to add to his 2018 bracelet — and $113,040.
Running It Up
Of course, max-late registration means a short stack, and Leng had to get his chips in there in a hurry. Luckily for him, a prime spot presented itself quickly when he was dealt pocket tens.
Unluckily, someone else held aces.
The long shot came home for Leng, though, and he was in business. Forty minutes after registering, as they went to break, he had 10-times the starting stack and he drove home to see if he could continue his hot run.
"My body was cramping up and in pain from the pickleball tourney so I got in the hot tub and continued to play on my phone," he said. "After the hot tub I got into bed, my entire body sore. I almost fell asleep twice from 100 players left down to nine. Once we reached the final table I decided to go down to my computer and focus."
Learn about legal online poker in the U.S. by clicking here!
More Heat at the Final Table
Leng's heater continued as he got his stack in dominated again with pocket sevens against pocket nines. His opponent flopped top set to boot and it looked to be over for Leng.
Nope, runner ten-high straight for a double.
Then, he got dealt aces and found another double. Suddenly, his improbable run of luck had pushed him into the chip lead. After that, he "never looked back."
By the time the tournament got three-handed, Leng had a laughably massive lead with 75 big blinds against two opponents sitting on 10 apiece. Because of the way stacks had set up, Leng was able to shove every hand knowing his opponents each needed to try and outlasted the other to maximize their equity in the tournament. Each player would need a monster hand to justify a call.
Eventually, Leng did run into a monster when he shoved seven-three offsuit and ran into kings. Just how hot was he running? Well...
Shoved pre 3 handed in ICM cage spot and got this gem of a runout # https://t.co/yOq5EWiR5E

— Ryan Leng (@RyanLeng9)
"Before I could even type out a 'sorry, not sorry' in the form of '...' I had my opponent all in and flipping heads up," he said. "Big surprise, I won that flip. I was so physically exhausted that I just went right up to bed and passed out, I didn't even wake [my girlfriend] Nikki up to tell her I had won."
The win took the sting out of losing in the semifinals of the pickleball event.
"Turns out winning that match would have cost me $113K," Leng said.
Talking Kornuth, Current Poker Environment
No doubt, it's a tough time to be making a living as a poker player in the U.S., particularly for top tournaments players given the paucity of live options and the limited online market.
As Leng said he doesn't give his business to unregulated sites, he has even fewer options than most, but he has made the most of what he's had available. In addition to his six-figure Circuit win, Leng crushed the online bracelet events on WSOP.com to the tune of 11 cashes for about $110K, highlighted by barely missing his second bracelet with a runner-up finish.
"Oddly enough, I'm not really missing live poker yet," he said. "I've really enjoyed the last two months focusing on becoming more physically active. I play golf, pickle, or tennis 5-6 days a week and it's really got me feeling better than I had been. My obsession to improve at golf has filled any void left by poker study.
"Once I reach more of my health/fitness goals I will likely go hard again with poker, and I'm sure my play and study will benefit from feeling healthier and high energy."
One thing that has kept Leng riveted on poker has been the Galfond Challenge. The most recent challenger to Phil Galfond is Chance Kornuth, Leng's boss at Chip Leader Coaching.
Installed as a significant underdog, particularly after Galfond defeated top online players "Venividi1993" and "ActionFreak," Kornuth has surprised many by outperforming Galfond through the first third of the match.
Leng took a piece of Kornuth but said he hasn't been involved in Kornuth's preparation or strategy in any other way.
"I saw how hard Chance was working on heads-up PLO so I thought we had to be getting the best of it with the odds he was getting," Leng said. "It's been pretty inspiring to see one of my coaches and mentors burying himself in the lab to prepare for a heads-up battle against someone who had just beaten two of the very best HUPLO players in the world.
"I think that a lot of people are surprised at how the challenge has been going thus far. I'm not at all."
Full List of Online Circuit Winners
Here's a complete list of all the ring winners from the online Circuit stop:
| Event | Entries | Winner | Prize |
| --- | --- | --- | --- |
| $250 NLHE Knockout | 488 | Matt "Nitr0" Affleck | $18,018 |
| $250 NLHE Turbo | 534 | John "flukedogg10" Flukey | $31,372 |
| $320 NLHE Double Stack | 583 | Orson "borgatcha" Young | $42,850 |
| $320 NLHE Monster Stack | 704 | Derek "rickyguan" Sudell | $50,688 |
| $215 NLHE Deep Turbo | 507 | Jim "Aggie69" Agate | $25,350 |
| $320 NLHE Six-Max | 615 | Arkadi "Stupidaxpeh" Onikoul | $46,125 |
| $215 NLHE | 637 | Sridhar "sri50k" Sangannagari | $31,213 |
| $320 NLHE | 474 | Jesse "patient0" Yaginuma | $36,261 |
| $320 PLO Six-Max | 256 | Damian "martillo1978" Alonso | $21,504 |
| $320 NLHE Double Stack | 567 | Mitch "paltex" Garshofsky | $42,525 |
| $525 Main Event | 942 | Ryan "Adopt_aDogg0" Leng | $113,040 |
| $215 NLHE | 596 | "DeionSanders" | $29,800 |
| $1,000 High Roller | 293 | Mark "DomCapers" Darner | $75,550 |