Dan "mj23style" Sewnig Studying to Become One of New Jersey's Best Online Players

Table Of Contents
There's a new breed of online poker players emerging in the United States, namely those thriving in the few regulated markets out there. One of them is Dan "mj23style" Sewnig, who has proven himself one of the most accomplished players among the New Jersey contingent.
The 29-year-old Sewnig, who graduated from Ramapo College with a degree in math and a concentration in education, has amassed well over a million in earnings playing online, where he's also known as "RedsoxNets5". He's expected to be in action this weekend in the latest partypoker US Online Network Series, which is being live reported by PokerNews.
Click here to follow partypoker US Online Network Series updates now!
Finding His Way to Poker
Sewnig learned poker at 11 years old when his cousin taught him the rules to Texas hold'em. In 2003 when Chris Moneymaker won the World Series of Poker, Sewnig was in seventh grade and playing $5 SNGs with his friends.
"I'll always remember our friend's mom asked us who we thought was going to win. There were about 50 players left in the TV coverage and Ivey and Farha were the popular answers. I said, 'I don't know, I've got a good feeling about that guy Moneymaker.' She gave me a look at the time that I thought meant she thought I was stupid. I had no idea at the time that these shows were prerecorded and she already knew that he had gone on to win!"
"I'm a full-time professional poker player and put most of my volume into online tournaments."
In 2014, Sewnig was on track to become a teacher, even doing some student teaching. However, the call of poker was too strong to ignore.
"I decided to test the waters of the relatively new regulated online poker sites in New Jersey. I've been playing poker professionally ever since," said Sewnig, who lives in New Jersey with his girlfriend of two years, Amy. "I'm a full-time professional poker player and put most of my volume into online tournaments. I do play live tournament series when they run at Borgata and Parx and head out to the Vegas for the WSOP each summer."
In the live realm, Sewnig has amassed nearly $150K in earnings including a career-best $27,276 for finishing fourth in the 2016 WPT Borgata Poker Open Event #12: $1,060 NLH 6-Max.
Taking His Game to the Next Level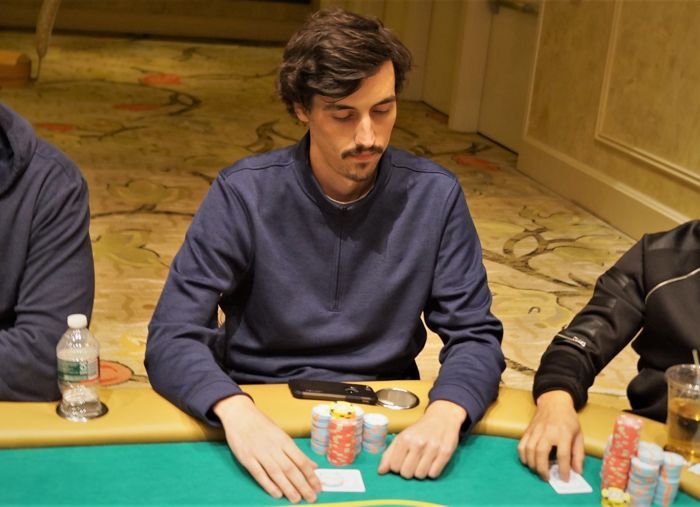 While Sewnig plays on all the New Jersey online sites, he's become a familiar and successful player on the partypoker US Online Network.
"There's a lot of great value on partypoker," he told PokerNews. "The site appeals to all sorts of different types of people and leads to a bunch of very fun tournaments. You truly never know what you're going to see in these MTTs and I am very grateful for that."
One of the reasons we continue to see Sewnig crushing is because of the progress he's made in poker over the past 18 months, which he ranks as his proudest accomplishment.
"I've put more work into studying and improving over that timespan than I have in the rest of my career combined. I've also done a much better job of dealing with adversity. Downswings are inevitable in poker and people react to them in all different types of ways."
"I've bounced back from tough stretches way more quickly and healthily and I think that's what I'm most proud of."
He continued: "For a long time, I'd react to them by taking way too much time off, sometimes even weeks at a time. From 2019 on, I've bounced back from tough stretches way more quickly and healthily and I think that's what I'm most proud of, more so than any individual tournament score or win."
When asked who he thought was the best player among the New Jersey online crowd, Sewnig actually named a Borgata Poker Ambassador.
"I'd have to say Michael Gagliano. You could argue a few different people for best cash player in the state and a few different people for best tournament player, but I think he is the only name that comes up in both conversations. There are a few cash guys, such as Sean Ruane and Jake Toole, who could also fall into that category but just don't put in much tournament volume. Honorable mention to David Coleman."
If he continues on his current trajectory, don't be surprised to see Sewnig's name mentioned among New Jersey's best.
You can follow Sewnig on Twitter @RedsoxNets5.
Click here to sign up for Nj.partypoker.com!
Executive Editor US, PokerNews Podcast co-host & 2013 WSOP Bracelet Winner.