Bracelet Winner Daniel "centrfieldr23" Lupo Discusses partypoker US Network Win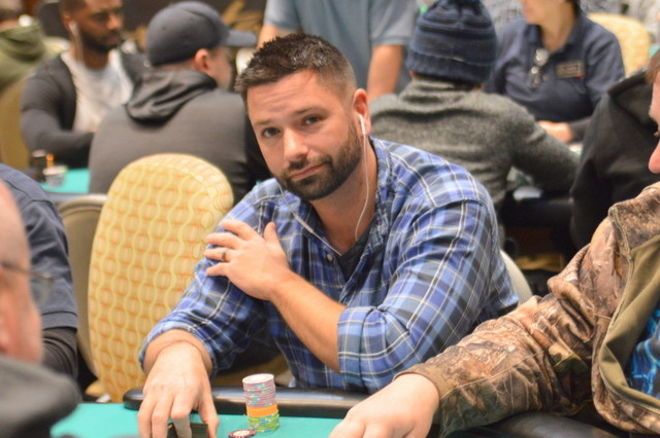 The partypoker US Online Network – which is comprised of partypoker US, Borgata Poker and BetMGM Poker – has been gaining momentum in New Jersey, most recently with the current WPT Online Borgata Series.
One player who has been doing quite well on the site is bracelet winner Daniel "centrfieldr23" Lupo, 37, of West Milford, New Jersey. You might recall that last summer, Lupo topped a 1,767-entry field to win the WSOP.com Online $500 NLH Turbo Deepstack for $145,274 and a gold bracelet. Earlier this year, he added a ring to his résumé by taking down the WSOP.com Online Circuit Event #3: $320 NLH 6-Max for $32,595 and a month later won the WSOP.com $100,000 GTD Sunday for $50,715.
Last month, Lupo's success continued when he bested a 305-entry field to win the partypoker US Network Online Series $50K GTD NLH 6-Max Main Event for $14,792.
PokerNews recently caught up with Lupo, who went to NJIT for Architecture and baseball, to ask him about poker, which he squeezes in between working for an Architecture firm in Bridgewater specializing in single-family residential and smaller commercial projects and his family, which includes three kids ages 2-5 and his supportive wife Laura.
Follow Our Live Updates from the WPT Online Borgata Series Here
Q&A with Daniel "centrfieldr23" Lupo
PokerNews: When and how did you learn to play poker?
Lupo: I started playing/learning in college during the Rounders and Moneymaker boom with a bunch of the baseball guys. Within a year I found myself hosting games at college, at home on breaks and basically anywhere I could find or make a game. I didn't play much online early on, regrettably.
What sort of poker do you play these days?
Mostly online MTTs playing like three sessions per week on average with buy-ins typically from $50 to $1k with the occasional $2-$3k buy in for a big event. I average around 500-600 MTTs a month despite not playing full time, I tend to put in a lot of volume when I'm on. The games are mostly NLH and some PLO MTTs, but love when StarsNJ runs a series as they run a fun 8-Game MTT with a bunch of other mixed variants.
What's it like to play poker while raising young children?
It's been a constant evolution. I could probably write a book about all the highs and lows and life adjustments I've had or chose to make. It gives me a lot of inspiration to succeed while also adding some weight to my losses as it's like 'not only was I way from my kids for all of Sunday afternoon but I lost (insert obnoxious Sunday schedule cost here)'.
What are some of your poker goals?
Try and win everything I play. Actually, my biggest current goal is trying to optimize my MTT game selection. Since quarantine began the schedules have been exploding site to site and while it's been great, with lots of new players and lots of live players playing online it has also drastically increased my average buy-ins and session costs as well as the field size which further increases variance.
I'm trying to optimize the balance of table quantity and expected value vs individual session costs and the variance that comes with it. Having an average buy-in of $250 adds up pretty quickly when it's spread across 60+ entries on a Sunday. My biggest ongoing and long-term goal is to win enough to help my family live comfortably.
How did it feel to take down the partypoker US Network Phased Main Event last month?
I was pretty stoked about the partypoker US win. I love their structure and it was a very tough field when we were deep; I was fortunate to run pretty well and the be able to leverage my chip stack at the final table. I had made a bunch of top 18 runs in their series Main Events but couldn't crack a solid finish lately so this felt a little extra special.
Executive Editor US, PokerNews Podcast co-host & 2013 WSOP Bracelet Winner.