#GiveWPT: Andrew Benedict Freerolls WPT partypoker US Seat Into $22K Payday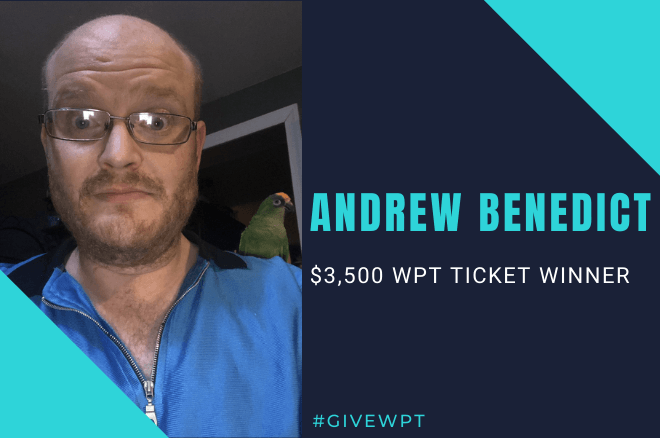 Table Of Contents
Over the holidays, PokerNews awarded a free $3,500 seat into the WPT Online Poker Open powered by partypoker US Network. It was a part of our "Give the Gift of WPT" giveaway where we asked folks to nominate deserving players.
Andrew "pokasmoka7" Benedict was ultimately selected as the winner, and not only did he have a lot of fun playing, he got paid to do it as he finished ninth out of a 395-entry field to bank $22,179.
According to The Hendon Mob, Benedict had just $11,977 in lifetime earnings including a prior career-best $3,413 (less than the buy-in to this WPT event) for finishing 28th in the WSOP Online Event #19: $400 NLH back in July. Now, he's nearly tripled that amount thanks to his first WPT cash.
"It was amazing getting to play the WPT online event. Good deep structure for an online game. Very good competition late," Benedict told PokerNews. "Without the PokerNews contest this would have been yet another tournament that I would have had to sit out. I am grateful beyond words to all of you guys at PokerNews and to my good friend Michael Marder for nominating me."
A Look Back at His Play
Most Sundays, Benedict is busy teaching Hebrew Sunday School in South Jersey; however, due to the holiday, he had off Dec. 27. As such, he tried to satellite into the WPT Main Event, though was ultimately unsuccessful. Fortunately, the lifelong Philadelphia Eagles fan got in via the giveaway.
While he didn't have much experience in big buy-in tournaments, Benedict found himself making a deep run.
"The bomb on the river though really was too big and put my tournament in too much jeopardy."
"I think the lack of experience deep in these big tournaments really caught up to me," he said. "I was playing really well most of the time, but then somewhere around 12 players left I made one critical error. And then the bustout hand was also a huge mistake."
In the first hand he considered a mistake, Obli "PokerKarma" Prabu raised and Benedict defended his big blind with Ax10x.
"I don't remember the exact board or runout but the flop came out ace-high," he recalled. "I called all three streets of his bet-bet-bomb line. The bomb on the river though really was too big and put my tournament in too much jeopardy if I called and lost there. It was 8+ million river bomb out of my remaining 20 milish."
He continued: "I couldn't put too many bluffs in his hand range for the triple barrel line on that board. I like my decisions to check-call flop and turn in this hand but when he bombs the river the way he did I'm just not beating enough of his hand range to call there. But I did call and lost to his set of aces."
In his final hand, which was the final table bubble, it was Level 28 (300,000/600,000/75,000) when online qualifier "anomalous" raised to 1.26 million under the gun and Benedict three-bet to 16.26 million from the small blind with just 30K behind. "anomalous" jammed and Benedict had little choice but to call off.
"anomalous": A♠A♥
Benedict: A♣10♣
Benedict was dominated and didn't get any help as the board ran out Q♠8♥7♣8♦K♦ to send him out in ninth place for $22,170.
In regards to the hand, Benedict offered the following:
"I do regret the final hand. Of course, it always looks a lot worse when you jam A♣10♣ into aces for 26 bigs, but had my play in that situation worked out it wouldn't have been because it was a good play, it would have been more because I got lucky. I had way too many big blinds to three-bet jam. I'm never really getting called by much worse, and I'm not folding out most of the hands that beat me. So, I'm getting no value out of worse hands when he has them, but when he has a better hand I'm giving him all of it unless I get a really good runout to get lucky."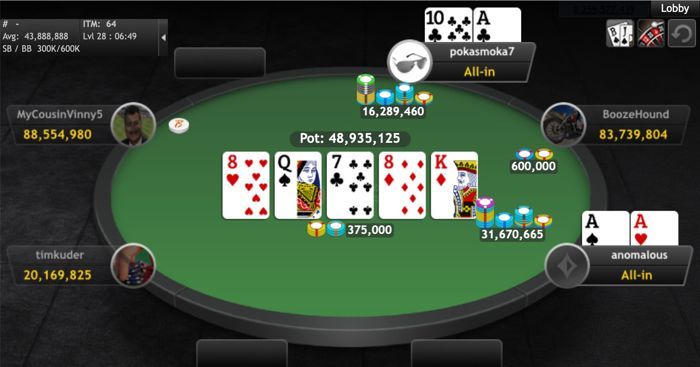 What Comes Next?
While it wasn't exactly a life-changing score, the money will certainly come in hand for Benedict.
"During the pandemic, I was unable to work for Lyft which was always my side hustle grind when poker wasn't going well," he admitted. "Because I had literally zero income I had to call the bank that has my car loan and have them put three separate months' worth of payments on the back of my car loan. So, the win was enough money to pay the car loan off completely, though it might not leave me with enough of a bankroll. However, I'm going to try to create opportunities for myself to play in more of these."
In conclusion, Benedict summed up the experience as follows:
"I am so grateful to all of you guys for running the contest. Maybe this is just the start I needed, and maybe, just maybe, to be great. I had to make mistakes in this one and I had to learn how it feels to know how much those mistakes may have cost me. Maybe this is the start, not the finish of the dream I had in 2003 watching Chris Moneymaker win the WSOP Main Event while playing poker with my friends for all our loose change."
Get Your $1,000 Deposit Bonus on partypoker US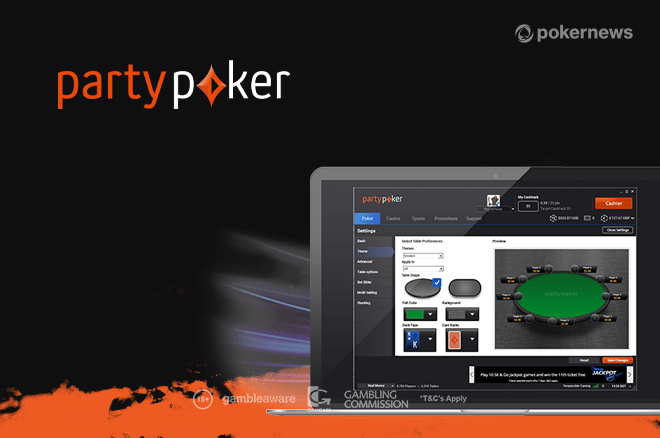 Are you a New Jersey resident interested in playing online poker? Planning a visit to the Garden State and want to check it out? If so, PokerNews has a great deal for you with Nj.partypoker.com.
Take advantage of a simple new player bonus that rewards you with extra cash as you continue to play poker and casino. They have the easiest bonus to clear in New Jersey, so you essentially end up getting half of all your fees back in cash!
Simply make a deposit, and we'll match it, up to $1,000!
So, if you deposit $1,000, we'll give you an extra $1,000, which will be paid into your account in 10 equal parts as you play and collect points. That's real money you can use to:
try out a new cash or fast-forward cash table
experience their Sunday $40K Guaranteed and $10K Daily Guaranteed
try their casino games and test your luck on their seven-figure jackpot slots
It's easy to get started:
Sign Up — Register an account with Nj.partypoker.com and enter all your info, like name, date of birth and SSN,
Download — Get the app on iOS or Android to start playing
Deposit — Make your first deposit and we'll match it up to $1,000
Sign up for Nj.partypoker.com!
Executive Editor US, PokerNews Podcast co-host & 2013 WSOP Bracelet Winner.