Sheldon Adelson Takes Leave To Resume Cancer Treatment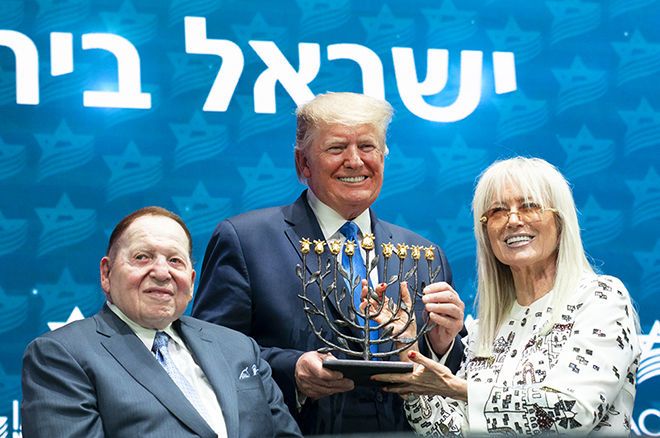 Sheldon Adelson is taking leave of absence after resuming treatment for cancer. The 87-year-old multi-billionaire founder and Chief Executive Officer of Las Vegas Sands Corp has handed the reins to the company's President, Robert Goldstein, who is now the acting chairman and CEO.
Adelson was diagnosed with non-Hodgkin's lymphoma, a type of blood cancer, in 2018 but remained at the helm of his casino empire. A spokesperson for Las Vegas Sands Corp informed The Wall Street Journal about Adelson's cancer treatment.
"Mr. Adelson is still dealing with certain side effects from medication he is taking for the treatment of non-Hodgkin lymphoma. These side effects have restricted his availability to travel or keep regular office hours. They have not, however, prevented him from fulfilling his duties as chairman and CEO."
Traditional treatment for this type of cancer includes chemotherapy, radiotherapy, and stem-cell transplants. It is unknown what treatment Adelson undertook or has resumed.
What Could Joe Biden's Election Means for U.S. Online Poker?
Casino Mogul Steps Away From Day-to-Day Business
Adelson has stepped away from the day-to-day running of Las Vegas Sands Corp. with immediate effect. Cancer treatment can be debilitating in a young, healthy person never mind a man approaching his 90th year.
He has long suffered from peripheral neuropathy, a nerve disorder that causes weakness, numbness, and pain, which makes it difficult for Adelson to walk.
The polarizing entrepreneur started his business career at the age of 12 when he borrowed $200 from an uncle to purchase a license to sell newspapers in Boston. Adelson has since created almost 50 businesses, but it is his casino empire that he's best known for.
Adelson bought the Sands Hotel and Casino in Las Vegas in 1988. Three years later, while on honeymoon in Venice with his second wife, Miriam, Adelson found the inspiration for what is now The Venetian.
He's since built casinos in Pennsylvania, Macau, and Singapore.
Three Things That Show How Much Lindsey Graham HATES Online Poker
A Love of Casinos, a Hate of Online Gambling
There is no doubting Adelson is a powerful man. Being in the top 30 of the word's wealthiest people, courtesy of a near $36 billion net worth, does that to a person. He's used his power and wealth for good, but also to campaign against online gambling.
Although Adelson has an obvious affinity with casinos and gambling, he detests online gambling and online poker in particular. In 2014, he founded the Coalition to Stop Internet Gambling and drafted the Internet Gambling Control Act. The bill would have effectively banned all forms of online gambling in the United States, overturning the 2011 decision of the United States Department of Justice that suggested online poker dud not fall under the Wire Act, 18U.S.C. § 1084.
Reports suggest Adelson recently spent $75 million supporting a campaign against President-elect Joe Biden, knowing full well the Republicans are averse to internet gambling.
Leaving Las Vegas? Heading to Australia?
It was only three months ago that some almost unthinkable news about Adelson broke. A report in Bloomberg hinted at Adelson hiring a consultant to explore the possibility of not only leaving Las Vegas but exiting the US gambling industry completely.
The US arm of Las Vegas Sands Corp. only accounts for approximately 13% of the company's revenue. That figure will likely be less in the next set of financial figures due to the ongoing COVID-19 pandemic.
In April 2020, Adelson spoke publicly after his company recorded a 51.1% decrease in revenue.
"The impact of the COVID-19 pandemic on our business has been unprecedented, and I have never seen anything like it in my over 70 years in business. We are fortunate that our financial strength will allow us to continue to execute our previously announced capital expenditure programs in both Macau and Singapore while continuing to pursue growth opportunities in new markets."
One of those new markets could well be sunny Australia. Crown Resorts and its senior management team has seen their names dragged through the mud over the past six months. Crown recently opened the hotel at its new AUD$2 billion complex in Barangaroo, Sydney but its lavish casino remains under lock and key after regulators refused to issue a casino license.
James Packer is Crown's majority shareholder, one who has made it no secret he wants to walk away. Packer attempted to sell 19.9% of his Crown stock to Melco Resorts' Lawrence Ho for AUD$1.76 billion in May 2019. Unfortunately, the deal broke rules set by Australian regulators in regards Crown completing its Sydney project, hence, not obtaining a casino licence.
Perhaps it is only a coincidence, but Packer's AUD$200 million super-yacht was spotted parked up next to Adelson's "Queen Miri" boat in the French Caribbean just before the end of 2020. Packer has, of course, denied any meetings between the two billionaires took place. Any potential deal could be scuppered now Adelson is suffering with ill health.
Lead photo courtesy of The White House/Wikimedia Commons.