Three Things That Show How Much Lindsey Graham HATES Online Poker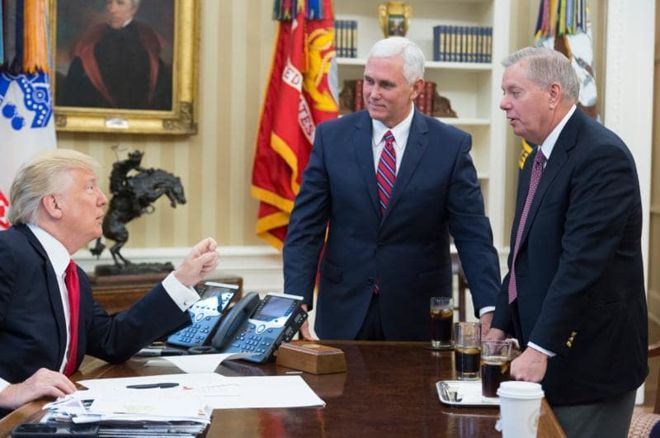 Many Americans will be familiar with Sen. Lindsey Graham, who has served as the United States Senator from South Carolina since 2003.
In fact, he was featured on a list of "political jokers" that PokerNews looked at earlier this month.
Graham eventually won a hard-fought Senate race against Democrat Jaime Harrison on Nov. 3, winning by 12 points, but here we break down three things that show just how much Graham hates online poker.
1. Introduced Anti-Poker Legislation
Graham has been a thorn in the side of poker players, fans and industry personnel for many years, culminating in his co-sponsorship of a bill aimed at "prohibiting all forms of internet gambling."
In 2011, the Department of Justice re-interpreted the Federal Wire Act (1961), thereby allowing states to establish online lotteries, as well as legalize online casino games.
This decision paved the way for Nevada, Delaware and New Jersey to legalize online gambling, but Graham insisted this decision was "simply not right."
"Because of the Obama Administration's decision," said Graham. "Virtually any cell phone or computer can again become a video poker machine."
In 2014, Graham and then Rep. Jason Chaffetz introduced the Restore America's Wire Act (RAWA) in the U.S. House and U.S. Senate.
The bill's purpose was:
"To restore long-standing United States policy that the Wire Act prohibits all forms of Internet gambling, and for other purposes."
Fortunately for poker players and all gamblers, this bill died in committee.
2. Tried to get THREE Attorneys General to Ban Online Poker
Such is the tenacity of Graham's opinion, he has asked no less than three attorneys general for their assistance in banning online poker.
Loretta Lynch
In 2014, he asked AG Nominee Loretta Lynch if she agreed with the 2011 re-interpretation of the Wire Act. Lynch initially stated that she hadn't read the decision, and therefore was unable to analyze it. A few weeks later, after Graham had sent her further details, she again fielded a question from the senator.
She replied: "Unless in the course of my review I conclude that OLC's interpretation of the Wire Act is unreasonable, I do not intend to take any action to suspend or revoke the opinion."
Jeff Sessions
In 2017, he asked AG Nominee Jeff Sessions during his confirmation hearings.
Lindsey Graham: "About the Wire Act, what's your view of the Obama Administration interpretation of the Wire Act to allow online video poker?"
Jeff Sessions: "Sen. Graham I was shocked at the enforcement memorandum that the DOJ issued with regard to the Wire Act and criticized it. Apparently there is some justification or argument that can be made to support the DOJ's position, but I did oppose [the 2011 DOJ opinion] when it happened, and it seemed to me to be unusual..."
Graham then asked Sessions whether he planned to revisit the issue. Sessions responded that he would make a decision about it "based on careful study."
Later in 2017, Sessions recused himself from the issue, stating a conflict of interest after hiring a former Sheldon Adelson lobbyist as his personal attorney.
William Barr
In 2018, Sessions resigned and William Barr became the new attorney general. Ahead of Barr's confirmation hearings, Sessions said that "This will be one of the first things I will talk to Mr. Barr about."
In 2019, Sessions spoke to then Deputy Attorney General Rod Rosenstein "several times" about the issue.
3. Received Financial Contributions from Sheldon Adelson
Much has been made of the vested interested Sheldon Adelson may or may not have in the continued ban on online gambling in the US.
He has called internet poker "a threat to our society — a toxin which all good people ought to resist," and was dismissive of online gambling, calling it "fool's gold."
The casino mogul and anti-online gambling advocate backed the 2014 bill introduced by Graham and Chaffetz, and Graham scoffed at the notion that he got involved in the issue after courting additional contributions from Adelson.
"The fact that Sheldon is on board is a good thing," said Graham at the time, "But I'm doing this because this is what I feel like I should do."
However, questions were raised with one of Adelson's own lobbyists even listed as an author in the draft version of the bill.
Unsurprisingly, the Adelson-backed Coalition to Stop Internet Gambling welcomed the introduction of the bill.
"We support and applaud all efforts to restore the long-standing interpretation that the Wire Act prohibits Internet gambling. It's common sense that putting a virtual casino in the pocket of every American with a phone is bad public policy."
Adelson had already given $15,600 to Graham's campaign in 2013, and hosted a fund-raiser for Graham in Las Vegas in April 2014.
Adelson continues to be one of the most sought-after "megadonors" on the right, pledging close to $200 million to Trump's 2020 re-election campaign.
Photo courtesy of Office of Senator Lindsey Graham/Wikimedia Commons