Graham, Sessions Give Internet Gaming a Chance to React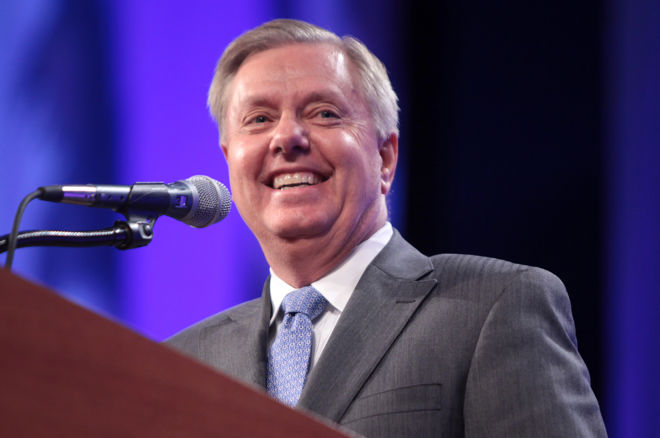 Sen. Lindsey Graham, R-S.C., is the most anti-poker member of the U.S. Senate. So when President-elect Donald Trump's choice for attorney generals went in front of the Senate Judiciary Committee to get grilled for questions last week, Graham thought he'd take the opportunity to bring up the 2011 DOJ memorandum that established the Wire Act as not applying to online poker. In doing so, he did the internet gaming community a favor.
In saying that he opposed the memorandum when it was issued and plans to revisit it, Jeff Sessions, R-A.L., flipped his cards face up early. Now every person or group who supports internet gaming or states' rights knows his intention and has time to react. The response has already begun with pro-limited government groups sending a letter to Sessions and Vice President-elect Mike Pence urging them to reject "cronyist calls from casino interests to create a national gambling ban."
Without Graham's question, this could have gone much differently. While the threat of Sheldon Adelson influencing the Trump administration to throw out the 2011 interpretation wasn't going to be a total surprise – Poker Players Alliance Executive Director John Pappas warned of the prospect in our 2017 legislative preview – it could have flown under the radar until the day a year or two from now when Sessions made his announcement. The Department of Justice generally conducts its business behind the scenes, where the influence of Adelson is at its most dangerous, and springs the results on the public.
While Sessions did say he opposed the DOJ Office of Legal Counsel opinion when it was issued, he also said he would make a decision about it based on careful study. Given that there are much higher priorities for the new administration, it would be surprising to see this decision in Trump's first year in office. That leaves plenty of time for Sessions to become more informed on the issue. And there is no reason to read from Sessions' comments that Trump wants to see a memorandum reversal.
"It's troubling that he has his own personal bias," Pappas said. "I'm hopeful the career lawyers who created the decision didn't do so in a political manner; they did it to the letter of the law and what Congress has ever done. I think he'd be hard-pressed to find a legitimate legal reason to reverse the memorandum. That doesn't escape anything from the political realm, but from a legal standpoint, he'd be very hard-pressed and we will be educating the DOJ and others as to why the memorandum is correct in its current form."
It was no surprise that Graham brought up internet gaming.
"It's troubling that he has his own personal bias"
He did so during Attorney General Loretta Lynch's confirmation hearing in 2015 and Pappas said he believes every attorney general has faced a question on the topic from the Senate Judiciary Committee for at least the past decade. What was surprising is that it was asked early in Day 1.
"What was surprising was that the question was one of the first out of the gate," Pappas said. "We had anticipated if there's a question about internet gaming and the Wire Act that it would take place in Day 2 of the hearing, not Day 1. It's surprising for something so tangential an issue for the Senate to be such a top priority for him to be raised so early."
As the PPA pointed out in a video that shows the exchange, Graham ironically broached the topic immediately after asking a question about allowing states the right to do what they will without federal interference. It was also interesting that Graham specifically said poker, rather than online gaming and that he seemed to have trouble distinguishing between video poker and internet poker.
The timing of the question has Adelson's influence all over it and could be interpreted as a sign of weakness. If Adelson and Graham really thought they could stop internet gaming at an administrative level, why would they be so anxious to get the question answered in public rather than making it happen behind closed doors?
Graham was the Senate sponsor of Adelson's "Restoration of America's Wire Act" Bill and was even questioned at the introductory press conference about getting involved in an election year to court additional contributions from Adelson, who had contributed generously to his previous campaign. To be fair, Graham does seem like the sort of religious conservative who would ignorantly oppose any form of regulated gambling regardless of Adelson's support.
If Adelson and Graham really thought they could stop internet gaming at an administrative level, why would they be so anxious to get the question answered in public rather than making it happen behind closed doors?
Even if Sessions does reinterpret The Wire Act, it will be difficult to turn back the progress of internet gaming. Changing the memorandum doesn't change the law, just how the DOJ is interpreting the law. The 2011 memorandum didn't change the law, it just let states know that they wouldn't face DOJ interference if they moved forward with offering online gaming or online lotteries.
"The 2011 memo isn't what made internet gaming legal," Pappas said. "What made internet gaming legal was the fact that Congress never passed a law to make it illegal and the only law Congress passed with respect to iGaming was in 2006 [the Unlawful Internet Gambling Enforcement Act] where it explicitly exempts states to be able to license and regulate iGaming."
If Sessions did override the memorandum and attempt to shut down internet gaming in New Jersey, State Senator and gubernatorial candidate Ray Lesniak has already told PokerNews that New Jersey would take the DOJ to court. As the person who initiated the lawsuit against the United States regarding the Professional and Amateur Sports Protection Act of 1992 that prevents New Jersey from offering sports betting, Lesniak has experience in the area.
And New Jersey wouldn't be alone. It would find willing partners not only in the other gaming states but the states that offer online lotteries.
"If this did proceed, I think it's headed to court, not to a complete and utter shutdown of internet gaming," Pappas said. "What would be the force of a reversal of the memo? I think it's unclear if the DOJ wants to enforce that. I think people would see it as a poor use of DOJ resources."
Lead image courtesy of Gage Skidmore