Graham, Chaffetz Introduce Bills to Ban Online Poker in U.S.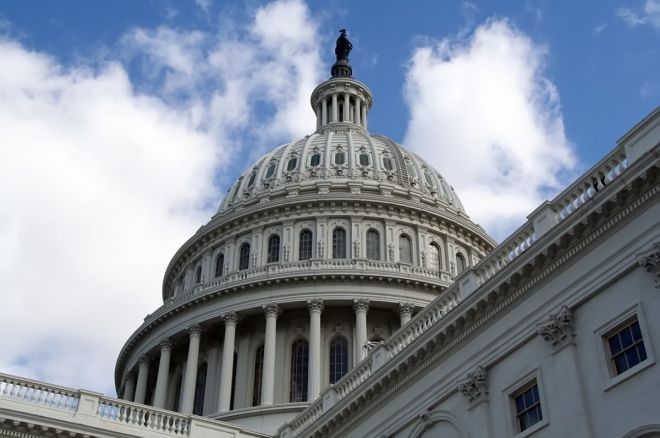 Bills to ban Internet gambling were introduced in the Senate and House on Wednesday, though perhaps not with the fanfare hoped for by backer Sheldon Adelson.
Sen. Lindsey Graham (R-S.C.) and Rep. Jason Chaffetz (R-Utah) made the official announcement on the legislation as expected, calling it the Restoration of America's Wire Act. The only question was who they would be able to get as co-sponsors.
Graham landed a high-profile Democratic co-sponsor in Dianne Feinstein, who is going against the interests in her own state of California that want to license and regulate online poker. But his only other support comes from Sens. Mike Lee (R-Utah) and Kelly Ayotte (R-N.H.).
On the House side, Chaffetz found nine co-sponsors but only two are Democrats, and both from the only two states in the union that don't offer any form of gambling. The House bill is backed by Reps. Tulsi Gabbard (D-Hawaii), Jim Matheson (D-Utah), Lamar Smith (R-Tex), Jim Jordan (R-Ohio), Trent Franks (R-Ariz), George Holding (R-N.C.), Frank Wolf (R-Virg), James Lankford (R-Okla) and Emanuel Cleaver (D-Mo).
"I think they've created a ripple, and their hope is to continue to garner more support," said John Pappas, executive director of the Poker Players Alliance. "That's why it's important for people to contact every one of their lawmakers and tell them not to support these bills."
In a press conference, Graham scoffed at the notion that he got involved in this issue during an election year to court additional contributions from Adelson, the billionaire owner of Las Vegas Sands who already gave $15,600 to Graham's campaign in 2013.
"The fact that Sheldon is on board is a good thing, but I'm doing this because this is ... what I feel like I should do," Graham said.
Most of the co-sponsors aren't surprising, as they've been longtime opponents of gaming. One exception is Cleaver, who voted for former Rep. Barney Frank's bill to license and regulate Internet gambling that passed the House Financial Services Committee in 2010.
It will be difficult for these bills to get Democratic support since Adelson is the largest Republican contributor around. That makes Feinstein the unexpected jewel of this group.
"Seeing Sen. Dianne Feinstein support on the bill is interesting given the clear desire for her state to move forward on regulating Internet poker, which this bill would deny them the ability to do," Pappas said. "Also, this bill is doing the bidding of one of the most prominent Republican fundraisers in history. As a very established Democrat, she seems to be aiding his cause."
In a press release, Chaffetz claimed the legislation is simply intended to make the online gambling discussion go through Congress rather than allowing the Department of Justice to reinterpret the Wire Act, as it did in December of 2011 by stating the law applied only to sports betting.
"The DOJ opened the door for massive change in policy without significant public input," Chaffetz said. "These fundamental changes need to go through Congress. By restoring the original interpretation of the Wire Act, we are putting the genie back in the bottle and allowing for an open debate to take place."
Pappas dismissed the idea that there first needs to be a ban in place before an open debate on Internet gambling can occur.
"That's ridiculous," Pappas said. "There's been ample opportunity for Congress to discuss these issues. We've been begging Congress to discuss these issues for the past six years. There's been numerous hearings on both the House and Senate side, and numerous bills introduced. As far as I know, Graham and Chaffetz have been absolutely silent when it comes to those discussions."
Get all the latest PokerNews updates on your social media outlets. Follow us on Twitter and find us both Facebook and Google+!
Photo c/o SXC.hu.