A Behind-the-Scenes Look at PokerGO's Hellmuth vs. Esfandiari High Stakes Duel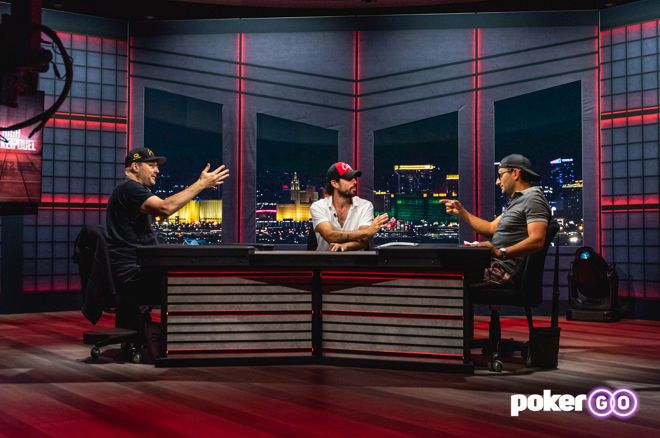 To say it hasn't been a good year for live poker would be an understatement. For the majority of the year, most poker rooms have been closed and live tournaments canceled, including the 2020 World Series of Poker, due to the pandemic. As a result, live poker on TV or live streams has suffered.
Despite the challenges, PokerGO has found a way to offer fans a new show – High Stakes Duel. Through two episodes or rounds, the show has proved to be quite popular amongst the poker community.
The rules are simple:
Players each post $50K for a Round 1 purse of $100K.
Losing players may play the next round by matching the outstanding prize pool within three days of the lost match.
If a loser declines, new players may submit a challenge. If no challenger comes forward within 30 days, the winner may cash out.
If a winning streak starts during Rounds 1-3, players may cash out after three consecutive wins.
If a winning streak starts during Round 4 or later, players may cash out after two consecutive wins.
If the show reaches Round 8, there would be a $12.8 million prize pool up for grabs. Of course, players have to be willing to take it to the max to get to that point.
Hellmuth vs. Esfandiari
The show debuted at the end of July when Phil Hellmuth defeated Antonio Esfandiari for $100K. The latter challenged, and much to the surprise of some, Hellmuth did it again winning $200K. Esfandiari has already issued a challenge hoping the third time will be the charm.
Round 3 Details
Antonio Esfandiari vs Phil Hellmuth
Ali Nejad and Nick Schulman commentating
$400,000 heads-up match
Weigh-In: Wed, Oct 21 at 7:30pm ET – Free on PokerGO, Facebook & YouTube
Match: Wed, Oct 21 at 8pm ET – Subscribers only on PokerGO
Seven of the Biggest Hands from Hellmuth vs. Esfandiari High-Stakes Duel Round 2
The "Poker Brat" and "The Magician" have been "frenemies" at the poker table for years, and their back-and-forth jabbering is legendary. In Round 2, it was even kicked up a notch when producers shared a private email exchange between the two, with permission of course.
"The email exchange we aired in Round 2 was very real," producer Mori Eskandani said. "I jokingly said, I wish I could put this email chain in the show and to my surprise, they both quickly agreed."
He continued: "Antonio told me before prior to Round 1, he is not going anywhere and will go all the way, meaning three matches if he needs to."
In anticipation of the upcoming Round 3 match, PokerGO shared the following behind-the-scenes photographs with PokerNews:
Remember, subscribers can catch the $400,000 Round 3 match between Hellmuth and Esfandiari on Wednesday, Oct 21 at 8 p.m. ET.