Poker Players Alliance: Adelson's Anti-Online Poker Comments are a Slap in the Face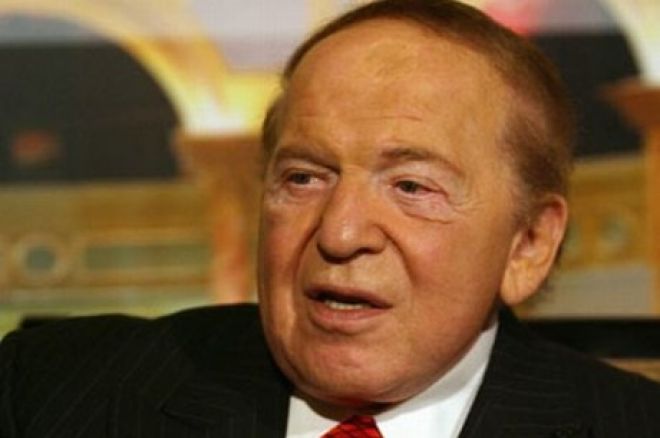 Sheldon Adelson made himself abundantly clear. There is no longer reason to hope the Las Vegas Sands chairman and CEO has or ever will come around on online poker.
In an op-ed piece on forbes.com followed by an interview with Bloomberg Television, Adelson (pictured) went much further than to voice his old moral concerns.
He called Internet poker fool's gold economically, a plague and cancer waiting to happen morally, and in an insult to poker players everywhere, not even a game of skill.
"It's a complete slap in the face to every poker player," said John Pappas," executive director of the Poker Players Alliance. "It's a slap in the face to our organization that spent a lot of time educating lawmakers as to why poker is different, not only because we want it to be so but because it is so. Poker is a game of skill. It's not something we conjured up. It's not an industry invention. It's a position that is verifiable. That he seems to deny it calls into question if he really understands the game at all."
Most U.S. casino executives have come around on Internet poker over the past decade, with Adelson being the main exception.
American Gaming Association president Frank Fahrenkopf said back in February that all AGA board members — including Las Vegas Sands — were now in favor of federal online poker legislation, leading to speculation that Adelson had changed his tune.
The Forbes piece showed this was far from the case. He's not just going to keep his company away from online gaming. He's encouraging Congress to rewrite the Wire Act or pass new legislation that would make Internet gambling illegal.
He makes claims that online gaming will hurt the brick-and-mortar casino business, but says that is not his reason for opposition. The soon-to-be 80-year-old, who has two teenage sons, expresses scare-tactic fears of college students gambling away all their money from dorm rooms while on drugs.
"It's a threat to our society — a toxin which all good people ought to resist," Adelson wrote.
When Deirdre Bolton of Bloomberg Television's Money Moves mentioned poker's difference as a game of skill, Adelson responded, "That skill base in my opinion is just a bunch of baloney. To get a card, that's not skill based."
He also called out poker over other forms of Internet gaming as being particularly addictive.
"I don't want my children to have the opportunity to become addicted to gaming, and poker in my opinion would be one of the most addictive games because people don't get addicted necessarily to playing blackjack," Adelson said.
Of course, online poker already is up and running in Nevada, and Adelson could do nothing to stop it. Sites will soon begin in New Jersey and Delaware as well.
Where his opposition could make a difference is on the federal level, where he reportedly made $100 million in campaign donations to Republican candidates in the last election cycle. Rep. Peter King (R-NY) recently introduced an Internet gambling bill and Rep. Joe Barton (R-Tex.) has said that he will add a poker-only bill soon, but any small chance those bills had is even more miniscule with active opposition from Adelson.
"There's no question Sheldon Adelson wields a significant influence with some lawmakers, and those are the lawmakers you'd need to have in support of this," Pappas said. "They're going to be much less inclined if he is viewed as a staunch opponent, which I think he has made clear he is."
Now that he's stated his goal of Congress passing a bill making online gambling illegal, watching out for the first bill intended at prohibition of online gaming since the Unlawful Internet Gambling Enforcement Act of 2006 also has to be a concern.
When Adelson first announced his moral opposition to Internet gambling in 2011, there was some initial outrage from the poker community but little ever came of it. There's probably nothing poker players could do to change Adelson's mind or greatly impact his business. He says that his U.S.-based operations only account to 5-to-7 percent of his gross income, and his estimated net worth is in excess of $20 billion.
Whether or not it hurts Adelson's pocket book, it's up to poker players to decide if they want to stay at the hotel, gamble in the casino and use the poker room of the Venetian when its owner says they have no skill and are perpetuating a plague. An organized boycott of a Venetian tournament surrounding the World Series of Poker won't cost Adelson much money but could generate publicity.
"I think many players recognize that there are a lot of great places to play poker in Nevada, and hopefully people make the decision for themselves whether Mr. Adelson is worthy of their business," Pappas said. "I think a lot of our members have decided that when they visit Nevada, the Venetian is not a place they are going to play."
Follow PokerNews on Twitter for up-to-the-minute news.
*Photo courtesy of Pul.se