High Stakes Poker S8 E8: Find Out Which Player Went Broke & Quit the Game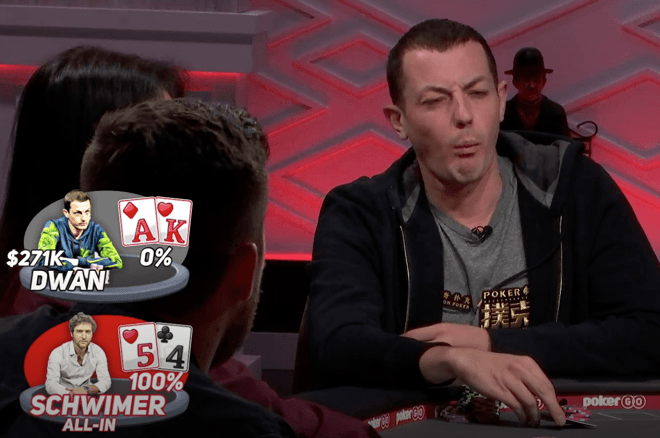 Wednesday's latest "High Stakes Poker" episode on PokerGO was a continuation of the last week's game, which was played $200/$400/$800 w/ an $800 ante from the third blind.
The episode started with six players in their seats while Tom Dwan was sitting out. Here's how things stack up at the top of the broadcast:
| Player | Stack |
| --- | --- |
| Rick Salomon | $606,000 |
| Jean-Robert Bellande | $489,100 |
| John Andress | $298,000 |
| Sean Perry | $271,600 |
| Damien Leforbes | $157,800 |
| Michael Schwimer | $75,700 |
Leforbes vs. Schwimer – No Apologies for Running Good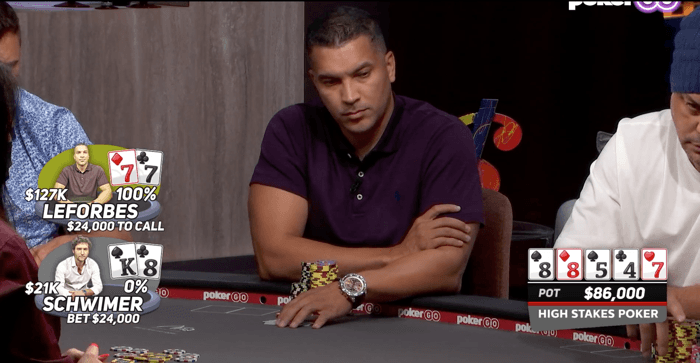 In the first hand of the new episode, Damien Leforbes raised to $2,500 from middle position with the
and the ever-aggressive Michael Schwimer three-bet to $9,000 from the cutoff holding the
. Action folded back to Leforbes and he called to see the
flop, which gave Schwimer trip eights.
Leforbes check-called a bet of $6,000 and then check-called one of $15,000 on the
turn. The
river was gin for Leforbes, who checked his full house. Schwimer bet $24,000, which left him just $21,000 behind, and Leforbes check-raised all in.
"Did you get lucky as shit on me?" a seemingly-frustrated Schwimer asked before calling off and discovering the bad news.
"I will not apologize for running good," said Leforbes as he pulled in the $153,400 pot.
Dwan vs. Schwimer – "I'm in Pretty Good Shape"
After reloading to $100,000, Schwimer raised to $3,000 from the hijack and Dwan, who had returned to the game, three-bet to $13,000 from the small blind. Schwimer called, the flop fell
. Dwan continued for $14,000 and Schwimer, who flopped top two pair, just called to see the
turn.
Dwan made top pair but still checked, and Schwimer followed suit. On the
river, Dwan bet $25,000 and Schwimer leaned back in his chair while letting out a big sigh before saying, "All in."
It was $73,000 total and Dwan hit the tank.
"Didn't snap-call, I'm in pretty good shape," Schwimer claimed. Dwan thought long and hard before paying it off, and just like that Schwimer doubled back by claiming the $200,800 pot.
Sean Perry vs. Jean-Robert Bellande – JRB Puts Himself in Hot Water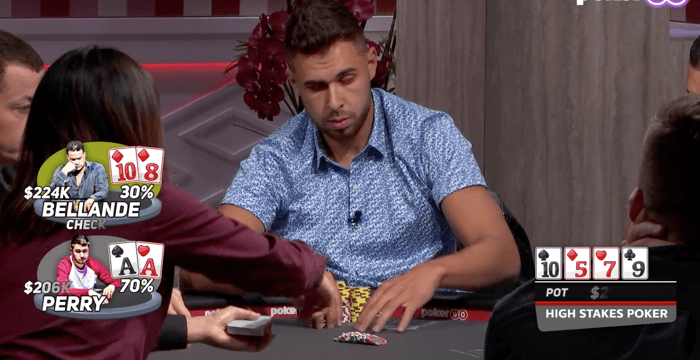 Dwan opened for $2,500 with the
and Sean Perry looked down at the
next to act. He three-bet to $8,000 and then Jean-Robert Bellande, who had lost a six-figure pot to Dwan the hand prior, four-bet to $30,000 out of the small blind with the
.
Dwan folded and Perry, the son of poker pro Ralph Perry, paused for a few beats before five-betting to $70,000. Bellande asked how much his opponent had behind, which was $246,000, and Bellande opted to call.
He flopped top pair on the
flop and checked it over to Perry, who bet $40,000 into the pot of $144,100. Bellande called and then check-called a bet of $70,000 when the
turn gave him an open-ended straight draw.
After the
paired the board on the river, Bellande checked for the third time and Perry moved all in for his last $136,000. Bellande asked for a count and realized he had the bigger stack, albeit by a slim margin of $18,000. Eventually, Bellande called only to see his opponent table the goods.
With that, Perry doubled in a juicy pot worth $637,700.
Bryn Kenney vs. Sean Perry – Nine High, Not Like a Boss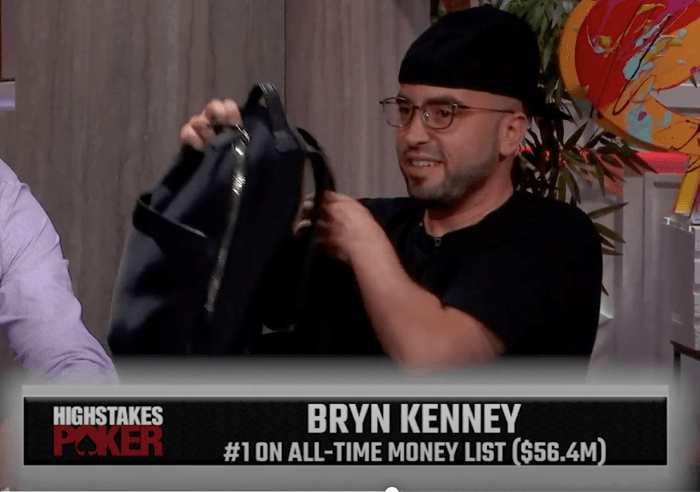 After Rick Salomon left the game, a new player joined the game in Bryn Kenney, who bought in with a massive stack. Here's how this stacked up at that point in time:
| Player | Stack |
| --- | --- |
| Bryn Kenney | $836,900 |
| Sean Perry | $635,300 |
| Tom Dwan | $429,800 |
| Michael Schwimmer | $367,000 |
| John Andress | $223,800 |
| Damien Leforbes | $209,900 |
| Jean-Robert Bellande | $151,000 |
In his first hand of this episode, Kenney raised to $4,000 from the cutoff with the
and Perry called from the big blind with the
. The
flop gave Perry trip eights and he check-called a bet of $10,000.
Perry checked again on the
turn, which gave him a full house, and Kenney continued to bluff by firing out $23,000. Perry just called and then checked yet again on the
river. Kenney took the bait and triple-barreled it with a bet of $64,000, but had to fold when Perry finally woke up with the check-raise to $219,000. Kenney took an early hit while Perry collected another big pot, this one worth $359,8000.
Michael Schwimmer vs. Bryn Kenney – One Will Quit the Game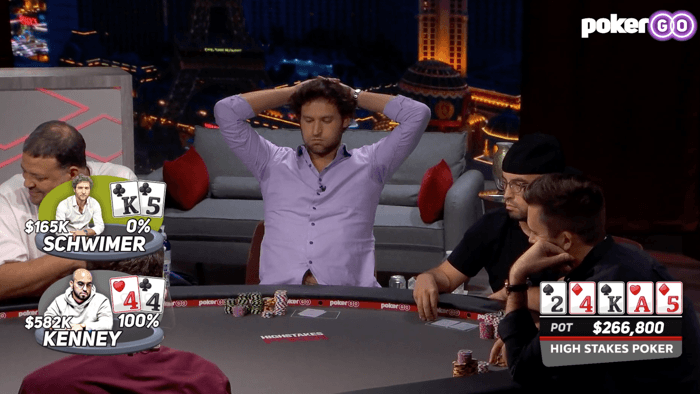 In the penultimate hand of the episode, John Andress had the $1,600 straddle on and both Dwan and Bellande called, the former under the gun and the latter on the button. Schwimer then raised to $4,000 with the
in the small blind and Kenney called from the big with the
. All the aforementioned players called and it was five-way action to the
flop.
Schwimer continued for $15,000 with top pair and Kenney raised to $52,000 with his set. Andress folded, Dwan gave up his flush draw, and Bellande got out of the way. Schwimer called and the
turn gave him a wheel draw, which he checked.
Kenney bet $71,000, Schwimer called, and the
completed the board on the river. Schwimer improved to two pair but checked to Kenney, who bet $165,000. Schwimer snap-called off his stack and then let loose some expletives upon seeing Kenney had the best hand to win the $597,200 pot.
"Alright, that was fun boys," Schwimer told the table before giving up his seat in the game.
Remember, High Stakes Poker will air every Wednesday but is only available to PokerGO subscribers. If you're not currently subscribed, you can get a monthly subscription for $14.99, a three-month plan for $29.99, and an annual subscription for $99.99.
*Images courtesy of PokerGO.
Executive Editor US, PokerNews Podcast co-host & 2013 WSOP Bracelet Winner.