Five of the Biggest Hands from the 2020 Debut of High Stakes Poker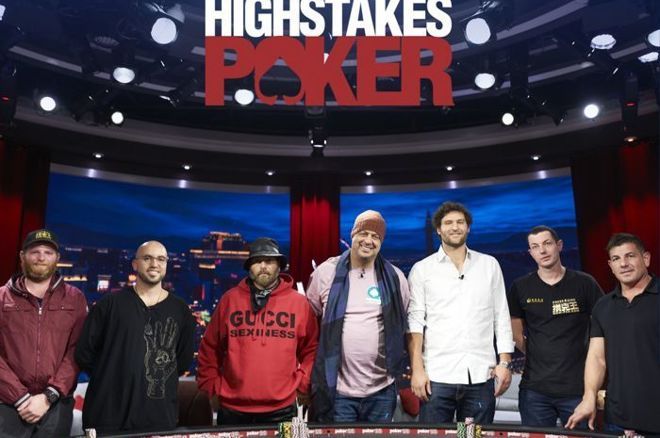 When it aired on the Game Show Network (GSN) from 2006-11, "High Stakes Poker" cemented its legacy as one of the most popular poker shows ever made through its 98-episode run. Now, after a near-decade hiatus, the show returned Wednesday, Dec. 16 at 8 p.m. ET on PokerGO.
The 99th episode of "High Stakes Poker," which filmed earlier this year at PokerGO Studio at ARIA Resort & Casino, was a $400/$800 no-limit hold'em with a minimum buy-in of $200,000. The lineup included Tom Dwan, Jean-Robert Bellande, Rick Salomon, Nick Petrangelo, Brandon Steven, former MLB pitcher Michael Schwimer, and Bryn Kenney in the kickoff for Season 8.
Schwimer proved to be the episode's biggest winner, turning his $200K buy-in into $404K. He was one of the more active players, as you can see below where we've compiled five of the biggest and most impactful hands from the episode.
Remember, new episodes are slated to air every Wednesday at 8 p.m. ET.
First Six-Figure Pot – Dwan vs. Schwimer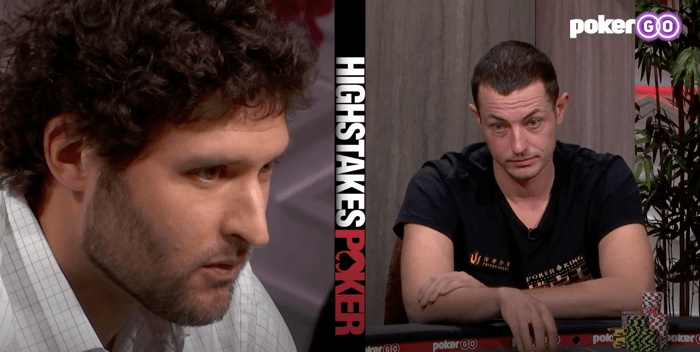 Dwan raised to $2,500 from the cutoff holding the
and Schwimer called from the button with the
. Kenney came along from the big blind with the
and it was three-ways to the
flop.
Kenney checked, Dwan bet $5,500, and Schwimer wasted little time in raising to $17,000. Kenney folded his pair of nines but Dwan called to see the
turn.
Dwan checked and Schwimer quipped, "No draws has to be good news for me, I would think." He then tossed out a $33,000 bet.
Dwan called with his overpair and then checked when the
completed the board on the river. With $108,700 in the pot, Schwimer stated he didn't like that card but bet $20,000 nonetheless, a move that elicited a big smile from Dwan.
"I'm just trying squeeze out an extra 20," Schwimer explained. He got paid too, when Dwan tossed in calling chips. With that, Schwimer won a pot of $148,700 in the hand, the first six-figure one of the new season.
Big Slick No Good – Salomon vs. Dwan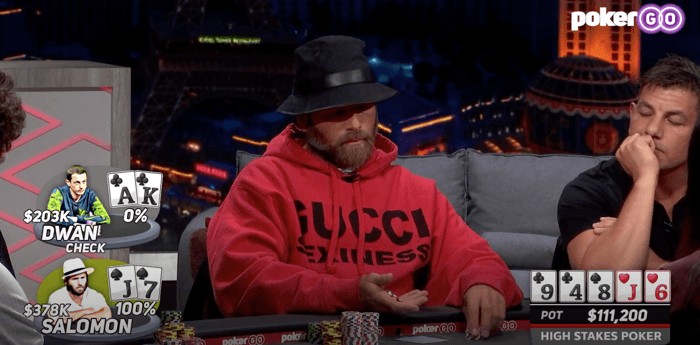 Action folded to Salomon on the button and he raised to $3,500 holding the
. Dwan looked down at the
in the big blind and popped it to $15,000, which Salomon called. Dwan then bet $18,000 on the
flop, which gave him a flush draw.
Salomon called with his gutshot and made the best hand when the
turn paired his jack. Dwan check-called a bet of $22,000 and the
completed the board on the river.
Dwan missed and checked it to Salomon, who bet $50,000. Dwan folded and Salomon took down the $161,200 pot.
Flopping Two Pair Against Top Pair – Dwan vs. Petrangelo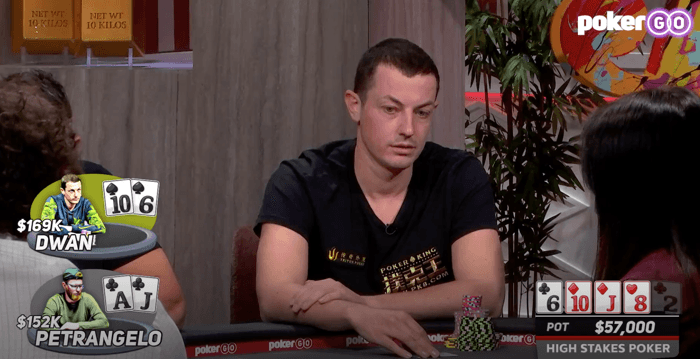 Dwan raised to $2,500 with the
under the gun and Nick Petrangelo called two spots over holding the
. Schwimer then three-bet to $7,000 from the hijack and both Dwan and Petrangelo called to see a
flop.
Dwan flopped two pair but checked it, and both his opponents followed suit. On the
turn, Dwan bet $17,000, Petrangelo called with top pair, and Schwimer folded. On the
river, Dwan bet $46,000 into the $57,000 pot and Petrangelo paid him off. With that, Dwan took down the $149,000 pot.
Nine-Ten Hot Hand – Schwimer vs. Kenney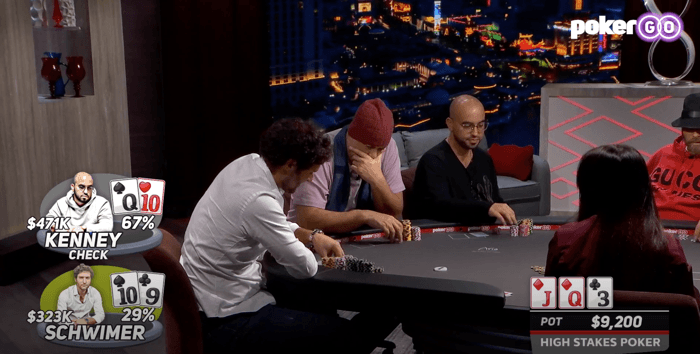 Action folded to Schwimer on the button and he raised to $4,000 with the
. Kenney defended his big blind with the
and then check-called a bet of $7,000 on the
flop.
The
turn was gin for Schwimer, who made a straight and bet $16,000 after Kenney checked. The latter not only called that bet but also check-called one of $40,000 after the
completed the board on the river.
"You like that nine-ten, don't ya?" Brandon Steven asked.
"Coming in hot, gotta ride the hot hand," Schwimer said as he pulled in the $135,200 pot.
Acting Out of Turn – Schwimer vs. Kenney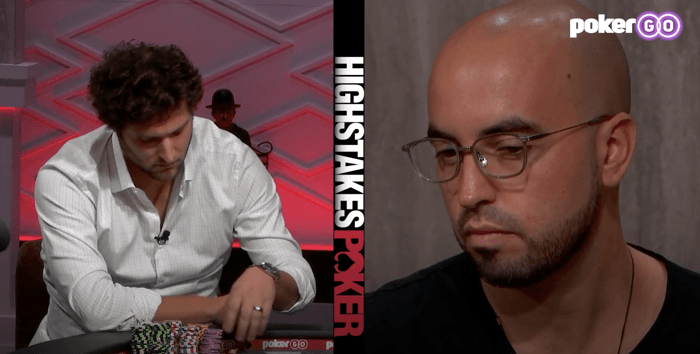 After Kenney straddled to $1,600 and Salomon re-straddled to $5,000, Schwimer raised to $18,000 with the
in the small blind. Kenney called after looking down at the
and Salomon folded to make it heads-up action to the
flop.
Kenney checked out of turn and then called when Schwimer bet $20,000. On the
turn, Kenney again checked out of turn but called when Schwimer bet $35,000. Kenney checked out of turn for a third time on the
river and this time Schwimer checked as well to claim the $152,600 pot.
During the next hand, the players discussed Kenney acting out of turn. Kenney admitted he didn't realize he wasn't first to act. Perhaps it was a little rust as Kenney said he hadn't played live in six to eight months.
Remember, High Stakes Poker will air every Wednesday but is only available to PokerGO subscribers. If you're not currently subscribed, you can get a monthly subscription for $14.99, a three-month plan for $29.99, and an annual subscription for $99.99.
*Images courtesy of PokerGO.
Executive Editor US, PokerNews Podcast co-host & 2013 WSOP Bracelet Winner.