Larry Flynt Dies at 78; Leaves Strong Poker Legacy Despite Previous WSOP Ban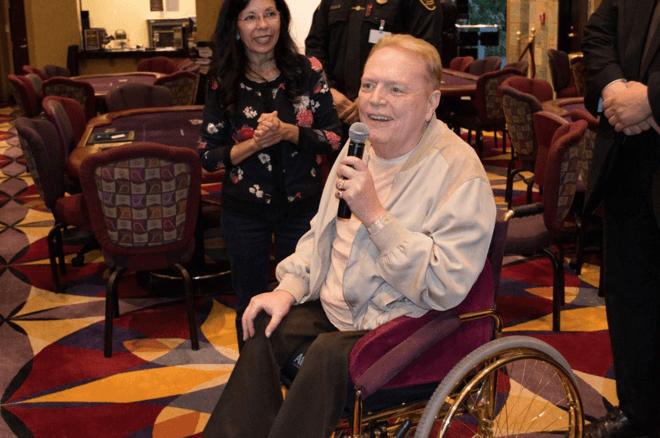 Table Of Contents
On Wednesday, February 10, the controversial founder of Hustler Magazine, Larry Flynt, passed away at age 78. While Flynt, born November 1, 1942, had been a notable figure in the adult entertainment business for nearly 50 years after founding his flagship magazine in 1974 – highlights of his life can be found here – he also left a strong legacy in the worlds of both poker and casino gaming.
Passion for Seven-Card Stud
Like many others, Flynt enjoyed playing poker and had been doing so seriously since the 1970s. Hailing from Ohio, where he established his first strip clubs, Flynt was friendly with fellow Ohioan Danny Robison, who is considered one of the best stud players event. You might recall Robison and David "Chip" Reese moved to Las Vegas together in the 1970s.
As the story goes, Flynt used to stake Robison, who at the time was battling drug addiction. After Robison had a $50,000 stake stolen and others brought it to Flynt's attention, he apparently responded, "It's ok. Without Danny, I probably wouldn't be where I am now." That's because Robison was a frequent visitor to Flynt's Ohio clubs where he was known as a big spender.
Flynt developed a passion for seven-card stud and eventually hosted the largest seven-card stud game in the world in the 1990s. Poker Hall of Famer Eric Drache, known as Flynt's go-to guy in Las Vegas, helped manage the game and served as a gatekeeper of sorts, determining who would get a seat (he kept many of the pros away at the time).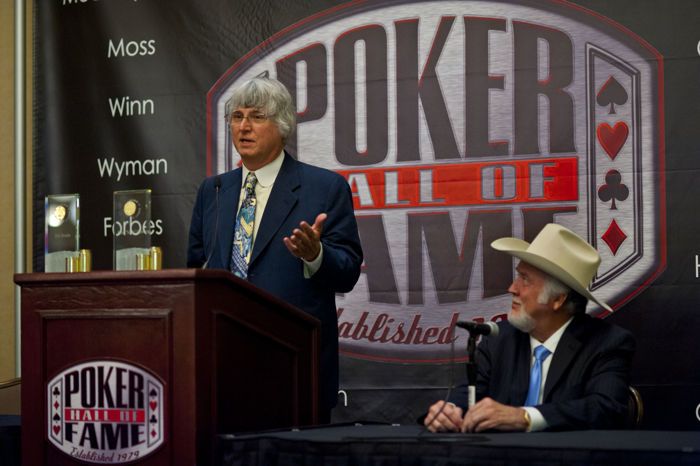 Biggest Stud Game in the World
Given Flynt wasn't exactly the most skilled player, it was no surprise many pros traveled from far and wide to play the game in California. In the recent poker documentary "Smile," the late Thor Hansen reminisced on his days as one of Flynt's preferred players, even being staked by the businessman. Another player to compete in the game was the late Stu Ungar.
'I've been supporting these guys and their families for five years," Flynt was reported as saying. As for Ungar, Flynt shared the following story with PokerPlayer back in 2008: "This story sums up Stu's personality perfectly. I made a gutshot straight and he had trips, bet out, I raised, and he called. He saw my cards and said 'god damn' before flipping over the table. Stuey had a temper, and it was always pretty easy for me to get him irritated."
On June 22, 2000, Flynt opened Hustler Casino in Gardena, California. It quickly became his most profitable business endeavor and operates to this day.
"[Flynt] was able to harness this new, young, hip crowd of poker players and make them his clientele."
"Flynt explained how the opening of the Hustler Casino in 2000 coincided with the advent of online poker games and celebrity poker on television," Max Votolato, the director of Freeway City, previously told PokerNews. Votolato interviewed Flynt for his documentary, which explored how Gardena, California became the "Poker Capital of the World."
"[Flynt] was able to harness this new, young, hip crowd of poker players and make them his clientele. The city of Gardena originally didn't want Flynt to call it The Hustler Casino. They wanted it to be 'The New Eldorado Club' but the Hustler name brand is such a big draw and so the rest is history.
Flynt's famed seven-card stud game moved to the casino when it opened and was played $2,000/$4,000 with a $1,000 ante and a minimum buy-in of $200,000. Among the well-known poker players purported to play in that game were Ted Forrest, John Hennigan, David Benyamine, Barry Greenstein, and Phil Ivey.
As for how the pros viewed Flynt, Eli Elezra told PokerPlayer, "'Larry is a nice guy but he plays way too many hands. That is why everyone plays with him. He's won a million dollars a few times, but, at the end of the year he loses what he is supposed to lose."
The casino is also known for hosting various poker events to this day. In July 2019, Hustler Casino hosted Larry Flynt's Grand Slam of Poker, a two-week festival that featured over $600,000 in guarantees.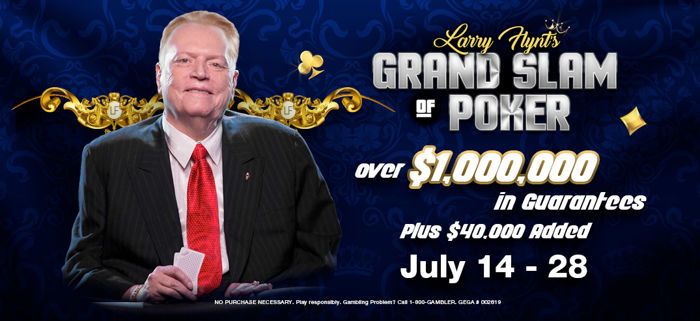 WSOP Antics
As a poker player, Flynt played primarily cash games but did amass $240,255 in live tournament earnings according to The Hendon Mob. Nearly all of that, $230K to be exact, came when he finished second in the 2003 Larry Flynt's Poker Challenge Cup $125,000 buy-in Million Dollar Seven Card Stud Tournament. The tournament had eight runners and was won by Greenstein for $770,000.
Flynt, who ran for President of the United States as a Republican in 1984, also finished eighth in the 2000 World Series of Poker $5,000 7-Card Stud for $10,100. Greenstein finished ninth in that tournament, while Poker Hall of Famers Jack McClelland and Scotty Nguyen were at the final table. David Chiu eventually won that event for $202,000.
Flynt's relationship with the WSOP was a strained one. In his famed poker book Positively Fifth Street, author Jim McManus told the story of Flynt's bet against Doyle Brunson (something like $1M-to-$10,000 according to TJ Cloutier) to win the 1988 WSOP. To give himself an edge, Flynt paid players to chip dump to him, which was working until Jack Binion caught wind of the plan, put a stop to it, and subsequently banned Flynt from WSOP events for life. When Becky Binion took control of the business, she allowed Flynt to return, though he never cashed a WSOP tournament again.
Old Schoolers Remember Flynt
News of Flynt's passing resulted in many old school players, many of whom played with Flynt, sharing some poker stories.
"I first met Larry in the conference room of the Forum during Magic Johnson's Midsummer Night Game in 1996," Yosh Nakano shared on social media. "Jerry Buss was gracious to let Eric Drache organize a $400-800 stud game with Larry's return to poker. That developed into a $1,500-$,3000 stud game with $2,000-$4,000 for the final two hours about 3-4 days a week at Larry's house. This motley crew was the regulars and we put up $7k each to pay for his bachelor party which was something else."
Nakano also shared a photo of some familiar poker faces at Flynt's wedding.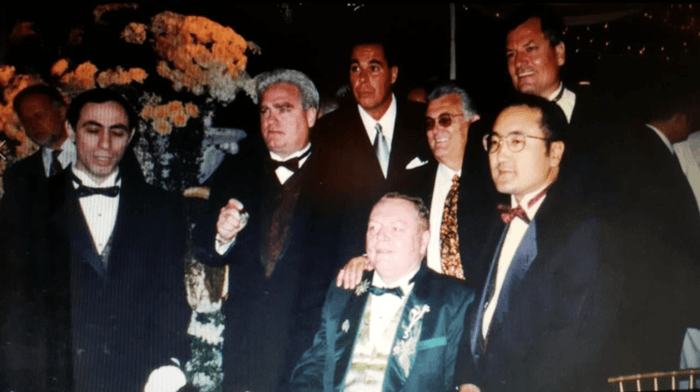 In regards to Flynt's legendary stud games, Rod Pardey Jr. recalled one time he played: "The first thing that happened was that everyone got a $100 haircut by a top Beverly Hills barber. Then there was a gourmet dinner that was as nice as could be. Then the poker began. Larry lost a million dollars that night. I believe the limit was $800-$1600 with a lot of cross-booking going on."
He continued: "Larry and Eric [Drache] had a beautiful home game for maybe around three years. But Larry wanted to fulfill one of his dreams so he opened up the Hustler Casino. I was at the grand opening (so was Bill Maher!) … Phil Ivey probably played that game more than anyone. Eventually, Phil was staking everyone in the game and it was basically Phil's money vs. Larry's money. And Larry lost a lot of money."
While Flynt may have been a controversial figure with the mainstream, for poker players he was known for his deep pockets and love of the game. At one point he was the force behind poker's biggest game and a staunch supporter of seven-card stud, a game that's faded in popularity over the years. His legacy in both poker and the casino industry will undoubtedly persist for years to come.
*Lead image from Larry Flynt Twitter account.
Executive Editor US, PokerNews Podcast co-host & 2013 WSOP Bracelet Winner.