"Freeway City" Documentary to Explore the History of Poker in Gardena, California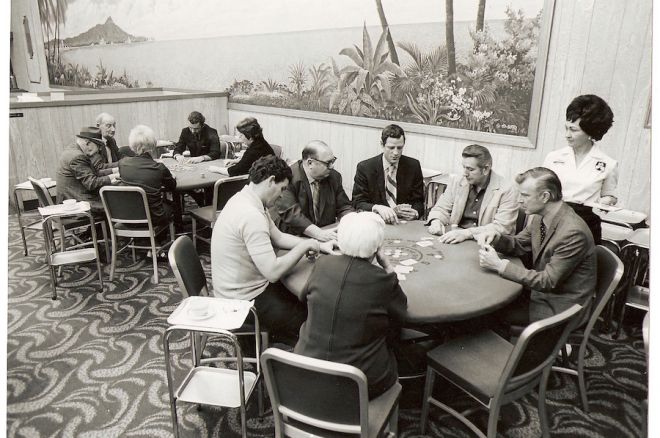 On November 23, a new documentary, Freeway City, will be released for free online via Vimeo. The documentary, which was produced and directed by Max Votolato, focuses on Gardena, California and covers the city's heyday as a nightlife mecca and self-entitled "Poker Capital of The World".
More specifically, the film tells the untold story of Ernie Primm who, in the late 1930's, found a loophole in the law allowing poker to be played legally outside of Los Angeles' city limits. The film is 90 minutes long and broken into 16 parts.
"I was always fascinated with Los Angeles," Votolato told PokerNews. "Growing up I read every book and magazine I could find about Los Angeles and Southern California. I was very inspired by Mike Davis' book City of Quartz and David Rieff's Los Angeles: Capital of the Third World and I was searching for an original LA story to tell."
Originally from South London, Votolato studied film at London College of Communications in England. Since then he's spent his whole career working on films and television shows. He also served as documentarian and Director of Video Operations for television industry legend Michael King's "All American Heavyweights" boxing company, and more recently served as Unit Manager on the Fox television series Cosmos: A Spacetime Odyssey.
While he's not a poker player, Votolato has come to appreciate the game over the course of making the film.
"The process of making the film was really a labor of love," admitted Votolato. "I worked on other jobs the entire time, so Freeway City was really like a hobby for seven years. It took a year and half of on again off again shooting to collect all the interviews. Then years of researching, digging up old newspaper articles, photo images, commercial artwork and film clips from the card clubs. Anything I could find."
During that process Votolato met Blaine Nicholson, a former publicist for Primm and later for the Miller family at the Normandie Casino. That contact proved invaluable as Votolato was granted access to his archive of material to use in the film.
"These are photos and images that are well out of circulation and in some cases have probably never been seen before," said Votolato. "It was an amazing contribution. So I'm extremely honored to have those things in the film. Also, the city of Gardena gave me access to their history vault. So much of the process was about finding images to go with the stories people told me."
Votolato also brought on Grammy Award nominated artist Brian O'Neal to serve as executive producer and to compose an original soundtrack.
Here's the trailer for Freeway City:
PokerNews caught up with Votolato to learn a little more about the film.
PokerNews: It appears you got to speak to Larry Flynt. How were you able to make that happen?
Votolato: I reached Larry Flynt through his publicist and shot the interview at his LFP offices in Beverly Hills. He really likes the opportunity to promote the Hustler Casino. They granted me the interview on the merit that the questions would only be about Hustler Casino and poker.
One of the things that came out of that interview that was really enlightening was when Flynt explained how the opening of the Hustler Casino in 2000 coincided with the advent of online poker games and celebrity poker on television. How he was able to harness this new, young, hip crowd of poker players and make them his clientele. The city of Gardena originally didn't want Flynt to call it The Hustler Casino. They wanted it to be "The New Eldorado Club" but the Hustler name brand is such a big draw and so the rest is history.
Do any notable poker players appear in the documentary?
It's really focused on the people who owned and operated the clubs. I interviewed lots of people who had worked for the Gardena clubs and they all had fascinating stories. Some of my favorite stories were about how they ran security in the clubs to combat all the cheaters. They always had to be on their game with the surveillance. In the old days, before CCTV, they would have guys walking the rafters in the ceiling above the gaming floor, looking down on the action through peep holes.
They had cheaters who would come in wearing disguises – guys in drag who had already been banned and were now sneaking in dressed as women. A man was once caught at the Normandie Club wearing a very elaborate mechanical apparatus under his clothes to hide cards.
I even heard stories about a clan of gypsies from Fresno that targeted the clubs. They could've been guys who did magic acts but instead they were cheating in poker games. I collected so much material about this, I may have to do another film just tell all those stories!
Do you feel Ernie Primm should be better known in the poker community?
Yes, I do. He was a visionary man and a real genius. He beat the system with his lawyer Sammy Rummel, who coincidentally was also Mickey Cohen's lawyer. They were able to find a loophole in the law that meant poker was not gambling – poker was a game of skill. And games of skill could be played legally.
The old 19th century senators who had written that original law must've played poker themselves because they listed every other game imaginable but deliberately left out poker.
Primm designed his Gardena clubs so that the house would never loose. As a customer, you'd rent your seat by the hour and play in a friendly poker game against the other patrons at your table. He was never involved in the gambling. So he never had to loose.
He was always dreaming up something bigger and better. First it was the Starlight Club, which would've been Gardena's seventh club, but due to pressure from his competitor clubs and a freak bomb blast at his Rainbow Club in 1960, Primm backed off from that venture and paved over the foundation.
Next was the creation of Primm, Nevada. Primm had this concept of Gardena being a gateway to Nevada by way of flying customers to the state line to game in his new casinos. It was Primm's son Gary who ended up developing the state-line clubs Whiskey Pete's, Primm Valley Resort and Buffalo Bill's.
The films really about the fight these early pioneers had to go through in order to win the right to legally operate these clubs. Its stories about how once they'd won in the courts they had to win again in the community because somebody was always trying to vote the clubs out of Gardena.
For more information, visit freewaycity.org.
Want to stay atop all the latest in the poker world? If so, make sure to get PokerNews updates on your social media outlets. Follow us on Twitter and find us on both Facebook and Google+!
Executive Editor US, PokerNews Podcast co-host & 2013 WSOP Bracelet Winner.