Brandon Holmes Wins $175K Online Slot Jackpot While Playing MICOOP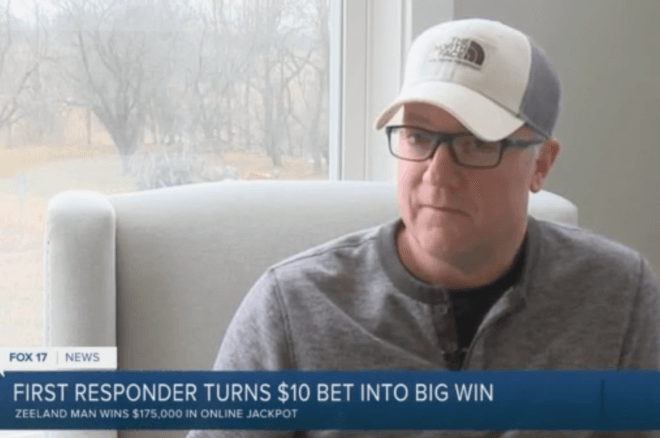 Earlier this month, Michigan's Brandon Holmes celebrated his 48th birthday. It was a memorable one as it came a day after he placed a $10 bet playing the Divine Fortune slot machine on Stars Casino. He wound up hitting the $175,000 progressive jackpot to mark the state's first reported big online jackpot in the regulated market.
Stars Casino launched January 29 alongside fellow Flutter brands Fox Bet and PokerStars.
"Normally I like the $5 bet range for slots if I choose to dabble," Holmes told PokerNews. "The night before my win I was down a little from some MTT's and just decided to see if I could win some of my buy-ins back."
Not only did Holmes, a full-time firefighter and part-time paramedic who owns his own company called LIFESAVER CPR LLC, play on Stars Casino, he was also busy competing in the inaugural Michigan Championship of Online Poker (MICOOP), which proved to be a successful series.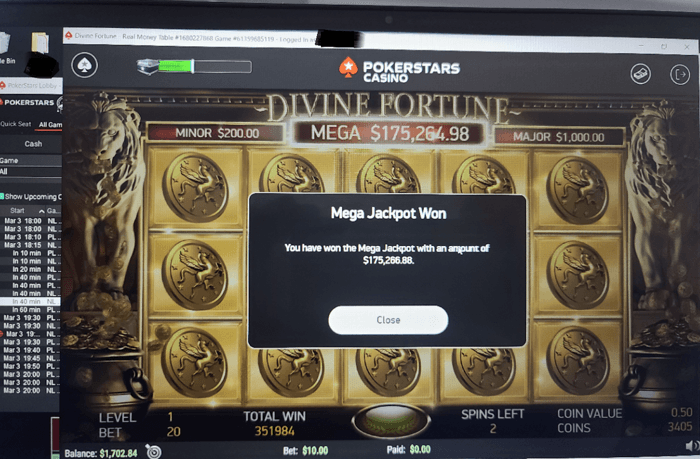 "The next night while getting ready for the MiCOOP event, I decided to play the same slot again because I had done well the night before and I had 15 minutes to kill," Holmes continued. "I had decent luck with the slot and the random bonus was fun so I just thought I would double my bet since I had the extra cash from the night before. I decided to stick at the $10 range while playing for a few minutes."
He elaborated: "I had just looked at the paytable to see how the bonus even worked to hit the Major jackpot, which was $1,000. I figured I'd be happy with even that. Not five spins later, I hit the bonus and filed the screen with one more coin to drop for the Mega. That wasn't even on my radar at the time but then it dropped and instantly the screen said I hit the Mega Jackpot. I sat stunned for a moment, quickly took a screenshot just in case of any issues, and called my fiancé in the room to see what I saw. She didn't believe it at first!"
While Holmes plans to invest some of the money in stocks, he'll be using some for his upcoming nuptials.
"As far as plans go, I am getting married in June and have a honeymoon to pay for which will all be taken care of now," he said. "The rest is going into the market and being invested."
Recovering from Injury
Playing online via the mobile app was a way for Holmes to pass the time after he suffered a herniated disc on the job back in February and needed emergency surgery to remove some of the disc. As a former professional poker player, the MICOOP was right up his alley.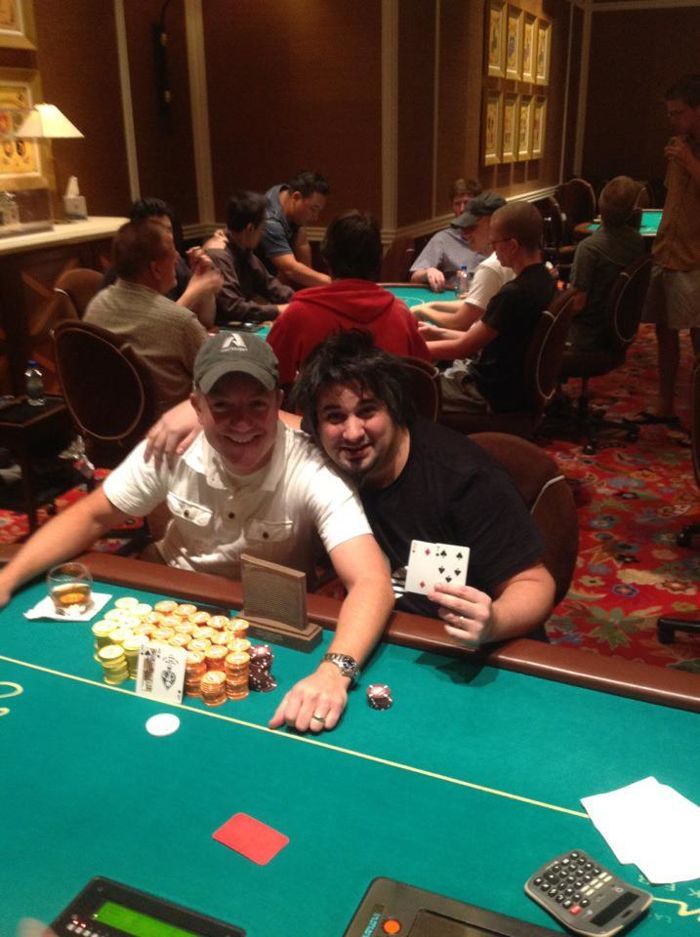 "I started playing online about the time PokerStars came online. It was a few years later that I was able to make as much or more than my job mostly from just multi-tabling SnG's," said Holmes, who first learned to play poker as a teenager in high school with buddies. "I then played professionally in MTT's for four years before Black Friday in 2011. I won a cruise package and a seat in a $5k limit from partypoker back in the day before no-limit hold'em was a thing."
According to The Hendon Mob, Holmes has $37,601 in lifetime live earnings including a career-best $18,614 in a 2012 Wynn Summer Classic event.
Holmes plays on PokerStars MI under the screen name "Steadycash616", and while he didn't have any huge scores in the MICOOP, he did cash a few times in the six or seven events he played.
"The site has some of the best games, the best running software, and from my experiences, great customer support," Holmes said. "When PokerStars made everything right after Black Friday from their players and those of Full Tilt I knew I would be a lifelong player."
For more on the MICOOP, check out the PokerNews recap here.
Here's more on Holmes from Michigan's FOX 17 news:
Executive Editor US, PokerNews Podcast co-host & 2013 WSOP Bracelet Winner.