Hal Rotholz Wins 2021 bestbet Jacksonville Spring Series $2,500 Main Event ($180,986)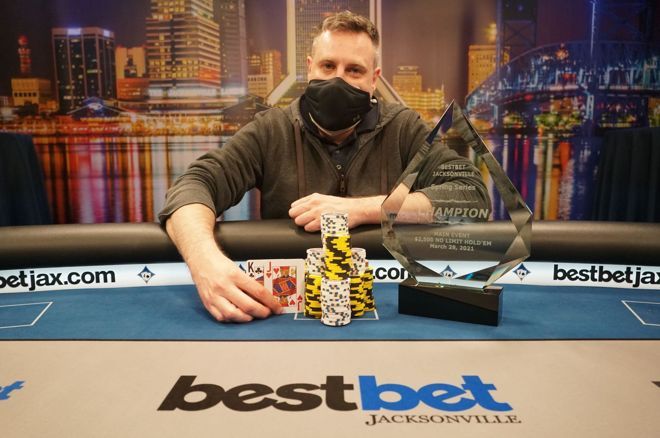 The 2021 bestbet Jacksonville Spring Series $2,500 Main Event drew 401 entries and generated a prize pool of $898,242 with 54 players coming back for Sunday's Day 2 to play down to one. In the end, Hal Rotholz was that one, and it earned him a $180,986 payday.
Rotholz advanced to Day 2 from the second of two starting flights and entered play with a slightly above-average stack of 234,000. Two hours into the day, he had nearly doubled that to climb into the top 10 in chips, and he climbed to the top five by the second break of the day before grinding his way through the final three tables. From there, he came into the final table sixth in chips, and just about everything went his way from there.
2021 bestbet Spring Series Main Event Final Table Results
| Place | Player | Hometown | Prize |
| --- | --- | --- | --- |
| 1 | Hal Rotholz | New York, New York | $180,986 |
| 2 | Jake Ferro | Syracuse, New York | $120,658 |
| 3 | Kyle Cartwright | Arlington, Tennessee | $88,761 |
| 4 | Johnny Landreth | Lanett, Alabama | $66,069 |
| 5 | David Jackson | Jacksonville, Florida | $49,767 |
| 6 | Brian Arbaugh | Akron, Ohio | $37,941 |
| 7 | Stephen Strout | St. Augustine, Florida | $29,280 |
| 8 | Dustin Holladay | Murrells Inlet, South Carolina | $22,876 |
Day 2 Recap
The 54 players that returned did so just three places away from making the money. Ken Taffaro was the shortest stack entering the day, doing so with 10 big blinds but finding himself unable to pick up anything of note. He was one of the first two eliminations on the day, bringing about hand-for-hand play with the bubble bursting just two hands in when Aaron Thivyanathan and Filipp Khavin both were eliminated on the same hand to split a first-level payout.
Eliminations then came at a steady pace before roughly a full level went by with 39 players remaining. Within the next half an hour, Day 1a chip leader Nick Raio, Jack Sumner, and Justin Zaki busted (35-37th), and the tournament reached four tables shortly thereafter with sixth-place finisher Brian Arbaugh atop the counts with a stack just shy of 1 million.
Just one more 40-minute level needed to occur for the three-table redraw, with James Calderaro and Byron Kaverman being the first two to fall thereafter. Arbaugh remained near the top of the counts with Jake Ferro beginning his ascent around that time just the same, and the two wound up at the same table when the final 16 were reached. Ferro was fairly active with everyone at his table and wound up chipping up to 2.175 million by the time the final table was reached.
As for the other table in play at the time, start-of-day chip leader and third-place finisher Kyle Cartwright also continued to accumulate chips throughout the day and continued to climb as play got short-handed. He then took a few hits to his stack but found a double and picked up where he had previously left off to take a chip-leading stack of 2.39 million into the final eight.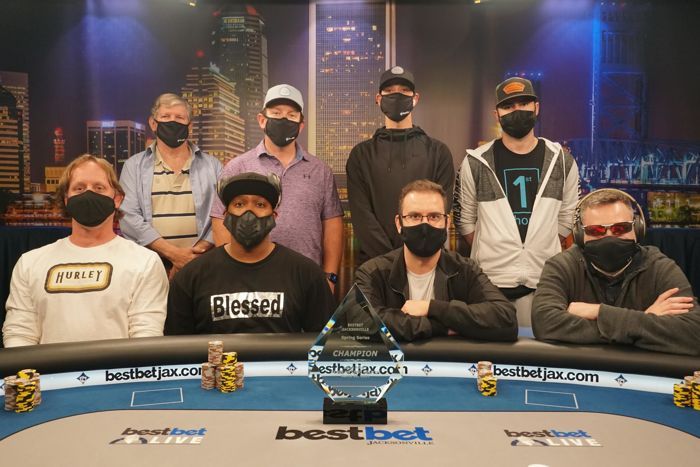 From Eight to One
Johnny Landreth came into the final table as the shortest stack with 400,000 midway through a big blind of 40,000. He doubled on the very first hand of play when he picked up two kings in the big blind and Ferro was priced in to call after opening with nine-five suited on the button. Shortly thereafter, January's Winter Open Main Event 10th-place finisher Dustin Holladay cold-called with two queens behind a three-bet from Ferro in a hand that saw four clubs come on board. Ferro had two kings with both players holding a club and Holladay was left short.
Holladay then picked up ace-king and shoved. David Jackson re-jammed with pocket jacks and Arbaugh called all in with king-queen, giving Holladay to have a chance at tripling. He flopped a king but Arbaugh turned a queen to send him out in eighth. Stephen Strout then became short and was the next to fall at Ferro's expense, with Arbaugh going out a few hands later after running a failed bluff attempt into Landreth.
Cartwright then began to pull away with five remaining until Jackson got two black queens all in preflop against the pocket jacks of Rotholz. Three diamonds on the flop gave Rotholz a flush draw that got there on the river to eliminate Jackson in fifth and put Rotholz into the chip lead temporarily, but Cartwright got it back and built on it from there by eliminating Landreth in fourth.
Unfortunately for Cartwright, variance took a turn for the worst and the momentum went all Ferro's way. Eventually, a blind-on-blind situation between the two saw Ferro limp-jam ace-queen into Cartwright's pocket kings and a queen on the flop was accompanied by another on the river to give Ferro trips and send him into heads-up play with a massive chip lead.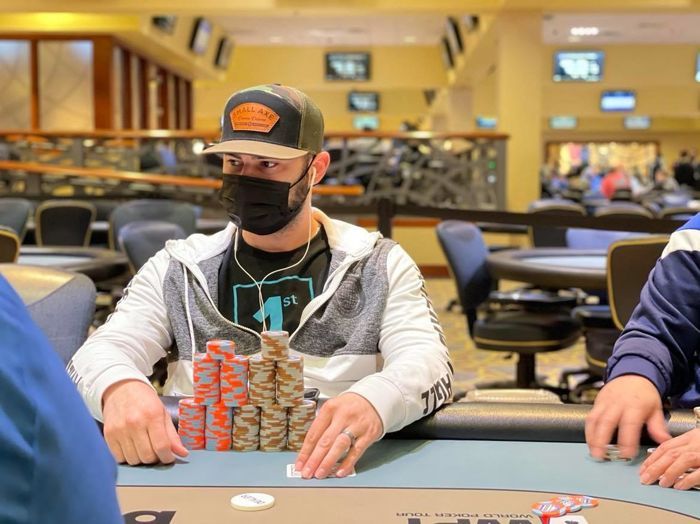 However, on the first hand of heads-up play, Ferro flopped a flush draw and Rotholz flopped top pair. Stacks went in with Ferro having a shot to end it all in one hand but he did not fill up and Rotholz pulled close to even. Rotholz then took the chip lead for a bit before Ferro took three hands in quick succession to pull back ahead.
But it was all Rotholz from there. Ferro limped and then three-bet on the button with ace-king only to see Rotholz four-bet jam with queen-jack. Once again, Ferro's shot at victory was shattered as Rotholz flopped top two pair and turned a full house to take a huge lead. Ferro then found himself under 20 big blinds and re-shoved queen-jack into Rotholz's king-jack with a clean runout resulting in Rotholz earning all the chips, the trophy, and the top prize of the tournament.
bestbet Jacksonville Spring Series Winners
The 11-event series proved to be a big success catering to a combined 2,310 entries and awarding $1,712,974 in prize money. Here's a look at all those who captured titles:
| Tournament | Entries | Prize Pool | Winner | Prize |
| --- | --- | --- | --- | --- |
| Event #1: $560 NLH | 741 | $363,104 | Kenneth Brossoit | $51,180 |
| Event #2: $360 PLO | 112 | $34,160 | Armando Figueroa | $9,339 |
| Event #3: $460 NLH w/ $100 Bounties | 194 | $58,200 | Alex Ortiz | $13,330 |
| Event #4: $260 NLH | 190 | $41,800 | Bryan Brozman | $9,906 |
| Event #5: $360 NLH Monster Stack | 194 | $59,170 | Billy Cashwell | $13,784 |
| Event #6: $260 NLH Turbo w/ $50 Bounties | 83 | $14,110 | Steve Zhang | $3,735 |
| Event #7: $360 NLH Ladies | 49 | $14,945 | Stella Davila | $5,028 |
| Event #8: $1,200 NLH 6-Max | 134 | $142,040 | David Dowdy | $32,011 |
| Event #9: $360 HORSE | 45 | $13,725 | Charles Janney | $4,100 |
| Event #10: $500 NLH The bestbet 500 | 167 | $73,480 | Nabil "Doc" Hirezi | $15,775 |
| bestbet Spring Series $2,500 Main Event | 401 | $898,240 | Hal Rotholz | $180,986 |