Hands of the Week: Jeff Platt's Dreams Crushed; Deadwood ICM Leverage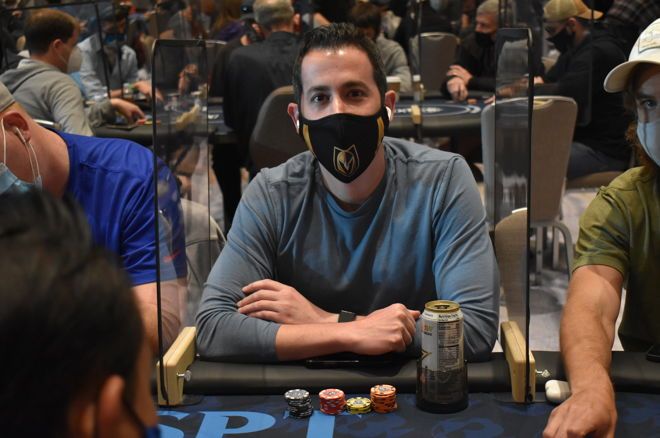 PokerNews is known throughout the world for our industry-leading live updates for both live and online events. In fact, right now we're offering various updates right here.
Over the years, we've captured memorable hands, many of which have become a part of poker history. In this new column, we will bring you some of the biggest hands of the week as reported in the PokerNews Live Updates.
Remember, if you're playing an event PokerNews is covering, you can get in the updates via the MyStack App. You can download the app for iPhone or Android now to get started. Then, create a new PokerNews account or update your current one to start updating your status immediately. Your followers can see all the live action that you're involved in.
Click here to download the My Stack app for iPhone, or click here to download the My Stack app for Android.
Jason Kapoor Dispatches PokerGO Commentator Jeff Platt
In the MSPT Sycuan Casino $1,100 Main Event, it was Level 11 (1,000/2,000/2,000) when Michigan's Jason Kapoor raised to 4,000 from the button and PokerGO commentator Jeff Platt (lead photo), who is also a co-host of the PokerNews Podcast, three-bet jammed for 42,000 from the small blind. The player in the big folded and Kapoor wasted little time in making the call.
Jason Kapoor:

Jeff Platt:
Platt was in dire straits with his inferior kicker and needed a bailout. The
rainbow flop didn't do him any favors, but another
on the turn did open some chop-portunities. Unfortunately for Platt, the
river was a brick and his run in the MSPT Sycuan Casino $1,100 Main Event came to an end.
Friedman Coolers Nguyen in Biggest Pot of Tournament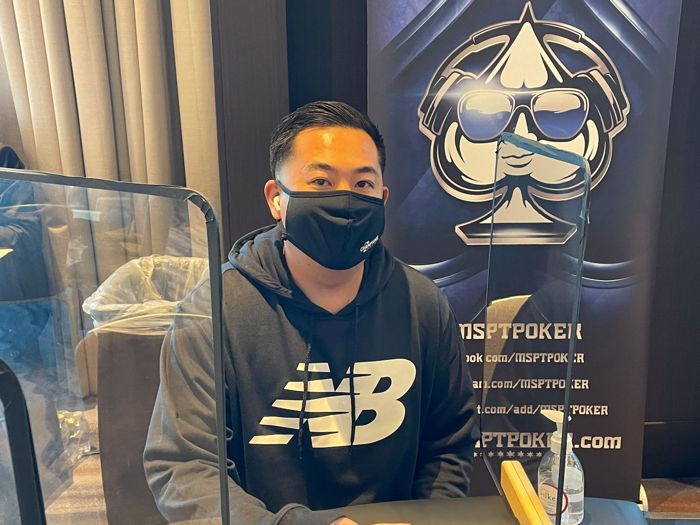 In the same MSPT tournament, it was Day 2 in Level 18 (5,000/10,000/10,000) when Luke Nguyen opened for 24,000 under the gun and three-time WSOP bracelet winner Adam Friedman three-bet to 35,000 next to act.
Action folded back to Nguyen and he four-bet to 185,000, which prompted Friedman to five-bet jam. Nguyen had 510,000 total and called off only to discover he was on the bad end of a cooler.
Luke Nguyen:

Adam Friedman:
Nguyen was looking to get lucky, but that didn't happen as the board ran out clean to send him to the rail in 44th place for $3,009. Meanwhile, Friedman collected the biggest pot of the tournament up to that point.
Mitchell Loses Big in Cooler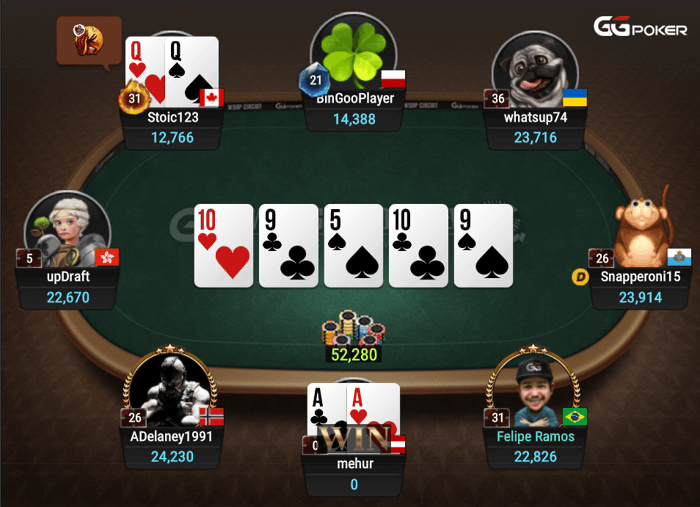 In the 2021 GGPoker WSOP Super Circuit Online Series Event #6: $365 GIANT No-Limit Hold'em it was Level 3 (150/300/35) when David "Stoic123" Mitchell raised to 660 from the middle, and "mehur" reraised the big blind to 2,520. Mitchell called to the
flop, then called when "mehur" bet 3,606. They bet again for 5,400 on the
turn, and Mitchell called again. "mehur" shoved for 14,399 on the
river, and after throwing the tilt emote to the table, Mitchell called.
"mehur":

David "Stoic123" Mitchell:
Board:
It was an ugly board for over pairs, but "mehur" got full value from their aces.
Applying ICM PRessure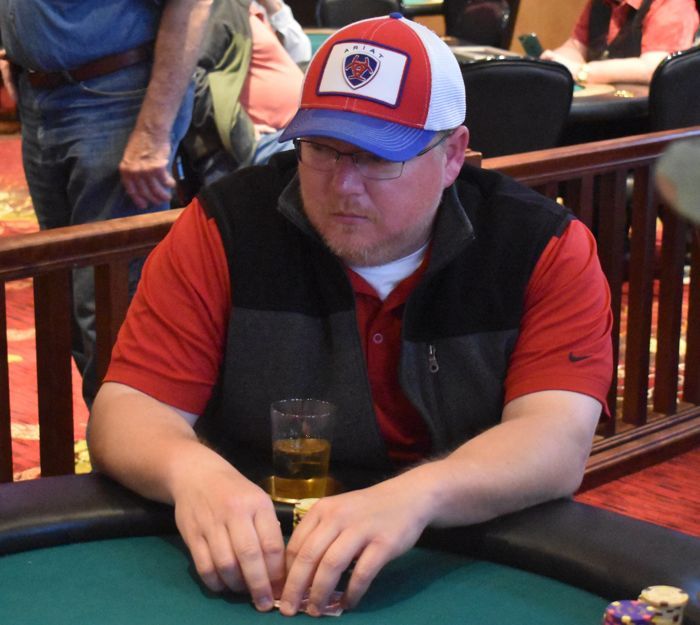 At the final table of the 2021 MSPT South Dakota State Poker Championship $1,100 Main Event in Deadwood, it was Level 25 (25,000/50,000/5,000) when Clint Lilienthal min-raised from middle position and Taylor Howard defended his big blind to see a
flop. Howard check-jammed after Lilienthal continued and Lilienthal called off his 570,000 stack.
Clint Lilienthal:

Taylor Howard:
Howard connected on the flop but was still trailing Lilienthal's pocket tens and the
paired the board on the turn leaving, Lilienthal feeling pretty comfortable about securing a double.
Unfortunately for him, the dealer dropped the
on the river which gave Howard trips and Lilienthal took his exit in eighth place for $13,616 while Howard used his chips to go deep.
"The nine-deuce was just me implying max ICM pressure," Howard told PokerNews. "After he bets out, there are three shorter stacks than him with two being extremely short. I shove thinking he has to fold all over cards which is what he has a good majority of the time. I think he calls 99+ but even put those hands like nines and tens in tough spot. He tanked and called and I rivered the deuce, which was great."
Bullets for the Win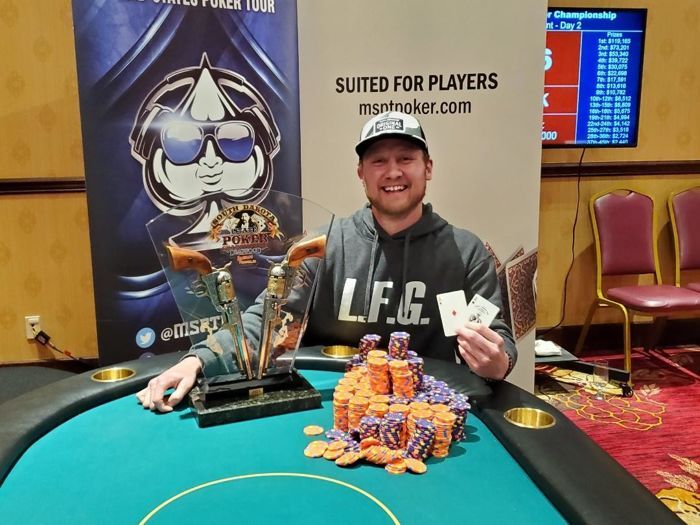 At the same MSPT final table, it was Level 33 (150,000/300,000/40,000) and heads-up action when Taylor Howard limped the button and John Schroer checked to see a
flop. Schroer check-called Howard's 400,000 bet bringing about the
on the turn.
Schroer checked once again and then jammed after Howard fired out 500,000. Howard took a brief moment but ultimately called and the two players tabled their hands.
John Schroer:

Taylor Howard:
Howard held the weapons of mass destruction and the
river secured him the victory for $119,165 while Schorer took home $73,201 for his efforts.
Afterward, Howard shared the following about the hand with PokerNews:
"I limped because a lot of the time I would limp he would auto 4x it. This time he didn't and just checked. When the money went in, I'm thinking just please hold. I had worked him down so many times to get short for him to double up again. The money is great and whatever, but all that was going through my head at this point is I wanted to be a two-time champ and get that cool ass trophy. It holds and I celebrate with my friends who were there!"
Quads No Good
We didn't report the below hand but felt it was worth sharing nonetheless.
Executive Editor US, PokerNews Podcast co-host & 2013 WSOP Bracelet Winner.