Mike Matusow and Landon Tice Join Latest 'Poker After Dark'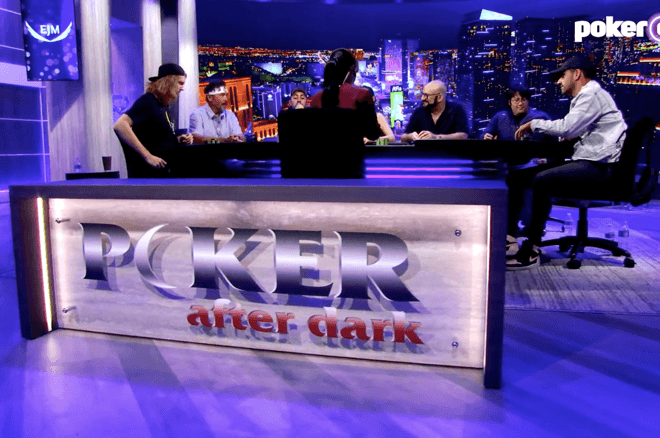 If three weeks of "Watch Your Step" starring former WPT champ Frank Stepuchin on "Poker After Dark" wasn't enough, PokerGO brought him back for a fourth, and again, he drove a heavy week of action with tons of all-in pots.
It was more $50/$100/$100 (big blind ante) play, but the cast was slightly different for what appeared to be a new session. Notably, Mike Matusow and Landon Tice had joined the lineup with holdovers Marle Cordeiro and Ronnie Bardah among the returning faces.
Remember, an annual subscription to PokerGO costs $99.99, but you can save $10 off by using promo code "PokerNews" at checkout.
Ding Stacked Early
Alex Ding was another player returning to the PokerGO Studio, and he came back after considerable success in the first session as he appeared to be one of the biggest winners. However, things did not get started off on the right foot for him.
Things opened with Matusow making it $300 holding Q♦10♦ only to see Ding three-bet to $900 with Q♠J♣ on his left. From the button, Tice four-bet it to 2,000 with K♥J♥. Ding peeled to bring the J♦5♥2♣ flop.
With only about $8,000 left in Ding's stack and $4,550 in the middle, action was perfunctory and obvious as it went check, $1,200, and an all-in raise. Tice beat him into the pot but admitted he was "kind of scared."
They ran twice and neither 5♦, 2♦ nor 8♣, 8♥ was of any use to Ding, so the whole $20,450 went to Tice.
Bardah Can't Find a Fold
With a $200 straddle on, Stepuchin picked up K♠K♥ under the gun and opened for $700. He got action from Ilyas Abayev (J♥J♦) on his left and Bardah (K♣Q♦) in the big blind.
Stepuchin continued for $1,300 on 9♦Q♠3♣ and it stayed three ways to the 6♥ turn. Stepuchin bet $3,500 and Abayev folded. Bardah stuck around for the 2♠ river, though.
"Just a call," Stepuchin observed.
"Do you like just a call?"
"I dunno, seems kind of concerning."
Bardah checked and Stepuchin muttered something about his river bets hadn't worked out last session before saying he was all in, covering the $6,950 of Bardah. Bardah thought about it awhile and called but watched the $20,300 pushed to his opponent.
One-Outer Saves Cordeiro a Rebuy
Abayev was dealt the jacks again, this time J♥J♠, and he opened for $300 under the gun. Cordeiro called with 10♠10♦ in the next seat, as did Bardah holding K♥10♥ on the button. Tice squeezed up to $2,100 with what would be revealed to be 7♥2♦ in the small blind.
Abayev called but Cordeiro jammed for $8,975. Action folded back to Abayev and he seemed perplexed. He shook his head as he thought it out but eventually settled on a call.
Only the 10♣ remained in the deck but it found the felt on the first run as the community came 10♣4♠5♦6♥7♠. It would take something crazy for her to scoop it but she was dead by the turn on the second board so they split it up.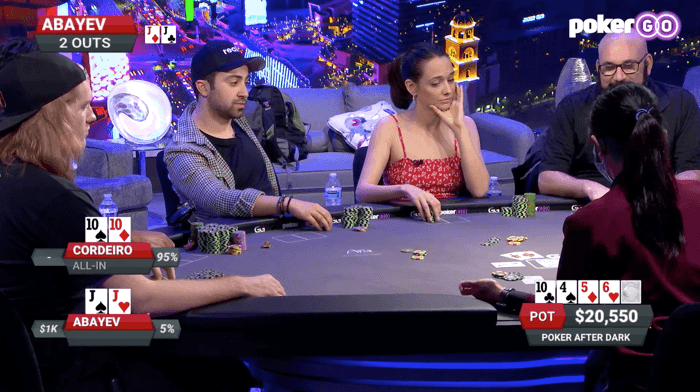 Aces Hold for a Big One
Action folded to the button, where Stepuchin made it $700 to go — the straddle was on — with 10♣6♣. Abayev called with 9♣7♣ but Cordeiro woke up with A♦A♣. She made it $2,800, and Stepuchin responded with what sounded like $13,000. Abayev quickly ducked out of the way and Cordeiro made the easy call for about $8,800 more.
"Gah, I was thinking you might have seven-deuce," Stepuchin said, referencing the side action on anyone who could win a pot with the worst hand in the game.
The 6♦2♠3♦ flop paired Stepuchin to keep the sweat on.
"No club at least," Cordeiro observed.
Her optimism was warranted as the 9♥ and 5♠ missed Stepuchin to see the $24K pot shipped her way.
Bardah Attempts Intricate Bluff
With the straddle again on at $200, Abayev once again held J♦J♣ under the gun and made it $600. Bardah called with 5♠5♣ in the small blind as did Stepuchin with Q♦10♥ in the straddle.
The flop checked around so the board read 6♥8♥Q♠6♣. Bardah bet $800 and the others called instantly. On the 10♠, Bardah patted the felt. Stepuchin bet small with $1,100 and Abayev quickly called. Bardah made it $5,100.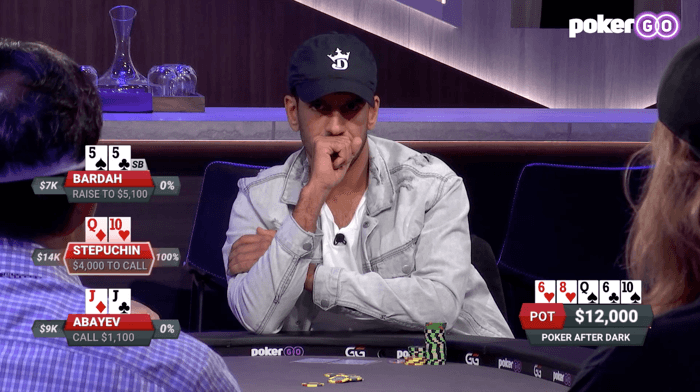 "Wow," Stepuchin said before muttering to himself for awhile. Nonetheless, he forcefully flicked in a chip. "You win."
"Nah you win," Bardah responded.
"Oh, good."
Remember, Poker After Dark will air every Monday but is only available to PokerGO subscribers. If you're not currently subscribed, you can get a monthly subscription for $14.99, a three-month plan for $29.99, and an annual subscription for $99.99. You can also save $10 off an annual subscription by using promo code "PokerNews" at checkout.
Photos courtesy of PokerGO.