Poker After Dark S12/E29: Lynne Ji Wins Monster Three-Way Hand with Broadway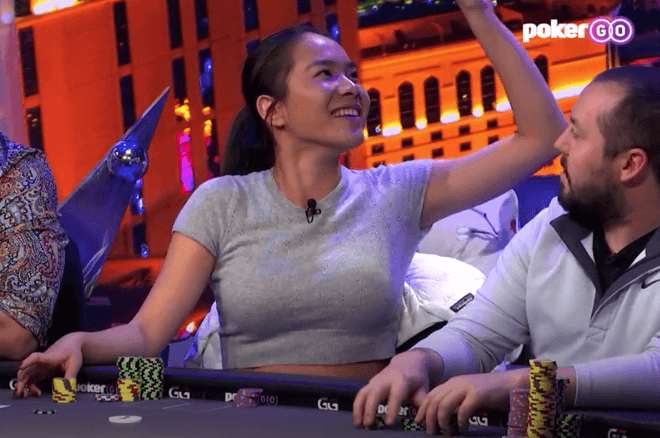 In the fifth week of "Gamblers Delight" on PokerGO's "Poker After Dark," the game was $100/$200 no-limit hold'em with a $200 big blind ante. The minimum buy-in for the game was $20,000.
This not only wrapped up "Gamblers Delight" but was also the 11th and final episode of Season 12.
In the first week, former Survivor contestant Albert Destrade, Bryan Ercolano and WSOP bracelet winner Trevor Pope made their Poker After Dark debuts, while in the second week someone said "this is going to be a bad call."
In the third week, Dan Shak got off to a hot start, which you can read about here. Meanwhile, last week witnessed Pope getting quartered in a six-figure pot.
This week's episode featured the same six players as the week before in Pope, Shak, Destrade, Ercolano, Jake Daniels, and Lynne Ji.
Below is a look at five of either the biggest or most interesting hands from this week's episode.
Daniels Rivers a Set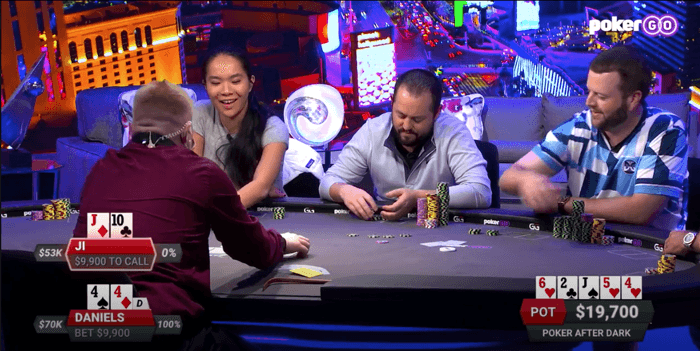 Ji opened for $500 on the button with
and was called by Daniels on the button with
, Shak in the small blind with
, and Ercolano in the big blind with
.
"I feel like winning this one," said Ji before improving top pair on the
flop.
Daniels fired out for $900 after Ji checked and Ji called after Shak and Ercolano folded. Ji still had the best of it after the
turn added a gutshot straight draw to Daniels' possible outs and check-called for $2,900.
Ji checked again after the
river completed the board. Daniels, who improved to a set, fired out a pot-sized bet of $9,900.
"You are literally could be doing the same thing you did against Trevor," said Ji referring to a hand on a previous episode.
"It's that bad?" asked Daniels.
"I literally don't beat a single real thing," responded Ji before she paid Daniels off with a call.
Broadway for Ji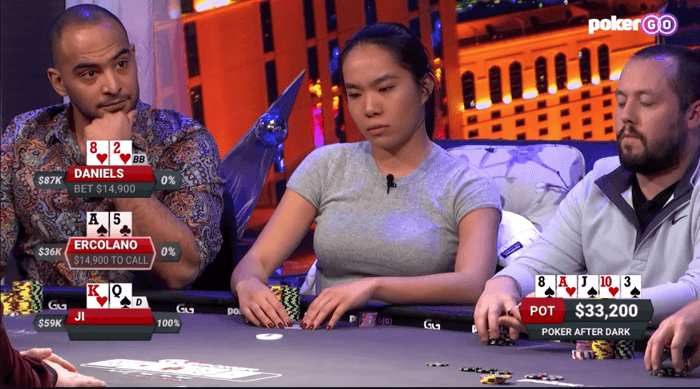 Ercolano limped from the hijack with
. Ji raised to $1,000 from the button with
and was called by Jake Daniels with
from the big blind. Ercolano called as well and all three players checked the
flop.
The
turn improved Ji to Broadway and she opted to check-raise a $1,500 open by Ercolano to $5,000. Daniels cold-called and Ercolano also tossed another $3,500 into the pot.
The
river completed a spade flush draw but not the heart flush draw held by Daniels. This didn't stop him from taking a stab at the pot with a big bet of $14,900.
Ercolano called with his top pair putting Ji in a difficult spot. Ji eventually called and scooped up the $63,000 pot.
"I donate to the Bryan ... Foundation as he has the best hand right now," said Daniels.
"I have a straight," said Ji.
"Oh wow, the Lynne Ji Foundation!" responded Daniels as he began to get out of his chair to give Ji a high-five. "Let's go! What a call!"
"Thank you," Ji sighed in relief. "Now I just need to not give it back to you.
Ercolano and Shak Chop it Up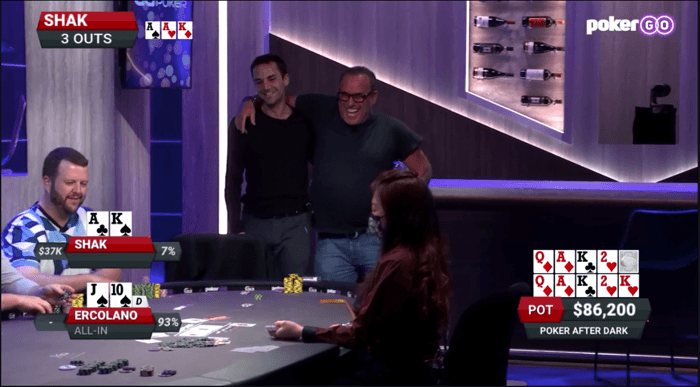 Daniels opened for $1,400 with
from the hijack Trevor Pope straddled for $400 from under the gun with
. Three players called including Ercolano from the button with
, Shak with
from the small blind, and Pope completing the action.
Shak hit two pair and Daniels a flush draw on the
flop but Ercolano improved to the nuts with a Broadway straight. Pope and Daniels checked before Shak fired out for $2,500. Ercolano and Daniels called while Pope called it quits.
Daniels checked the
turn and Shak continued his aggression with top two with a bet of $10,000. Ercolano shuffled his chips before he jammed for $46,300. Daniels asked for a count before he folded after which Shak quickly called.
"Run it twice?" Shak asked?
"Yeah," responded Ercolano.
It was lucky for Ercolano that his opponent suggested two rivers as Shak won the first round with the
completed the first board.
"I have a feeling he is going to hit it," said Ercolano as both he and Shak got out of their seats. "Can we just chop it now?"
The players laughed and although Ercolano couldn't chop it then and there, he did wind up winning the second board to chop an $86,200 pot after the
appeared as the second river.
Daniels Bluffs Ji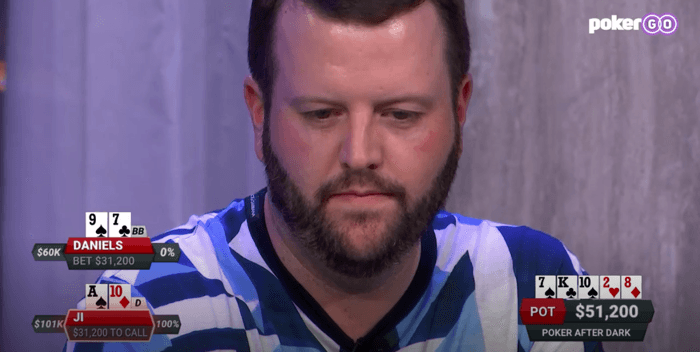 Daniels pulled off a handful of bluffs during the broadcast including in a hand against Lynne Ji near the end of the night where he also potentially had some showdown value.
Shak straddled with
with Bryan Ercolano with
from the cutoff and Lynne Ji with
both limping behind. Pope jacked it up to $2,000 with
and Daniels called with
from the big blind. Both Ercolano and Ji also called after Shak folded.
The
flop checked around before the action picked up on the
turn. Daniels bet 5,700 after Pope checked and Ji was the only player to call.
Ji still had the best pair after both players blanked the
river. Daniels blasted for $31,200 into a $20,000 and Ji went into the tank.
"Well, I wouldn't fold a king," said Ji. "Unfortunately, I don't have a king. But I feel like you are trying to do to me what you were doing to poor Trevor over here. I won't stand for that."
Ji thought some more before she laid down the best hand.
Ercolano Chops It Up Again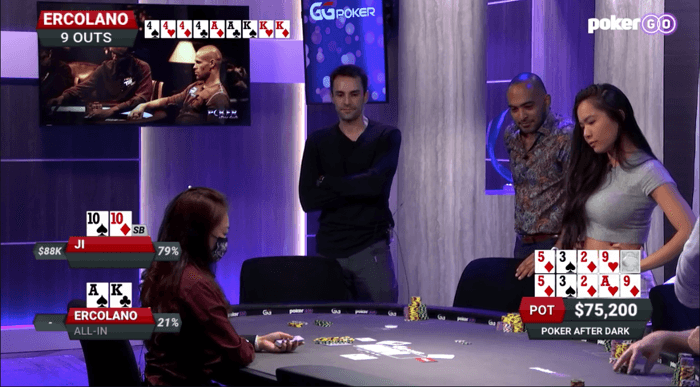 Ercolano opened for $1,000 with
from the cutoff over the $400 straddle by Daniels with
on the last hand of the episode and thus as well the final hand of Season 12. Destrade called with
before Ji three-bet to $5,000 with
from the small blind.
Daniels quickly got out of the way and it was three-way to the
flop. Ji continued for $5,000 before Ercolano jammed for $29,700. Destrade quickly folded and Ji tanked for a minute before she called.
"I'm chasing," said Ercolano as the cards were turned over.
The duo decided to run it twice and it once again with Ercolano winning the first board after improving to a better pair than Ji on the
turn and
river.
Ji won the second board after Ercolano bricked both the
turn and
river and the two players chopped a $75,200 pot.
Remember, Poker After Dark will air every Monday but is only available to PokerGO subscribers. If you're not currently subscribed, you can get a monthly subscription for $14.99, a three-month plan for $29.99, and an annual subscription for $99.99. You can also save $10 off an annual subscription by using promo code "PokerNews" at checkout.