DON'T MISS: Unlimited Attempts at WSOP Main Event Seats for $49.99 at ClubGG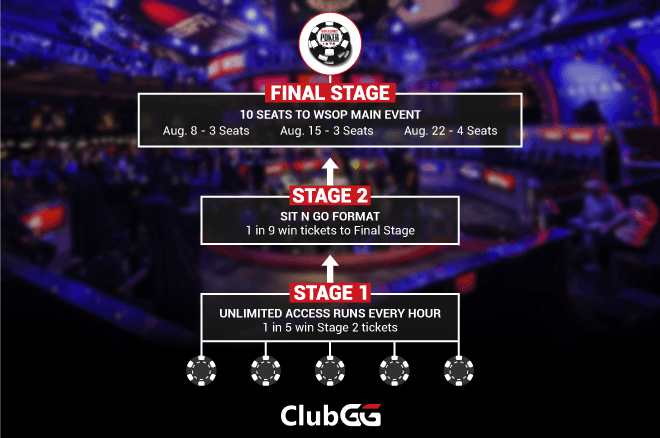 Stop what you are doing and read this because this could be the article that could result in you heading to Las Vegas, Nevada, to play in the $10,000 World Series of Poker Main Event.
GGPoker has launched ClubGG, a state-of-the-art subscription-based online poker site available worldwide and one that awards incredible prizes to its members.
ClubGG is a subscription-based online poker site that comes with a fixed monthly fee of $49.99. Subscribing to this fantastic online poker platform makes it possible to play online poker from anywhere around the world, all while competing for some mouth-watering prizes, including entries to some of the biggest live poker events on the planet.
ClubGG is accessible from anywhere in the world* and available to download on Windows-based machines, in addition to iOS and Android-powered devices, meaning you can take ClubGG with you, literally, anywhere you go.
What better way to kick it off with a satellite entry onto the grandest stage of them all? Keep reading to discover how you can win your shot at poker immortality.
Try ClubGG for free? Here's how to Join our FREE Club PokerNews
Qualify for the WSOP Main Event Through Three Easy Steps
Ten seats, each worth $10,000, to the 2021 World Series of Poker Main Event are up for grabs between August 2-22 as GGPoker lights a fire under the ClubGG site. Three seats are set to be won on August 8, another three on August 15, with four WSOP Main Event seats waiting to be won by all ClubGG Platinum subscribers on August 22*.
How to win a seat? It's simple: conquer the three stages and the 2021 WSOP Main Event seat is yours!
Stage 1 - Unlimited Qualifiers Every Hour
Stage 1's runs every hour, half-past the hour, starting 4:00 p.m. GMT on August 2 and see the top 20% of finishers receive Stage 2 tickets. Remember, ClubGG is a subscription-based site, meaning you can play as many Stage 1's as you like. Qualify for the WSOP Main Event on demand.
Made it through Stage 1? Then Stage 2 awaits.
Stage 2 - Play a Sit 'n Go of your Choice to Advance
with a Sit 'n Go format. Choose to play in a 9-max, 18-max, 27max, 36-max, 45-max, 90-max, or 180-max sit & go where one-in-nine players get their hands on Final Stage tickets.
Stage 3 - Win WSOP Main Event Seats Every Sunday at 7 p.m. GMT
The Final Stage of the qualification process runs from 7:00 p.m. GMT every Sunday (3 p.m. ET, 12 p.m. Pacific time), and is in a traditional tournament format. Up to four WSOP Main Event packages are guaranteed to be won each week, with a total of 10 being given away by the end of August 22. Imagine the bragging rights if you managed to turn your $49.99 subscription fee into a $10,000 seat to this year's WSOP Main Event!
Make sure to check 'Prize Eligibility' before participating to see if you're eligible to play from your jurisdiction.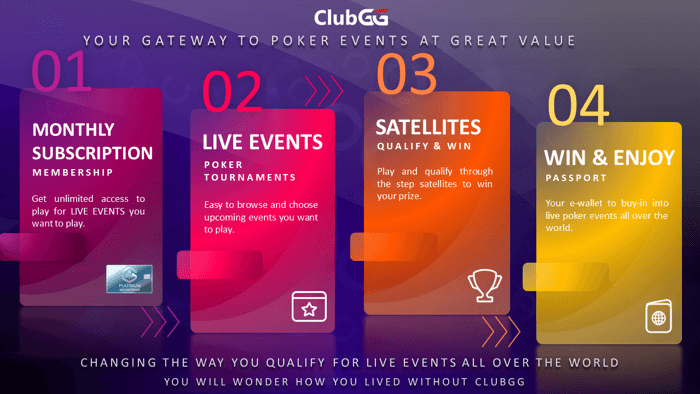 ClubGG WSOP Giveaway FAQ
Do I have to provide my real name at ClubGG?

You will need to provide your real name only if you have won the WSOP Main Event Seat. ClubGG requires it to register you to the LIVE tournament in Las Vegas, verify your identity for prize claim eligibility, and submit the winner's list to regulators.
​
I reside in a territory that's on the exclusion list. What can I do?

Playing from countries/territories listed in the 'Excluded Territories' list in Prize Eligibility means you cannot participate in this promotion. If the territory where you reside does not allow for sweepstakes games, it is deemed ineligible. If you somehow win and, upon verification and checking of requirements you are deemed ineligible, the prize will be forfeited in its entirety.
​
Can I win multiple seats into the WSOP Main Event through ClubGG?

No, there's a limit of one (1) Prize Package per Member player ID. A winner is not entitled to any surplus between actual prize value and stated prize value. The Prize Package is non-assignable, non-transferable, and is not redeemable for cash. If you have won a seat, you cannot win another.
​
I have multiple tickets, what can I do with them?

With Stage 2 tickets, you can enter as many Stage 2s as your tickets last. Having multiple 'Final Stage' tickets only means you can play the following 'Final Stage' without having to go through Stages 1 and 2 again. You can only enter each 'Final Stage' once. Final Stage tournaments are held in a Freezeout format (Single entry only).
Why is the WSOP Promotion 21+ while the site says 18+?

You must be 21 years of age or older as of the entry date. This promotion is 21+ because of the minimum legal age required to participate in the World Series of Poker.
​
I've won a WSOP seat, does it also include airfare/hotel?

All arrangements and expenses associated with travel to and from the WSOP Main Event tournament and accommodations, ground transportation, and any other incidental expenses incurred in connection with the WSOP Main Event tournament are the sole responsibility of the Prize Package winner.
Do I have to pay for ClubGG and/or Club PokerNews?

No, ClubGG and Club PokerNews are always free to play. You can play poker for free and play poker with your friends on the app. To qualify for live events around the world, you need a Platinum subscription at $49.99 a month.
How much is the Platinum Subscription at ClubGG?

The Platinum subscription costs $49.99 per month. You have unlimited access to Stage 1 qualifiers with the subscription to try and qualify for the WSOP Main Event.
For more information on the Terms & Conditions of the 10 Seat WSOP Giveaway, visit clubgg.net.
Hone Your Skills For Free at Club PokerNews
The PokerNews team has been putting ClubGG through its paces for the past few weeks, and we have to say it is excellent. The feature-rich app works seamlessly, and it is basically no different from the GGPoker client you all love so much.
You can join Club PokerNews for free by downloading the app via our links. You will receive 100,000 chips completely free of charge and get to play in free cash games – including No-Limit Hold'em, Pot-Limit Omaha, and 5-Card PLO – plus we have regularly scheduled tournaments where you get to take on PokerNews writers and staff, who are easily identifiable by the "PN" in their alias.
Sharpen your skills at Club PokerNews before signing up for a monthly subscription to ClubGG and winning your way to the 2021 World Series of Poker in fabulous Las Vegas.
*For an overview of eligible countries and states, check the ClubGG Prize Eligibility page