Andrii Derzhypilskyi Wins GGPoker WSOP Online Event #19: $840 6-Max Bounty ($154,322)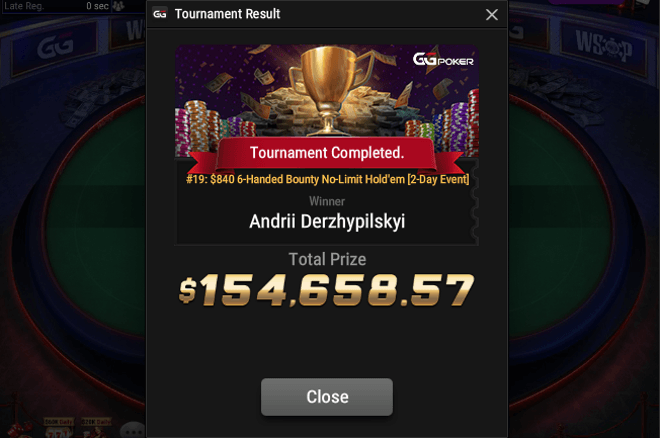 The 18th bracelet was awarded Friday evening in the 2021 GGPoker WSOP Online Bracelet Events after Andrii Derzhypilskyi defeated Luciano Hollanda heads-up to bank $154,322 in total prizes along with his first WSOP bracelet.
Derzhypilskyi began the day as a top-five stack and showed that he wasn't afraid to throw his stack around early. A run of cards helped Derzhypilskyi eliminated three in a row, setting the scene for the last seven and the Ukrainian pro was atop the leaderboard.
The average stack seemed shallow throughout the day and the play saw many preflop shoves. But once heads-up began it was a whole new ball game and the two had a back-and-forth battle for well over an hour. Hollanda came out swinging, but after multiple lead-changes it was Derzhypilskyi who had the last laugh during a classic flip when his ace-king connected to top the fives of Hollanda, sending home as the runner-up for an $88,466 in total prize money.
Follow the GGPoker WSOP Online on PokerNews
Catch all the news, schedule, and latest bracelet winners from the 2021 WSOP Online on GGPoker!
Event #19: $840 6-Handed Bounty No-Limit Hold'em Final Table Results
| Place | Winner | Country | Bounty Total | Prize | Total Cash (in USD) |
| --- | --- | --- | --- | --- | --- |
| 1 | Andrii Derzhypilskyi | Ukraine | $87,372 | $66,950 | $154,322 |
| 2 | Luciano Hollanda | Brazil | $21,681 | $66,785 | $88,466 |
| 3 | Silvio "valterzao" Costa | Albania | $32,774 | $49,448 | $82,222 |
| 4 | Eder "BlueMoon" Campana | Brazil | $15,650 | $36,568 | $52,218 |
| 5 | Ivan "Im44bet" Ciursin | Moldova | $3,050 | $27,042 | $30,092 |
| 6 | Kelvin Kerber | Brazil | $2,150 | $19,998 | $22,148 |
| 7 | Karolis "Internecik" Sereika | Lithuania | $5,661 | $14,789 | $20,450 |
Event #19 was another success story for GGPoker and the WSOP as it attracted 2,053 entries to create a huge $1,642,400 prize pool.
Play for a WSOP Online bracelet at GGPoker
Costa Plummets to Set Up First Bracelet for Derzhypilskyi
The final table saw Silvio "valterzao" Costa quickly emerge as the captain, dropping the first three players from the field with ease as Karolis "Internecik" Sereika, Kelvin Kerber, and Ivan "Im44bet" Ciursin all fell to the wayside. Costa was running over the final table but all momentum completely vanished when Hollanda dropped Kelvin Kerber from the table, setting up three-handed play.
Quickly Hollanda and Derzhypilskyi dismantled Costa, taking him down piece by piece until he finally put his last chips in with king-queen, only to see Derzhypilskyi table a pair of aces. The clean board sent final table terror back to the underground, setting up heads-up between Hollanda and Derzhypilskyi.
Hollanda was at a deficit, but quickly clawed back and the two had a heated match for well over an hour. The Brazilian had Derzhypilskyi on the ropes but coughed up the lead on a failed bluff attempt and the eventual champ never gave it up. The final hand saw Derzhypilskyi pounce with ace-king onto the pocket fives of Hollanda, landing two pair for Derzhypilskyi which was good for the win, pulling in $66,950 for his victory, plus $87,372 in bounties for a total of $154,322, and let's not forget about his first coveted piece of WSOP jewelry.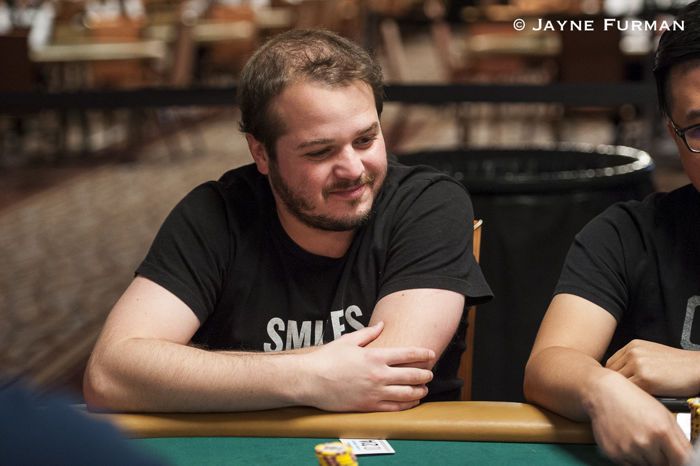 Check out the blow-by-blow action of Event #19
August 29 WSOP Online Action
Sunday, August 29 is an action-packed day for the WSOP Online with three bracelet events including the final day of Event #20: $1,500 MONSTER STACK, the final day of the $3 million guaranteed Event #22: $400 COLOSSUS, and the opening day of the $5 million guaranteed Event #21: $25,000 Super High Roller Championship. As has been the case, follow PokerNews as we will be covering the biggest action of each event from start to finish.
In the meantime, don't miss out on your chance to win a WSOP Main Event seat on ClubGG. Stage 1s are running in the client every hour, with players just three stages away from securing a $10,000 seat. Check it out!
2021 GGPoker WSOP Online Bracelet Events Schedule and Results
| Date | Event | Entries | Prize Pool | Winner | Prize |
| --- | --- | --- | --- | --- | --- |
| Sunday, 1 August | Event #2: $1,111 Caesars Cares Charity Event | 1,584 | $1,759,824 | Joao Simao | $206,075 |
| Sunday, 1 August | Event #1: $50 The Return NLH [Final Day], $1M GTD | 30,810 | $1,417,260 | Bartlomiej "chester20o" Swieboda | $161,110 |
| Tuesday, 3 August | Event #3: $2,500 Limit Hold'em Championship | 180 | $427,500 | Nicolo Molinelli | $88,461 |
| Thursday, 5 August | Event #4: $800 DOUBLE CHANCE NLH | 1,643 | $1,248,680 | Thiago "IneedWasabi" Crema de Macedo | $161,637 |
| Saturday, 7 August | Event #5: $315 Bounty No-Limit Hold'em Deepstack | 2,989 | $896,700 | Kacper Pyzara | $79,789 |
| Sunday, 8 August | Event #6: $200 FLIP & GO N0-Limit Hold'em [Go Stage], $1M GTD | 6,368 | $1,209,920 | Georgios Sotiropoulos | $117,022 |
| Sunday, 8 August | Event #7: $1,500 MILLIONAIRE MAKER NLH - $1M for 1st [Final Day], $5M GTD | 5,437 | $7,747,725 | Eduardo Pires | $1,384,013 |
| Tuesday, 10 August | Event #8: $5,000 6-Handed No-Limit Hold'em Championship | 479 | $2,275,250 | Daniel Smiljkovic | $423,426 |
| Thursday, 12 August | Event #9: $525 Superstack Turbo Bounty No-Limit Hold'em | 2,229 | $1,114,500 | Lucio "WizardOfAz" Lima | $91,205 |
| Saturday, 14 August | Event #10: $400 DOUBLE CHANCE Pot-Limit Omaha [2-Stack] | 975 | $366,600 | Roland "Quina Quen" Czika | $55,369 |
| Sunday, 15 August | Event #11: $10,000 Super MILLION$ High Roller NLH, $5M GTD | 624 | $6,052,800 | Erik Seidel | $977,482 |
| Sunday, 15 August | Event #12: $1,000 DOUBLE STACK No-Limit Hold'em [Final Day], $4M GTD | 5,894 | $5,599,300 | Hinojas "POLALIFE!" Jerome | $635,736 |
| Tuesday, 17 August | Event #13: $5,000 Pot-Limit Omaha Championship | 267 | $1,268,250 | Vincas "seimininkas" Tamasauskas | $268,926 |
| Thursday, 19 August | Event #14: $500 THE BIG 500 | 2,639 | $1,253,525 | Renan Bruschi | $150,327 |
| Saturday, 21 August | Event #15: $10,000 Heads Up NLHE Championship [No Late Reg, 128 Cap] | | | | |
| Sunday, 22 August | Event #16: $1,050 WSOP GGMasters HR Freezeout NLH, $2M GTD | 2,240 | $2,240,000 | Samuel Vousden | $274,519 |
| Sunday, 22 August | Event #17: $400 PLOSSUS [Bounty, Final Day], $1M GTD | 4,576 | $1,738,880 | Gaby "kidrurim" Livshitz | $152,165 |
| Tuesday, 24 August | Event #18: $5,000 Short Deck Championship [3-Stack] | 144 | $684,000 | Radmir "KOPOBA" Sadirov | $169,111 |
| Thursday, 26 August | Event #19: $840 6-Handed Bounty No-Limit Hold'em | | | | |
| Saturday, 28 August | Event #20: $1,500 MONSTER STACK NLH [Freezeout] | | | | |
| Sunday, 29 August | Event #21: $25,000 Super High Roller Championship NLH, $5M Gtd | | | | |
| Sunday, 29 August | Event #22: $400 COLOSSUS [Final Day], $3M GTD | | | | |
| Tuesday, 31 August | Event #23: $600 Deepstack Championship No-Limit Hold'em | | | | |
| Thursday, 2 September | Event #24: $1,050 Bounty Pot-Limit Omaha | | | | |
| Saturday, 4 September | Event #25: $777 LUCKY SEVENS No Limit Hold'em 7-Handed | | | | |
| Sunday, 5 September | Event #26: $888 CRAZY EIGHTS No Limit Hold'em 8-Handed | | | | |
| Sunday, 5 September | Event #27: $5,000 MAIN EVENT Online Championship [Final Day], $20M GTD | | | | |
| Tuesday, 7 September | Event #28: $2,100 Bounty Championship No-Limit Hold'em | | | | |
| Thursday, 9 September | Event #29: $1,500 FIFTY STACK No-Limit Hold'em | | | | |
| Saturday, 11 September | Event #30: $525 WSOP Beat the Pros [Freezeout] | | | | |
| Sunday, 12 September | Event #31: ¥815 WSOP Zodiac Autumn Festival [Final Day], ¥2,888,888 GTD | | | | |
| Sunday, 12 September | Event #32: $210 WSOP Bounty Double MILLION$ [Final Day], $2M GTD | | | | |
| Sunday, 12 September | Event #33: $500 The Closer [Final Day], $2,021,000 GTD | | | | |