Hands of the Week: Who Said It Was the "Worst Thousand I Ever Spent in My Life"?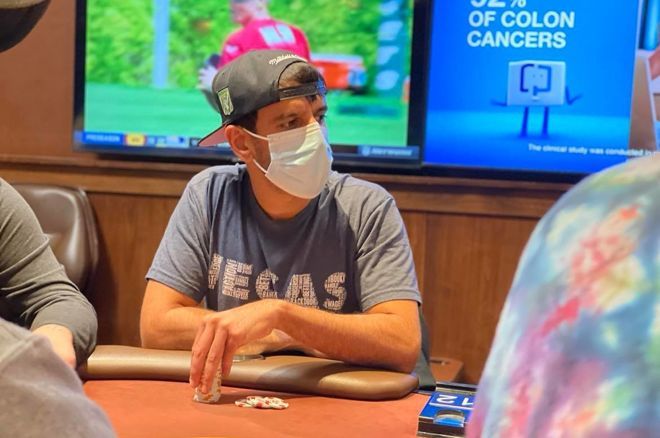 PokerNews is known throughout the world for our industry-leading live updates for both live and online events. In fact, right now we're offering various updates right here.
Over the years, we've captured memorable hands, many of which have become a part of poker history. In this new column, we will bring you some of the biggest hands of the week as reported in the PokerNews Live Updates.
Remember, if you're playing an event PokerNews is covering, you can get in the updates via the MyStack App. You can download the app for iPhone or Android now to get started. Then, create a new PokerNews account or update your current one to start updating your status immediately. Your followers can see all the live action that you're involved in.
Click here to download the My Stack app for iPhone, or click here to download the My Stack app for Android.
"Worst Thousand I Ever Spent in My Life"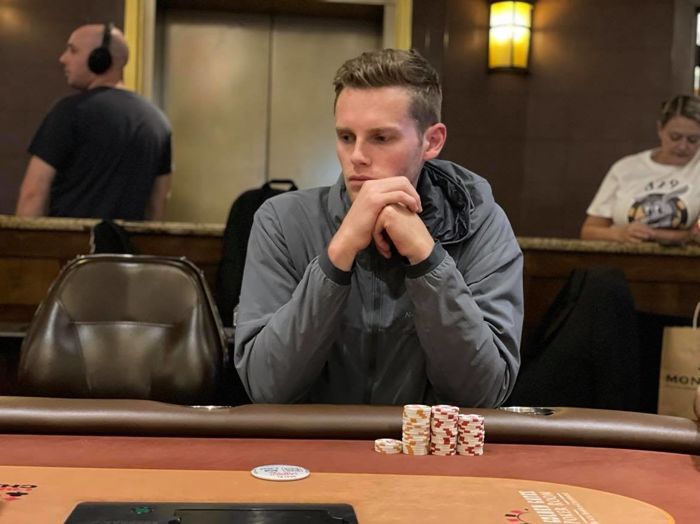 On Day 1c of the Mid-States Poker Tour (MSPT) Black Hawk $1,110 Main Event, it was Level 13 (2,000/3,000/3,000) when Jacob Mintz raised to 6,000 under the gun and received a call in middle position before Jeff Heiberg three-bet to 18,000 in the hijack. Ronnie Bardah (lead image) was in the big blind just after re-entering and went all in for 22,000. Mintz re-jammed for 46,000 and Heiberg called after a fold ensued in between.
Ronnie Bardah: A♥Q♥
Jacob Mintz: K♦K♥
Jeff Heiberg: A♣Q♠
"Oh," exclaimed Bardah after seeing the situation. Neither of the two remaining aces in the deck came as the dealer brought a runout of 8♠10♠4♣2♥6♥ and he was eliminated from the tournament by Mintz, who earned more than a double of his own in the process.
"Worst thousand I ever spent in my life," added Bardah before making his way from the table.
Or Krief Takes Bublitz's Stack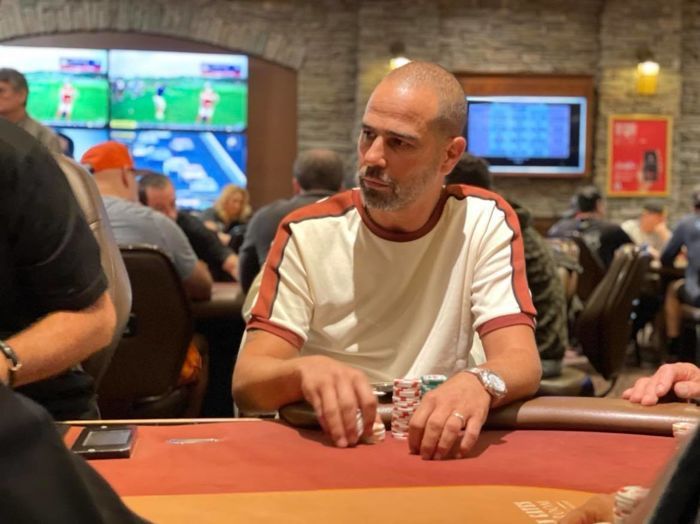 In the same tournament in Level 14 (2,000/4,000/4,000) in a single-raised pot between Haim Or Krief in the hijack and Anthony Bublitz in the cutoff took action heads up to a flop of 2♣J♣4♥. Or Krief continuation-bet 15,000 and Bublitz raised to 40,000, prompting Or Krief to three-bet to 110,000. Bublitz made the call.
The turn came 4♣ and Or Krief jammed for Bublitz's remaining stack of more than 150,000. Bublitz went into the tank, letting out a huge sigh of an exhale before announcing a call and turning over 6♣5♣.
"Was that a call?" asked Or Krief, quickly receiving confirmation and wasting no time tabling 2♠2♦.
"I have one out," said a deflated Bublitz, with the two standing up and shaking hands before sweating the river, which fell Q♠ to send Bublitz to the rail and give Or Krief a commanding chip lead going to the end of the night.
Upon the completion of the hand, 45 players remained and the table broke with Or Krief racking up his chips, totaling more than 800K.
Read MSPT Bally's Black Hawk Updates Here!
FLIP & GO Double Elimination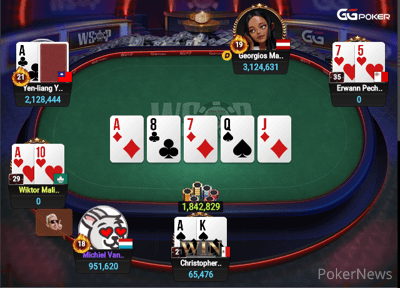 At the final table of the 2021 GGPoker WSOP Online Bracelet Events Event #6: $200 FLIP & GO NO-Limit Hold'em, the blinds were 70,000/140,000 and just six players remained when Wiktor Malinowski opened to 490,000 from middle position, Erwann Pecheux called his 166,269 stack into the middle and Chris Moorman shoved 816,256 over the top. Malinowski put the 260,780 that he had behind into the middle and all three turned over their hands.
Erwann Pecheux: 7♥5♥
Wiktor Malinowski: A♥10♥
Chris Moorman: A♠K♠
The flop rolled out A♦8♣7♣, hitting both Malinowski and Moorman with a pair of aces but Moorman's kicker was leading. A Q♠ turn left Moorman in a prime spot to drop two and the J♦ rive completed it, sending both out the door as Moorman scooped with his Big Slick. Pecheux finished in sixth place for $32,145 while Malinowskitook fifth for $41,624.
Despite winning that hand, Moorman was the next to go claiming $53,898 for finishing in fourth place.
"shrekpoker91" Coolers "AlMac66"
In the 2021 GGPoker WSOP Online Bracelet Event #10: $400 DOUBLE CHANCE Pot-Limit Omaha [2-Stack] it was Level 18 (2,000/4,000/500) when "AlMac66" limped from the hijack before they called a raise to 18,000 by "shrekpoker91" from the cutoff.
"AlMac66" check-called for 22,500 on the K♣A♠9♣ flop and for 13,700 on the Q♣ turn before they jammed for 64,939 on the Q♠ river. "shrekpoker91" made the call.
"AlMac66" held K♠K♦5♥2♠ for a full house. However, they were out of chips before the money with "shrekpoker91" winning the hand with a better full house holding A♦A♣K♥3♠.
WSOP Pennsylvania Bracelet Awarded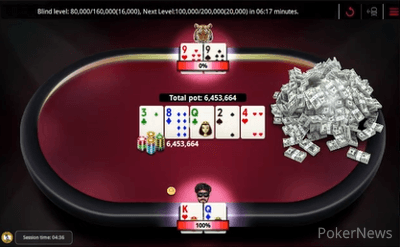 In other bracelet news, the 2021 WSOP.com PA Online Bracelet recently awarded a bracelet in Event #7: $600 No-Limit Hold'em MonsterStack. In what would be the final hand, it was Level 36 (80,000/160,000/16,000) when Michael "TonyBandanas" Lavin raised to 320,000 on the button, then called when Matthew "RunGoodRick" Boulden three-bet shoved for 3,210,832 in the big blind.
Matthew "RunGoodRick" Boulden: 9♥9♠
Michael "TonyBandanas" Lavin: K♥Q♦
It was a big flip with a bracelet on the line.
Lavin took a big lead when the 3♣8♦Q♣ flop gave him top pair, and Boulden had two outs left to hit after the 2♠ turn bricked off. The 4♥ river left Boulden one spot shy of the victory, while Lavin added a WSOP Gold Bracelet to a previously earned WSOP Circuit Ring in 2020.
Executive Editor US, PokerNews Podcast co-host & 2013 WSOP Bracelet Winner.