Master Classics of Poker Plans to Return to Holland Casino Amsterdam on Nov. 13-20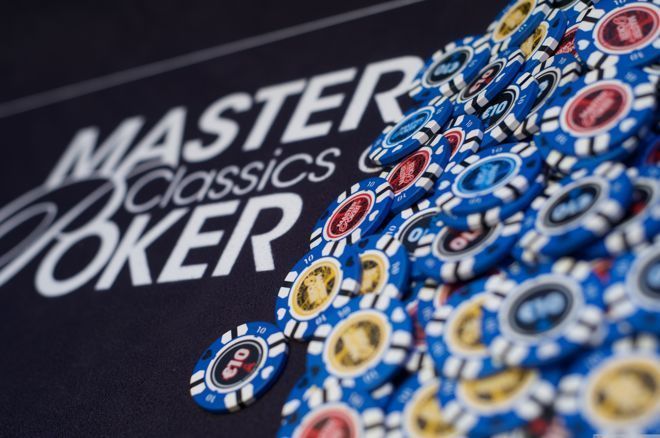 After a year off due to the COVID-19 pandemic, the iconic Master Classics of Poker announced it plans to return for its 29th edition to Holland Casino Amsterdam on Nov. 13-20. The plans are pending a press conference of the national government on September 17 with organizers hoping that the 1.5-meter distance regulations will be lifted allowing not only for the festival to take place, but also allow Holland Casino to offer poker once again.
Holland Casino will make its final decision about the festival after the press conference including releasing this year's schedule if the event is allowed to take place.
Director of Gaming & Services at Holland Casino Pieter Boers made the following announcement about the festival according to CasinoNieuws.nl (translated from Dutch to English):
"We are very happy to finally be able to get back into poker. Even if it is still only with the planning and preparations. We can't wait to finally be able to receive poker players again in Holland Casino after a year and a half. We had to cancel the 2020 edition of the Master Classics of Poker because of Corona. The health and safety of our guests and employees naturally came first. Nevertheless, we are now hopeful of organizing another Master Classics of Poker. In addition, we are also busy preparing for the reintroduction of the live poker offer in our branches. What the event will look like exactly and when and how we can offer live poker again."
About the Master Classics of Poker
The Master Classics of Poker is one of the longest-standing poker festivals not only in Europe but around the world. The festival began with humble beginnings in 1992 with a small 7-card stud event won by a local poker player Eng Angh for ƒ18,600 (€8,749).
The following year, the Main Event switched to no-limit hold'em where it remains that day. British poker player Surinder Sunar won that event for ƒ41,800 (€19,661).
Dutch player Belinda Blokker won the Main Event in 1995 before there was a 16-year gap between the next Dutch winner in David Boyaciyan in 2011. The Dutch have had better success in the Main Event during the past decade with Noah Boeken (2013), Ruben Visser (2014), Alberto Stegeman (2018), and defending champion Kevin Paqué (2019) all hoisting the trophy.
---
Related: Kevin Paqué Beats Steve O'Dwyer to Win 2019 Master Classics of Poker Main Event
---
Master Classics of Poker Main Event Champions (1992-2019)
| Year | Winner | Country | Entries | Buy-in | Top Prize |
| --- | --- | --- | --- | --- | --- |
| 2019 | Kevin Paqué | Netherlands | 346 | €4,300 | €260,878 |
| 2018 | Alberto Stegeman | Netherlands | 293 | €4,300 | €240,183 |
| 2017 | Claas Segebrecht | Germany | 285 | €4,300 | €235,087 |
| 2016 | Abdelhakim Zoufri | Netherlands | 356 | €4,250 | €275,608 |
| 2015 | Jussi Nevanlinna | Finland | 291 | €4,250 | €300,000 |
| 2014 | Ruben Visser | Netherlands | 298 | €4,250 | €225,000* |
| 2013 | Noah Boeken | Netherlands | 298 | €4,250 | €306,821 |
| 2012 | Ole Schemion | Germany | 212 | €5,250 | €286,200 |
| 2011 | David Boyaciyan | Netherlands | 294 | €5,000 | €382,200 |
| 2010 | Marcel Bjerkmann | Norway | 249 | €6,000 | €403,380 |
| 2009 | Kristoffer Thorsson | Sweden | 342 | €6,200 | €636,120 |
| 2008 | Jan Sorensen | Denmark | 335 | €6,200 | €623,100 |
| 2007 | Trond Eidsvig | Norway | 428 | €5,100 | €620,600 |
| 2006 | Ali Jalali | Germany | 345 | €5,000 | €700,000 |
| 2005 | Thomas Middelthon | Norway | 264 | €5,000 | €528,000 |
| 2004 | Robert Mizrachi | United States | 188 | €5,000 | €372,240 |
| 2003 | Johan Storakers | Sweden | 205 | €3,020 | €243,540 |
| 2002 | Angelo Yu | China | 198 | €3,020 | €168,000 |
| 2001 | Graham Hiew | United Kingdom | 170 | ƒ5,040 | ƒ336,600 |
| 2000 | Steve Liu | United Kingdom | 159 | ƒ5,000 | ƒ314,820 |
| 1999 | Ram Vaswani | United Kingdom | 135 | ƒ5,000 | ƒ276,300 |
| 1998 | Asher Derei | United Kingdom | 125 | ƒ5,000 | ƒ247,500 |
| 1997 | Bjorn Janson | Germany | 90 | ƒ5,000 | ƒ178,200 |
| 1996 | Mike Magee | Ireland | 122 | ƒ1,000 | ƒ80,360 |
| 1995 | Belinda Blokker | Netherlands | 96 | ƒ1,000 | ƒ84,909 |
| 1994 | G Hawass | Unknown | | ƒ1,075 | ƒ56,050 |
| 1993 | Surinder Sunar | United Kingdom | | ƒ2,000 | ƒ41,800 |
| 1992 | Eng Angh | Netherlands | | ƒ1,000 | ƒ18,600 |
*denotes a three-way deal