Koray Aldemir Retains Massive Lead With Three Remaining in 2021 WSOP Main Event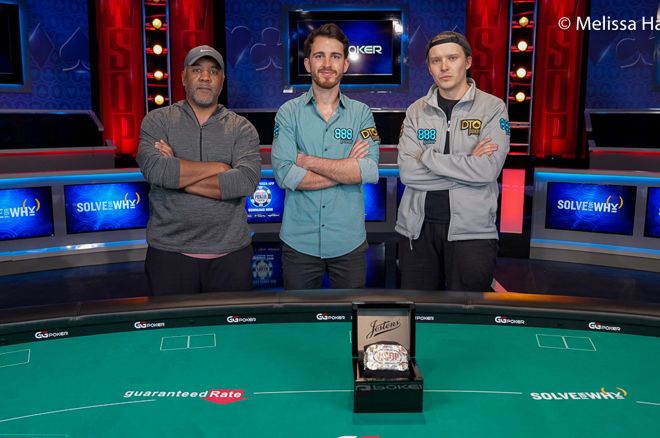 After nearly seven hours of play, a final table of nine in the 2021 WSOP Main Event has been whittled down to its last three hopefuls in search of becoming poker's next world champion and $8,000,000 richer.
Koray Aldemir, who came in hot as the overwhelming chip leader and odds-on favorite, kept his distance from the pack and ended a fantastic day with 264,600,000 in chips.
Only two people are standing between Aldemir and poker's most coveted title: UK's Jack Oliver will return second in chips with 77,300,000 after a late-night surge vaulted him up the leaderboard, while the last remaining American, Atlanta, Georgia's George Holmes, rounds out the final three with 57,400,000 in chips, still a cushiony 36 big blinds to work with in the current level.
For Joshua Remitio (4th - $2,300,000), Ozgur Secilmis (5th - $1,800,000), Hye Park (6th - $1,400,000), Alejandro Lococo (7th - $1,225,000), Jareth East (8th - $1,100,000), and Chase Bianchi (9th - $1,000,000), their dream of winning the Main Event came to an end on Day 8.
2021 WSOP Main Event Chip Counts
| Seat | Player | Chip Count | Country | Big Blinds |
| --- | --- | --- | --- | --- |
| 1 | Koray Aldemir | 264,600,000 | Austria | 165 |
| 2 | Jack Oliver | 77,300,000 | United Kingdom | 48 |
| 3 | George Holmes | 57,400,000 | United States | 36 |
7 Tips to Take Your Poker Game From "Meh" to Amazing
Check out this helpful article with top tips on how to improve your poker play!
Final Table Results and Remaining Payouts
| Place | Winner | Country | Prize (in USD) |
| --- | --- | --- | --- |
| 1 | | | $8,000,000 |
| 2 | | | $4,300,000 |
| 3 | | | $3,000,000 |
| 4 | Joshua Remitio | United States | $2,300,000 |
| 5 | Ozgur Secilmis | Turkey | $1,800,000 |
| 6 | Hye Park | United States | $1,400,000 |
| 7 | Alejandro Lococo | Argentina | $1,225,000 |
| 8 | Jareth East | United Kingdom | $1,100,000 |
| 9 | Chase Bianchi | United States | $1,000,000 |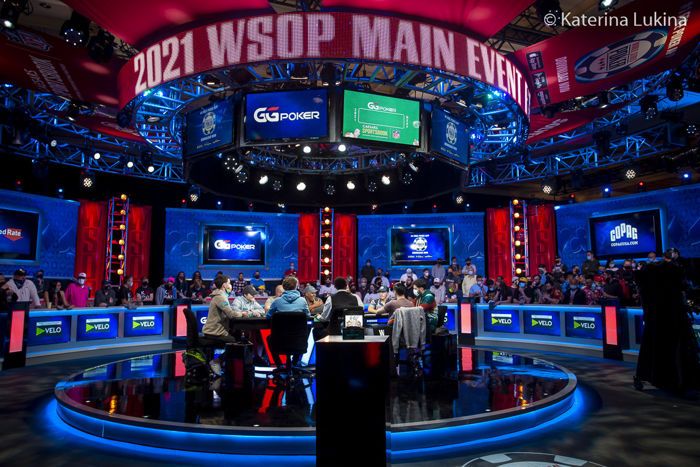 While play was originally scheduled to be hard-stopped with four players remaining, a late-night decision by the staff saw play briefly continue. Shortly after that decision, a big three-way all in at the end of the night nearly resulted in a double knockout and almost left the field with just two for the final day. Holding pocket queens, Aldemir over-called after Oliver originally shoved and Remitio three-bet jammed.
Oliver held the jack-nine of diamonds, while Remitio brought ace-jack to the table. Oliver ultimately rivered a backdoor flush for a massive triple up and spun it up even further by delivering the knockout blow to Remitio shortly after. The end result is three-handed play tomorrow with plenty of pepper left in every player's stack.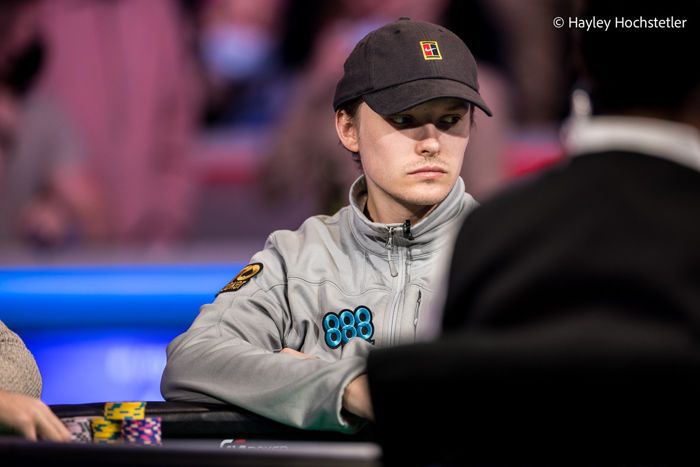 Explosive End Proves Fitting Conclusion
The explosive end proved a fitting conclusion of a night full of thrills and frills that kicked off in high gear right off the bat. Just five hands in, Bianchi was forced to tap out after running his king-queen straight into Oliver's Big Slick. In the subsequent hand, East saw his Main Event run come to a screeching halt after his ace-jack failed to improve against Holmes' queens.
Left with just seven after a mere six hands, Aldemir grabbed the reigns and started controlling the pace of play from his lofty spot. In the first 60 hands, despite plenty of action to enjoy for the live crowd and audience of home, the final table order wasn't changed all that much. However, hand #61 changed everything. It's one of those hands that will no doubt be remembered in poker history for years to come.
Holding pocket tens, Lococo, second in chips at the time, called a three-bet from Aldemir, who held pocket nines. The jack-jack-nine flop gave Aldemir a boat and the German fired all streets, including a pot-sized shove on the river. Lococo made a very daring call with pocket tens in rather rapid fashion, but received the bad news that forced the popular rapper off the stage in seventh place.
Viewers of the PokerGO live broadcast couldn't believe what they were seeing, and the clip was later uploaded to the PokerGO YouTube channel to be enjoyed in its entirety.
If you're not currently subscribed to PokerGo, you can get a monthly subscription for $14.99, a three-month plan for $29.99, and an annual subscription for $99.99. You can also save $10 off an annual subscription by using promo code "PokerNews" at checkout. Click here to subscribe.
"I decided to three-bet, I can't call with nines," Aldemir said afterwards. "When it came jack-jack-nine, that's just great and I was going for value basically and hope that he has something, a jack or that he doesn't believe me and calls me down."
That's exactly what ended up happening, and with an even bigger lead, it was smooth sailing for Aldemir from there on onwards.
"I hit a lot of hands again and raised a lot, they couldn't do much about it," he said.
With Lococo out of the way, Aldemir turned it up a notch and started opening every other hand. Twenty hands after Lococo's bust, Aldemir took care of Park in a blind-on-blind confrontation with ace-queen versus pocket sevens. On Hand #113 of the night, he also sent Secilmis home after the latter's shove with king-five suited got picked off by Aldemir's nines.
Home Game Hero Holmes "Feels Awesome"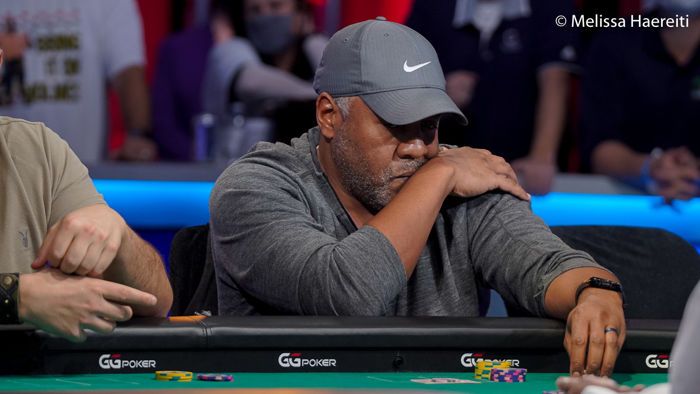 Four-handed play started with Aldemir sporting a four-to-one lead to his nearest challenger Holmes, and if it wasn't for the aforementioned escape by Oliver with the jack-nine, it would've been just Aldemir vs. Holmes on the final day. Holmes, the home game hero and the proverbial David to high roller Aldemir's Goliath, kept his stack afloat throughout the day and will be back on the final day.
"I feel awesome. I just want to go get some sleep so I can start off fresh tomorrow and be in good spirits," he said directly after bagging. Holmes, who may not have the poker resume of his fellow two adversaries, had a plan coming into the day. "Just kind of survive. See if we can get to three or four handed. That's all it was about," he explained.
"Tomorrow is going to be a little bit different from today. They're good, they're aggressive. That's the secret sauce," he added.
Aldemir could become the third German within ten years to win the WSOP Main Event in Las Vegas and the reality of that hasn't fully sunk in yet. He was supported by a boisterous rail, which he was part of back in 2019 when Hossein Ensan won and he praised the support by the fellow German poker players.
Aldemir, Oliver, and Holmes will be back in the air at 2 p.m. local time in the Rio All-Suite Hotel & Casino to contest for poker's most coveted prize. There's 1:45:04 left in level 39 with blinds at 800,000/1,600,000 and a big blind ante of 1,600,000.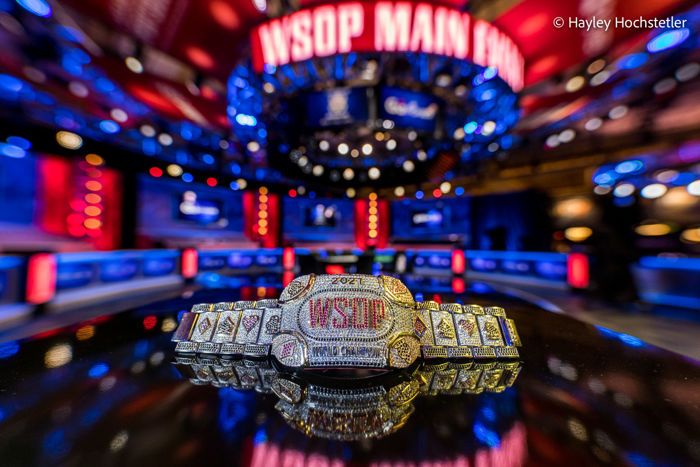 Make sure to check back to PokerNews on Wednesday at 2 p.m. local time as the Main Event winner gets decided!
A former professional poker player with a background in sports marketing and journalism. Yori has been a part of PokerNews since 2016 and manages the content team.