Lon McEachern and Norman Chad to Unveil New Signature Poker Table with BBO Poker Tables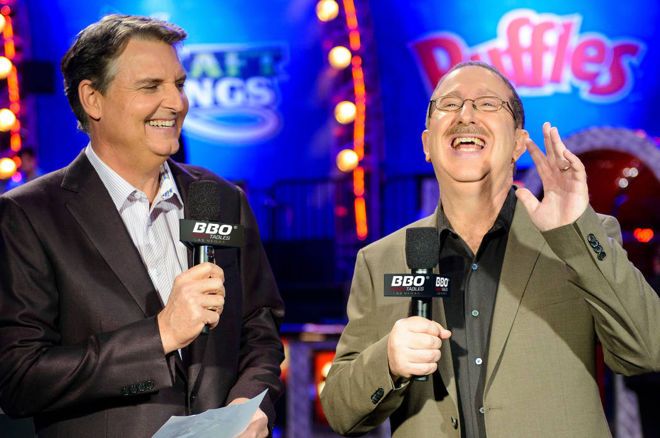 BBO Poker Tables, the leading brand of premium, customized poker tables in the US based in Las Vegas, NV has teamed up with WSOP and CBS commentators Lon McEachern and Norman Chad to bring a Lon and Norman Signature Line poker table designed by the legendary pair. BBO Poker Tables will be giving away the signed, first table to one lucky winner upon the completion of the 2021 World Series of Poker (WSOP), details below.
Lon McEachern and Norman Chad has been the voice of the WSOP for over a decade, bringing thrilling poker commentary and memorable one-liners to poker enthusiasts all around the world through CBS's coverage of the WSOP main event. Their familiar voices and epic calls of champions and bad beats have raised an entire generation of poker players from the poker boom of the early 2000's.
---
Read More: BBO Poker Tables Now Headquartered in Las Vegas!
---
"We consider ourselves as the 'everyman' poker player," said Lon McEachern. "We wanted to create a table that was approachable for everybody"
In addition to the new Lon and Norman Signature Line table, BBO is planning to release an audio accompaniment to this project which will allow players to replay Lon and Norman's famous catch phrases on demand.
The new table will be unveiled to commemorate the 2021 WSOP Main Event on November 8th, 2021. Poker players and fans can enter for a chance to win the very first Lon and Norman Signature Line poker table, autographed by the pair by entering the free sweepstakes on the BBO Poker Tables website.
Established in 2006, BBO Poker Tables specializes in stunning, personalized poker tables for homes and poker room around the world. BBO is the preferred brand of the World Poker Tour, Golden State Warriors and WSOP Main Event Champions including Jamie Gold and Joe Cada.
In 2021, BBO Poker Tables moved their main offices into an 18,000sq ft facility in Las Vegas, NV to better serve their clientele and become a resource to the poker capital of the world. BBO's mission is "To create unforgettable memories between friends and families through poker".
Sponsor-generated content from BBO Poker Tables