BBO Poker Tables Now Headquartered in Las Vegas!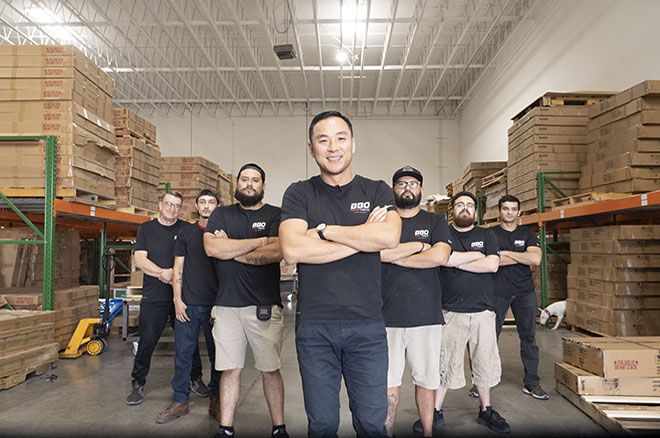 BBO Poker Tables, the leader in stunning, customized poker tables, is now the official poker table of Las Vegas. In May of 2021, the company moved into an 18,000 sq ft production and distribution facility at the Speedway Complex in Northeast Las Vegas. The strategic location allows the company to efficiently distribute and decrease transit times for products to all parts of the US in addition to being ideally positioned to support the poker capital of the world.
The new facility includes increased production capacity, custom upholstery capabilities, real-time layout design, and optimized warehousing for increased distribution capacity to service poker players all around the US. In addition, team members enjoy access to a private 2,000 sq ft boxing gym to stay fit and healthy all year round.
BBO Poker Tables CEO, George Chao says about their new LV headquarters:
"Through COVID, we had an opportunity to re-imagine our entire business structure and operational setup. We asked ourselves, what would an ideal facility look like? Being in Las Vegas will allow us to truly connect with our customers and the industry, and we launch those efforts with this year's WSOP".
To commemorate the move, and in conjunction with this year's World Series of Poker, BBO Poker Tables is welcoming players with an exclusive swag bag (while supplies last) and a chance to win a poker table simply for playing at the 2021 WSOP. View the details and sign up to celebrate with BBO! Poker media members are invited for an all-access guided facility tour, simply email [email protected] to schedule.
About BBO Poker Tables:
Established in 2006, BBO Poker Tables is the leader in premium poker tables and has been the official poker table provider to the WPT, Golden State Warriors, and WSOP Champions/poker superstars such as Jamie Gold, Joe Cada, Lexi Gavin, and Alec Torelli. The mission of the company is to provide professional gaming products which create unforgettable memories between players, friends, and families.
Sponsor-generated content by BBO Poker Tables