A Dream Came True - Co-Sponsor UPoker Celebrates Triton Million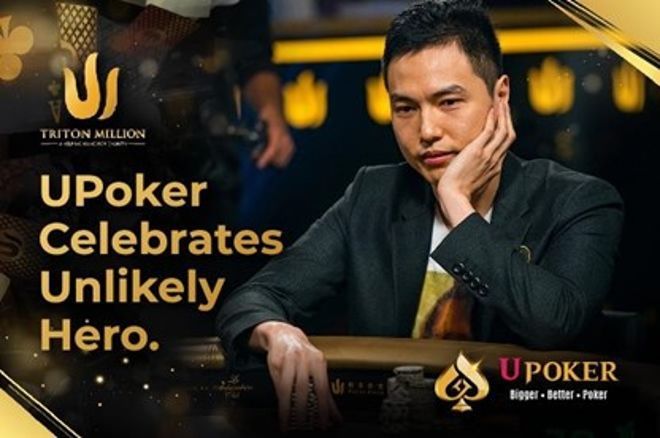 Table Of Contents
In an effort to spread positivity through poker, UPoker has joined with Triton as co-sponsor of the Triton Millions broadcast to NBC Sports US viewers.
Over ten consecutive weeks, viewers were able to witness the moments leading up to Aaron Zhang being crowned champion of the Triton Million, defeating Bryn Kenney after a tense showdown between the pair.
---
Read More: Aaron Zang Wins Triton Million for $16.7 Million; Bryn Kenney Finishes Runner-Up for $20 Million
---
Celebrate the Biggest Names in Poker
According to Triton Poker's founder, Paul Phua, Aaron Zhang's victory is sure to become a source of hope for many beginners and amateur players alike. Shortly after his victory, Zhang proclaimed the victory was "a dream come true." Officials from broadcast co-sponsor UPoker say that with £2.7million going to charitable causes, the Triton Million is indeed a tournament that has made dreams come true in more ways than one.
UPoker is a name that you would have been familiar with in the past 2 months if you have watched the Triton Million for Charity weekly program in NBC Sports US. The broadcast of this prestigious 10-week-long poker spectacle was made available for US Poker fans in order to come together and celebrate some of the greatest names in poker.
---
Related: Biggest Tournament Cashes of the Decade
---
More About UPoker
UPoker is a free-to-play online mobile poker application that lets you play poker the way you want it. The application offers all poker popular poker variants such as NLH, ShortDeck, PLO, PLO5, PLO6, and OFC. On top of that it is a platform with all poker tournament variants such as, MTTs, Knockout MTTs, Sit and Go tournaments and Satellite tournaments.
UPoker Clubs also have the option to set-up a club jackpot with has both High-Hand Jackpots and Cooler-Jackpots. You could take a sneak peek into the UPoker online mobile poker application's features by watching some of the video content on their YouTube page UPokerOfficial.
With over 1 million downloads, UPoker is one of the largest global poker communities and it is growing faster than ever in the US. With the noble vision of making poker the most popular mind-sport among adults, UPoker has become a home for individuals with a genuine love and respect for this magnificent game.
The community engages in active discussion of everything revolving around the poker lifestyle. You could engage with the remarkable members of the UPoker Global Community by following the Instagram page @UPoker_Official, liking the UPokerSupport Facebook page, or tweet to @UPokerGlobal.
Exciting Features
UPoker's Team of poker experts and game developers have also put together some new poker variants that could add extra dimensions to the world of poker. Some of UPoker's recent unique introductions include, Swap NLH and Bomb-Pot games. Every step of the way, UPoker aims to be your one-stop poker solution.
Not only does the application allows you to play all the poker variants mentioned above, it also gives poker players the experience of setting up poker tables and playing poker with their friends. You will need to experience the ultimate customization yourself to truly comprehend the depth of the UPoker application.
There couldn't be a better time to become a UPoker Player. Between the 15th of September to the 13th Of October 2021, UPoker players will be introduced to the Elite Excellence campaign. Win a free 30 days Elite VIP card on the Elite Excellence.
Elite VIP Card holders will receive time-banks that let you get up to 60 extra seconds to make a decision at every turn. In addition, a 30-days rabbit card let's you reveal the community cards that would have been dealt in hands that end before the board is fully dealt. Elite VIPs also receive 200 free emoji with attractive animation and exciting sound effects, guaranteeing you to have a blast. Download now to find out how to get this complete poker arsenal absolutely free.
Sponsor-generated content by UPoker