The Muck: Norman Chad & Haralabos Voulgaris Debate Poker Broadcasts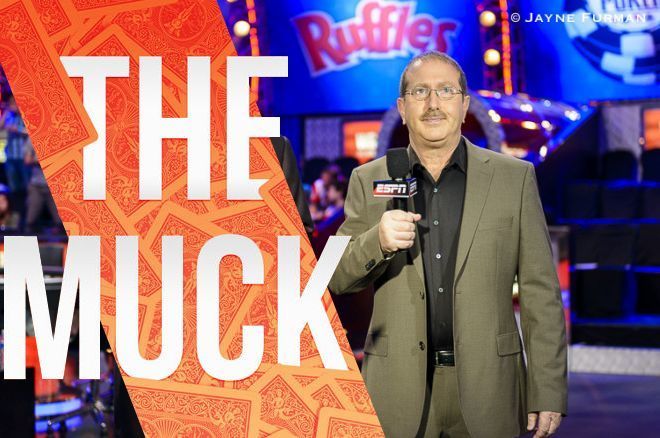 Table Of Contents
Norman Chad, along with Lon McEachern, has commentated on the World Series of Poker (WSOP) Main Event for ESPN, and now CBS Sports Network, since 2003.
After the conclusion of the 2021 WSOP Main Event in which Koray Aldemir won the title and $8 million top prize, Haralabos Voulgaris, and a few other high rollers on the always polarizing poker Twitter, suggested maybe it's time to make a change in the broadcast booth.
Agree with Norman Chad, the game cannot continue in this fashion and thrive. Definitely need some new blood in the… https://t.co/EG42auRn3a

— Haralabos Voulgaris (@haralabob)
What Do the Poker Fans Want?
During the Main Event final table broadcast on PokerGO, Chad on multiple occasions criticized the constant tanking of certain players. He prefers watching quicker action, and claims the casual viewers want the same. The former sports columnist engaged in a bit of debate on this issue with Voulgaris and others, including Randy Ohel.
@NormanChad @haralabob Norm you know I love you and I know you love and want to fix poker but let me make 2 points:… https://t.co/WWHOfIXvAw

— Randy Ohel (@randyohel)
Ohel partially echoed Voulgaris' sentiments, and said there's a "time and a place" for complaining about the final table pace of play. He argues the broadcast isn't that time and place, and he suggested the announcers should instead keep things positive during poker's most prestigious event.
"It seems like the wrong venue to me because it's not much fun for the commentator to be talking about how much the thing you're watching sucks," Isaac Haxton chimed in.
Chad's defense for his on-air comments was that it's bad for the game if the WSOP Main Event final tables run late into the night or doesn't even end until early in the morning, discouraging East Coast viewers, which has been the case a few times in recent years. He suggested cutting out the tanking would shorten the game.
PokerGO first livestreamed the final table in its entirety Tuesday and Wednesday. CBS Sports Network will now begin editing the Main Event and produce shortened versions of the tournament to air this winter, much like ESPN has done since 2003.
When the shows air on CBS Sports Network, viewers won't see the boring, meaningless hands or players tanking. Those parts will be edited out to appeal to the casual audience.
"Poker's biggest stage should not involve countless two-minute tanks," Norman Chad tweeted.
If not for the casual and recreational poker crowd, the game never would have become as popular as it is today. So, it seems reasonable for the production company to cater to the desires of that audience.
But Voulgaris, Ohel, and others argue the PokerGO crowd, which is comprised in large part by hardcore poker fans, differs from the aforementioned population.
Imagine a bunch of randoms playing for $8mil caring about the production value of an online stream. PokerGo either… https://t.co/NrhHMnZ3cS

— MikeG (@rhpMike)
"This is a gambling tournament, a crowning event for a world championship of sport - When the TV networks start adding $ to the pools they can maybe dictate the pace of play. Thats how this sort of thing generally works. PPL are paying 10k to play, not being paid," Voulgaris wrote.
Is Poker Twitter the Be-All-End-All for Poker Opinions?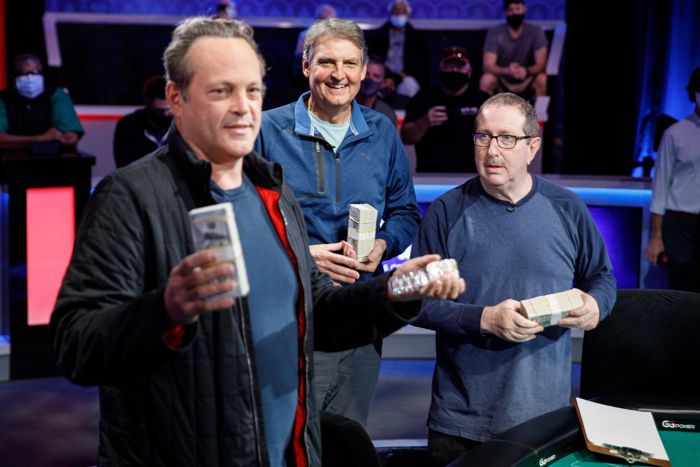 Joe Buck has been the top play-by-play announcer for major sporting events on Fox. But if you read Twitter during games he calls, you might be convinced he's the worst sports announcer ever. Would a major media company such as Fox really continue putting a broadcaster everyone despises on the big games? Absolutely not, and that just goes to show that the opinions of those who are most vocal on social media don't always represent that of the majority.
Chad and McEachern are hired year after year because they are popular among poker fans. If they weren't, they'd have been, as Norman likes to say, "whamboozled," years ago. There were a number of poker fans defending Chad in the Voulgaris thread.
"As someone who used to love watching poker, it's almost unwatchable now. Every bet is 1-2 minute decision. It's a snooze fest," Geoff Johnson (@GeoffJohnson17) tweeted, seeming to agree with Chad.
@KaraOTR @NormanChad @JamieKerstetter This is such an important point, completely lost in whatever constructive cri… https://t.co/H4dk2EgnVz

— Max Uhlenbeck 🌹♠️ 🍷 (@HousingTherapy)
"Norman Chad getting too much flack. All he is saying is that televised poker can't survive forever at this pace of play. I don't think he's blaming anyone or saying he'd do anything different. It's just an observation," Alex Keating tweeted.
Norman Chad and Lon McEachern were nominated by the fans for the 2020 Poker Hall of Fame, but Huck Seed was inevitably the inductee. Although the dynamic duo wasn't selected by the current members of the HOF for induction, the fact they were nominated by the fans goes to show their act is more popular than some high rollers seem to think.
The duo also recently released a signature table by BBO Poker Tables.