Ooka Luka: Norman Chad Turns a Bad Beat Into Something Upbeat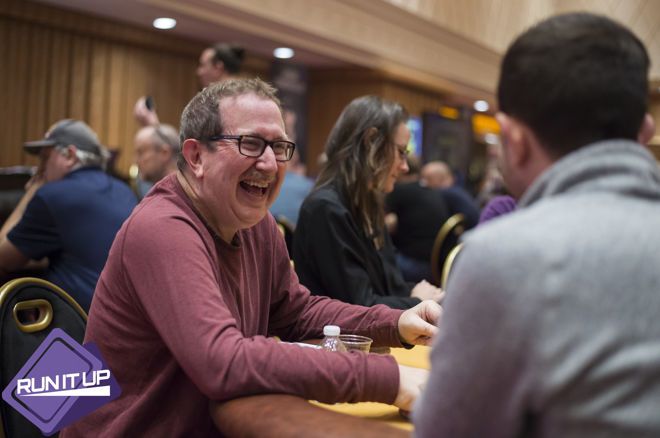 Norman Chad was dealt a tough hand this year
He can often be found at his local casino, playing in a variety of mixed games, but due to quarantine and the current state of things, he's been locked out of the games that brought a smile to his face. Chad's wife, Toni, is visiting family on the East Coast and staying there until it's safe to return. Finally, Chad's long-time canine best friend, Daisy, passed away this past April.
All of this created the perfect storm that resulted in Norman Chad needing some sort of inspiration.
"As for many others, this summer has been unceasingly challenging: Loss of work, loss of income, loss of movement, loss of creative outlet," Chad told PokerNews. "In addition, my wife Toni and I have been on opposite coasts for the entire pandemic, and when our beloved family dog Daisy unexpectedly passed in April, my overall sense of loss felt apocalyptic; she was my sole companion in L.A. with Toni 2,500 miles away. I was emotionally devastated."
"I suffer from severe depression, and after a couple of challenging months in lockdown, doing the Ooka Luka on-camera daily just made me feel better," he continued. "I thought it would help combat the increasingly toxic and hateful nature of Twitter, because it's just fun with the intent of making people smile and getting people to get along better. The Ooka Luka felt like a mental-health lifeline for me."
More Positivity
The last few weeks have brought positive changes to Chad's life. First, there is a new dog in his life now. Second, Chad was able to cash in two WSOP Online Bracelet events in July taking a min-cash in Event #6: $600 PLO8 6-Handed and 13th place for $4,638 in Event 28: $1,000 Omaha Hi-Lo 6-Max. Despite these uplifting moments, Chad is still inspired to continue sharing Ooka Luka and bring something positive to the poker community. For those who do not understand why Chad is creating these daily Ooka Luka videos, he understands your curiosity.
"I cannot sing and I cannot dance, yet I thought that just the novel nature of the Ooka Luka would carry the day for me when I first started the daily videos. I was wrong. I had failed to consider that most of my Twitter followers knew me from my TV poker commentating in which I generally bring comedy — and they were waiting for the punchline. In reality here, the punch line was positivity."
He continued: "I wanted to exude positivity. I wanted to bring a common-sense mentality to the world around us. However, I came to realize that many of my long-time followers expected humor, so I have adjusted the presentation to balance between a positive message and a touch of frivolity. Heck, I had to look up 'frivolity' in the dictionary to make sure I could do it."
The Ooka Luka Challenge
Next for Chad is the Ooka Luka Challenge. Starting this Monday, August 10th, and running through Tuesday, August 18th, he wants you to film your own Ooka Luka. How to enter this contest is up to you. You can recreate one of Chad's 90+ entries, show us your best Ooka Luka in your own setting, be creative and add something new to Ooka Luka.
Submit your video on Twitter or Instagram using "#ookaluka" in the description or post and tag Norman Chad (@NormanChad on Twitter or @therealnormanchad on Instagram) to be entered to win. Chad will repost his favorites on his own social media accounts and through the PokerNews social accounts as well.
The top three videos will be announced on Wednesday, August 19th during the WSOP GGPoker Live Stream on the PokerNews Twitch Channel - twitch.tv/pokernews.
What Can You Win?
The third-place will take home an e-book of their choice from D&B Poker Publishing. Second place will receive an e-book plus one month of service from LearnProPoker Training Site. Finally, the first-place winner will receive an e-book, a month of service from LearnProPoker, plus something special from Norman Chad himself.
He will either shout out your home game and talk trash to the regs who play it or record your outgoing voicemail message. If you live within 75 miles of the Los Angeles area, he is also willing to come to your house and wash your car. If you're lucky, Chad may even clean the hubcaps with a toothbrush.
How to Do the Ooka Looka
Contest begins Monday, August 10th at 12:00 a.m. ET and closes Tuesday, August 18th at 11:59 p.m. PT.
Contest Terms & Conditions
All freeroll listings are correct at the time of writing. Although we do our best to ensure the correct and current details are listed for all our promotions (freerolls), PokerNews assumes no responsibility for incorrect and/or incomplete information. We strongly recommend players check the online poker room that is hosting the freeroll, to clarify/confirm the correct time and date.
PokerNews reserves the right to make changes and/or alterations to any or all the conditions (entry requirements) for this contest at any time, without notice. We recommend you visit this page regularly. Through continued use of this site and it's products/services, you accept any modifications to our contest, including dates, times, and entry requirements.
Prize packages are non-transferable/refundable and cannot be exchanged for cash/credit. If the winner cannot accept or make use of the package, for whatever reason, the package shall be awarded to the next highest place finisher or PokerNews management shall decide the outcome at their sole discretion. PokerNews management's decision is final and not liable to legal action of any kind.
If for some reason, a player competes in a PokerNews contest that does not meet all entry and qualification requirements, they will forfeit any claim to the package, at the sole discretion of PokerNews. Should an ineligible player win, the next eligible player will be awarded the package.
Whilst PokerNews will make every attempt to contact the winners of our contest, it is the responsibility of the winner to also seek out and contact PokerNews. PokerNews will primarily use social media to communicate with winners and will only phone if a number has been provided. Inaction and/or a continued lack of a reply from contest winners will be interpreted as an inability to accept/make use of the package and will subsequently be awarded to the next eligible player, at the sole discretion of PokerNews management.
PokerNews assumes no responsibility for circumstances beyond our control including, but not limited to delays/cancelations in delivery of prizes or any other issue that may cause delays and/or prevent you from making full or partial use of your package.
Should these terms and conditions be translated into another language, the English version will prevail if any conflict between the English and translated version(s) arises. All decisions made by PokerNews management are final.